This is the story of an action hero: one who starts as a trigger-happy maverick, becomes all-powerful, then ends up going straight. Well, that's the Hollywood version at least.
The truth about the air-cooled 911 Turbo – from 930 to 964 and 993 – is harder to sum up in a sound bite. So dim the lights, grab some popcorn and settle in for a saga of sequels without equal.
Posing outside the Paul Stephens showroom in Essex, our Turbo trilogy makes for a great movie poster. They're The Expendables in four-wheeled form: brimful of testosterone and bulging in all the right places.
The 964 Turbo 3.6 has the most visual clout, crouched like a coiled spring on dished Speedline split-rims. It's one of the most aesthetically aggressive 911s, on par with the 993 GT2 and 991.2 GT2 RS.
The 930 isn't far behind, its fulsome hips and signature spoiler immortalised on a million bedroom walls. And the 993 Turbo is equally iconic, albeit smoother and more urbane.
The 964, built in 3.6-litre guise for the final year of production only, is also our A-lister in terms of price. At the time of writing it was offered at £224,995 – enough to buy both the 930 and 993.
Is it the big-budget blockbuster those looks suggest, or does the sweet-spot of this air-cooled 911 line-up lie elsewhere? I'm childishly excited to find out.
I start with the 930. 'The Widowmaker' shares its epithet with a movie about a nuclear submarine, and its presence feels equally forbidding. However, it could have been much wilder.
Inspired by the on-track success of the turbocharged 917/30, the prototype 930 was a back-to-basics road racer – effectively a Carrera 3.0 RS with forced induction – and just 200 cars were planned. Porsche's sales and marketing department had other ideas, though, envisioning the 911 Turbo as a luxurious super-GT.
In the end profit triumphed over purity, and the Turbo debuted in 1975 with air conditioning, electric windows, a rear wiper and a four-speaker stereo. Climbing aboard, this flagship 1987 911 still feels well-appointed today.
There's supple leather, deep-pile carpet and even heated seats. Only the boost gauge, nestled within the rev counter, offers a clue to its added oomph. Well, that and the four ratios etched atop the gear lever – the SC had switched to five-speed back in 1978.
The original 3.0-litre 930 served up 260hp: a modest 63hp more than a contemporary Carrera 3.0, and Golf GTI power today. Even so, edgy handling and all-or-nothing power delivery made it a challenging steer.
Le Mans-winning Porsche racer Tony Dron said: "Frankly, it demanded too much skill, even from an experienced driver, and that made serious driving hard work… I was far from convinced that selling them to the public was a good idea." An upgrade to 3.3-litres and 300hp in 1978 also included beefier 917 brakes and a more stable chassis. This had "better handling, but was still something of a monster when driven really fast", noted Dron.
Pour consulter l'article original et complet, cliquez ici.

Dans le cadre de la vente qu'elle organisera à Essen, en Allemagne, les 11 et 12 avril prochains, RM Sotheby's va notamment proposer aux enchères un…
Pour consulter l'article original et complet, cliquez ici.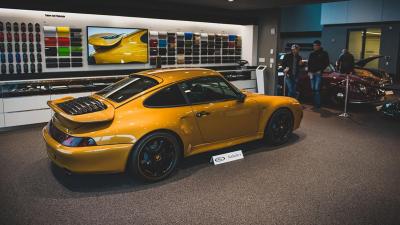 Le montant phénoménal atteint par la 993 Turbo Project Gold a de quoi laisser songeur. Il n'en faut guère davantage pour se dire que les amateurs semblent prêts à mettre le prix pour des Porsche d'exception reconstruites à l'usine. De là à croire qu'il le feront, il n'y a qu'un pas.
Pour consulter l'article original et complet, cliquez ici.
Ground-up restoration of '90s 911 showcases Porsche Classic's craftsmanship…
Pour consulter l'article original et complet, cliquez ici.
Yet another way to celebrate seven decades…
Pour consulter l'article original et complet, cliquez ici.