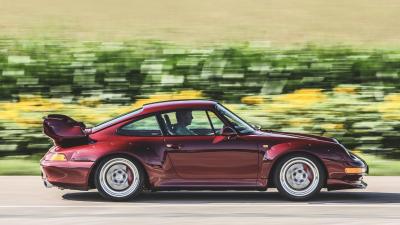 Après avoir revendu Whatsapp à Facebook pour 19 milliards de dollars, Jan Koum a pu s'adonner à sa passion des Porsche et a accumulé une belle collection.
Pour consulter l'article original et complet, cliquez ici.
The 911 GT2 is a radical piece of equipment. A vehicle for purists and perfectionists – like WhatsApp founder Jan Koum, world rally champion Walter Röhrl and Porsche collector Frank Troche.
Pour consulter l'article original et complet, cliquez ici.
The year 1994 offered something of a step change for Porsche Motorsport. After multiple notable racing successes with naturally aspirated 911s such as the Carrera RSR and RS 3.8, the company once again turned its attention to turbocharging for elite GT racing. A new car was born out of the 993 generation, wider and wilder than ever before. The name given to this new high-performance 911 was simply the racing class it was to participate in: let us say hello once again to the now-legendary 993 GT2.
However, these cars were badged 'GT' – as can be seen below its huge rear wing. To compete in this class Porsche had to manufacture and homologate a street version, which became available as early as April of 1995. Little did Porsche and 911 enthusiasts know at the time, but it would become an absolute icon of a car, and one of the most sought-after today.
Unlike the car it was based on – the new 993 Turbo – the GT2 offered 22bhp more and offered a host of upgrades to the drivetrain, body, suspension and equipment, to name but a few. The big news was that the GT2 would be rear-wheel drive only, the 200kg weight loss over a Turbo mainly being attributed to this change. With the GT2 Porsche had made it perfectly clear it was not about to relinquish the ominous widowmaker moniker too easily. Rear-wheel-drive 911 Turbos were until then aimed at the more experienced driver, but the change to four-wheel drive left a gap at the very top of the 911 range, one that was to be filled by the motorsport-inspired GT2 street car.
Fast forward more than 20 years and until recently customers had to look to the naturally aspirated GT3 RS model to have race-inspired thrills. However, as a final swansong to the 991 range, Andreas Preuninger and his GT team developed and manufactured the most powerful production 911 to date. One can ramble on about the finer details of this machine, which you would have read in previous issues of Total 911, but there is no better way to sum it up than the 6:47.25 time the 991 GT2 RS set around the infamous Nürburgring Nordschleife.
In South Africa where the owner of both these exquisite cars opens the garage door, I find myself subconsciously drifting towards the 993 GT2 first. The door feels light in my hand as I pull its handle. I lower myself into the Recaro bucket seat and shut the door, the thud reminiscent of a whole era of air-cooled Porsche. The seat offers side support from your hips all the way up to your shoulders – the goosebumps on my forearms already demonstrate this is an exceptional place to be!
The cabin is basic, but not Clubsport or race car basic; after all, this is the more comfortable 'Strasse' specification. However, there are no rear seats, only carpets with the neat 'GT' inscription, as is the case on the back of the car below the rear wing. The cabin is compact – you sit close to the dashboard and windscreen in classic 911 guise. I hold the leather-trimmed, three-spoke steering wheel, impressed by the fact there is not a button in sight.
I've been privileged enough to have driven a few 993 GT2s before, and every time it is a particularly memorable occasion. Today is no different. A quick peek in the side mirror gets me all excited again as those monstrous, tacked-on wheel arches fill the view. These were added to enable the GT2's enormous 11-inch-wide wheels to fit under its arches.
Pour consulter l'article original et complet, cliquez ici.

Parmi les nombreux modèles que la maison RM Sotheby's va proposer aux enchères le 27 octobre prochain dans le cadre de l'exclusive « Porsche 70th…
Pour consulter l'article original et complet, cliquez ici.
En 97 quand le BPR évolue en championnat FIA GT, Porsche décide de faire monter sa 993 GT2 d'un cran pour l'homologuer en GT1. C'est comme ça que les ingénieurs vont se pencher à nouveau sur son cas pour aller lui trouver quelques watts supplémentaires, lui faire perdre une poignée de kilos et optimiser sa […]
Pour consulter l'article original et complet, cliquez ici.