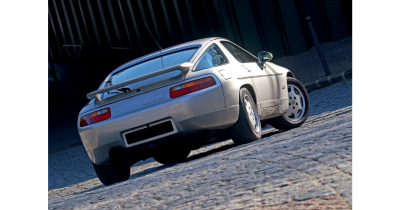 Ce dimanche 17 mars 2019 dernier se tenait une vente aux enchères organisée par la maison Aguttes au cours de laquelle une 928 S4 GT ayant appartenu à Johnny Hallyday était proposée.
Pour consulter l'article original et complet, cliquez ici.
The 928 has never had the sporting credentials of the 911, but is the penultimate variant one of the best classic Porsches to own? Over nearly two decades in production the 928's output increased from 219 horsepower to 345, and displacement from 4.5 to 5.4 liters. Changes to the model were more than simply adding power. Porsche's traditional method of evolution rather than revolution meant that the 928 improved year after year. While the widebody GTS, has long been a collector-favorite, is the more subdued GT actually the car to have?
The GT is often forgotten in the 928 hierarchy. The largely-similar S4 was a much stronger seller and was on the market for several years longer than the GT. Unlike the S4, the GT was available only with a manual transmission. This extremely-sporting 928 was also equipped with a computer-controlled limited-slip differential derived from the 959 supercar. Power was also up by 10 horsepower compared to the S4. While 10 horsepower isn't much, more is always better, right?
According to reviewer JayEmm, a Brit with a James May-like affection for aggressively patterned shirts, the 928 GT may be the classic Porsche to own. With plenty of interior space, a large trunk, and a torquey, flexible V8, is the 928 the ideal classic Porsche for the modern driver?
Pour consulter l'article original et complet, cliquez ici.
Before the Aston Martin Vanquish, before the Ferrari FF and before any of BMW's M-Cars, there was this guy — the Porsche 928. It debuted in 1977 as a replacement to the 911, but instead of taking out its older brother, it decided to carve out its own road as one of the greatest GT cars in automotive history. This stunning example of the 1989 Porsche 928 GT is currently for sale on eBay and is a ride that any collector would be happy to own. The GT differentiates itself from other 928′s by way of being offered with a 5-speed manual transmission only, a 326 hp 32v V8 (up from the standard 316 hp), sport wheels and a digital trip computer on the dash. Mileage is just 19,849 and with its beautiful black-on-black paint and interior it looks as fresh today as it did when first produced some 24 years ago. Click through to check out more pics, or go directly to the eBay auction below.
Source: eBayMotors.com
Pour consulter l'article original et complet, cliquez ici.