After two rounds of the FIA World Endurance Championship, Porsche leads the GTE Pro category in points following a win at Silverstone with a podium place at the 6-hour race in Fuji. Michael Christensen paired with Kevin Estre to come home in second position this weekend in their #92 Porsche 911 RSR. With this successful result, the pair have also moved into the lead of the drivers' championship. Their teammates Gianmaria Bruni and Richard Lietz had the absolute opposite race, starting from pole position and finishing 6th. The #91 car suffered all race with misfiring issues, an untimely tire puncture, and a drive-through penalty. Meanwhile, in the GTE Am category, the Porsche-driving Project 1 team of Jeroen Bleekemolen, Ben Keating, and Felipe Fraga came home in third position to give Porsche two different class podiums in the same race.
Christensen and Estre mounted a comprehensive assault against the GTE Pro competition, starting the race from last place in class and climbing through the field to an impressive 2nd position finish. With quick laps and a smart pit stop strategy (plus a bit of luck) the team worked well through the 6-hour race. The race began, in typical Fuji fashion, under safety car for heavy rain. That weather cleared up for the first couple of hours, but came back with a vengeance in the 3rd and 4th hours of action. With the right tire strategy and impressive Porsche rain driving dynamics, the pair of drivers were in the cat bird seat for the finish, and pitted at exactly the right time during the race's caution periods.
The GTE Am Project 1 team had a very similar story, starting from dead last on the grid. The trio gave a spirited chase through the entirety of the 6-hours, but ultimately the Aston Martins were better suited to the Fuji track, and won in both classes.
Comments on the race
Fritz Enzinger (Vice President Motorsport): "After the one-two success at Silverstone we've now finished on the podium at Fuji with our new Porsche 911 RSR. We're still at the top of the manufacturers' championship, and a Porsche duo is also leading the driver's classification. Our balance sheet looks good. We're now feeling confident and full of excitement for the upcoming race in China."

Pascal Zurlinden (Director Factory Motorsport): "The overall result with both vehicles doesn't really meet our expectations, but we're pleased about second place for the number 92 car. In the first two races of the season, we've secured a one-two at Silverstone as well as a podium result and pole position at Fuji. That's a great start for our new Porsche 911 RSR. We're heading to the next races feeling highly motivated."
Alexander Stehlig (Head of Operations FIA WEC): "Pole position on Saturday, second in the race on Sunday, we can be very pleased with this. Everything went according to plan with our number 92 car, but the number 91 vehicle was plagued with troubles. Damage from a puncture, a drive-through penalty and misfiring – it seems pretty much everything that could go wrong did go wrong. I hope that we've used up all the bad luck for the rest of the season. We'll be back in full force again at Shanghai."

Richard Lietz (Porsche 911 RSR #91): "After the super pole position on Saturday, we were disappointed with how the race went for us on Sunday. Our pace was good at the beginning but unfortunately the penalty, tyre problem and misfiring relegated us to sixth place. We'll now take a very good look at this and fix the problem."

Michael Christensen (Porsche 911 RSR #92): "When you start from the last grid spot and cross the finish line in second, then you've definitely done everything right. Our strategy worked perfectly, we got the absolute maximum out of it. Thanks to this podium result, Kévin and I are now leading the world championship. We're certainly can't complain about that."
Race result
GTE-Pro class
1. Sörensen/Thiim (DK/DK), Aston Martin Vantage, 211 laps
2. Christensen/Estre (DK/F), Porsche 911 RSR, 210 laps
3. Lynn/Martin (GB/B), Aston Martin Vantage, 210 laps
6. Lietz/Bruni (A/I), Porsche 911 RSR, 208 laps
GTE-Am class
1. Yoluc/Eastwood/Adam (TR/IRL/GB), Aston Martin Vantage, 208 laps
2. Perrodo/Collard/Nielsen (F/F/DK), Ferrari 488 GTE, 207 laps
3. Keating/Fraga/Bleekemolen (USA/BR/NL), Porsche 911 RSR, 207 laps
5. Campbell/Ried/Pera (AUS/D/I), Porsche 911 RSR, 207 laps
7. Perfetti/Heinemeier Hansson/Cairoli (N/DK/I), Porsche 911 RSR, 206 laps
8. Wainwright/Barker/Watson (GB/GB/GB), Porsche 911 RSR, 204 laps
9. Preining/de Leener/Hoshino (A/B/J), Porsche 911 RSR, 198 laps
Pour consulter l'article original et complet, cliquez ici.
While Porsche didn't quite get the victory that they were hoping for in either GTE Pro or GTE Am, the sports car maker managed to secure all four of the FIA WEC GTE class championships. This season, unlike any before it, held a pair of Le Mans 24 hour events, last June and the weekend past. Porsche won last year, but only managed to take three podium positions from the two classes this event, not the top step mind you, but anyhow. Porsche had a good and bad Le Mans, some minor failures cropped up, but the team persevered to make everything work out in the end. They may have lost this particular battle, but they won the season-long war.
Porsche factory drivers Michael Christensen and Kévin Estre have secured the GTE drivers' championship, and Porsche as a GTE manufacturer had already won the manufacturer's championship at the prior round. In fact, their car wore a gold-accented livery to commemorate that crown. In the GTE Am category, Porsche also secured the drivers' and teams' championships, but that's a bit of a longer story that we'll cover a little later.
Comments on the race
Dr Michael Steiner (Porsche R&D Board Member): "It was a dream season that could not have been more successful. Everyone at Porsche can be very proud of what has been achieved in the Super Season of the FIA WEC. Our successes have shown very clearly that the Porsche 911 is still the measure of all things in the sports car world."

Fritz Enzinger (Vice President Porsche Motorsport): "To win all titles at the last race of the season and to witness three driver crews on the podium is an incredible story. We've concluded the FIA WEC Super Season with the greatest possible success. Now we aim to secure more titles in the North American IMSA series. This is already one of the most successful seasons in the history of Porsche Motorsport. My thanks go to all the team members at the racetrack and to all the employees in Zuffenhausen and Weissach as well as all other locations who've made these successes possible."

Pascal Zurlinden (Director GT Factory Motorsport): "We were determined to win this race. Unfortunately, bad luck and minor mistakes prevented this. Still, we have two cars on the podium in the GTE-Pro class and one in the GTE-Am category. Porsche has won all four GT titles in the FIA WEC Super Season. What more do you want? I can only thank everyone in the team. It was a season I'll remember for a very long time."
Porsche in the GTE Pro Class
This, the 87th running of the 24 Hours of Le Mans saw four Porsche 911 RSRs start in the GTE Pro category. The newly crowned world champions Christensen, Estre, and their teammate Laurens Vanthoor, ran quite well in the first half of the race, and ran up at the front until the wee hours of the morning. At exactly 3:47 AM local time, the #92's exhaust manifold cracked, and the engine was down significantly on power. The team called the car into the pits and rolled it back into the garage to affect repairs. The repairs took exactly 20 minutes, which is impressive in itself, but that 20 minute repair was a lifetime of sitting stationary, costing the leading Porsche 6 laps to the leaders of the class. The car ultimately finished in 10th position in class, just enough to net them the championship they so desperately hoped for.
The #91 of Gianmaria Bruni, Richard Lietz, and Fred Makowiecki ran without flaw to second place in class behind the winning Ferrari of AF Corse. The #93 car of Earl Bamber, Patrick Pilet, and Nick Tandy joined them on the podium to make it a Porsche double. Both of the 911 RSRs on the podium finished about 1 minute and 10 seconds behind the leading Ferrari, which won a decisive lead with some good luck with safety car positioning. It doesn't do well to dwell on the bad, so we'll celebrate the double podium in good spirits.
Gianmaria Bruni (Porsche 911 RSR #91): "Like last year, we were very unlucky with the safety car phases. Because of these, we lost more than a minute to the top on two occasions – much more than our gap to the winners at the flag. This shows that we could've won. We've made the most out of the conditions and achieved second place. Hopefully it'll be our turn next year to win the race."

Michael Christensen (Porsche 911 RSR #92): "What a rollercoaster ride! We were on track for victory, everything was perfect, but then we had to pit during the night for repairs to the exhaust. You feel as if the world has fallen out from under your feet. Still, we won the world championship and that's what counted for us; that was our aim. So we have very good reason to celebrate."

Earl Bamber (Porsche 911 RSR #93): "We tried everything, but even though we had a very fast car, we couldn't do more. That's Le Mans, you simply have to have luck on your side. We're pleased with the podium finish and now we look ahead. Our focus is now on extending our points' lead in the IMSA series and to win more titles for Porsche."

Mathieu Jaminet (Porsche 911 RSR #94): "We delivered a clean and strong performance. There were factors beyond our control that hampered us. That simply belongs to Le Mans. I thoroughly enjoyed my debut at this sensational race and I very much want to return next year."
Porsche in the GTE Am Class
With Porsche down to 5 bullets in the GTE Am class gun after Tracy Krohn crashed one of them in pre-qualifying practice, the game was on from the drop of the flag. The various Porsche flagged teams knew it would be a tough old fight, and they gave it everything.
The pole-winning number 88 Dempsey Proton entry was retired after just 79 laps when Am driver Satoshi Hoshino had been involved in multiple accidents and allegedly declared he was unwilling to go back out on track. Teammates Porsche driver Matteo Cairoli and Giorgio Roda could do no more. Without Hoshino finishing his minimum drive time, the team saw no purpose in continuing to battle and retired the battered car instead. The other Dempsey Proton car, #77 of Matt Campbell, Julien Andlauer, and Christian Ried ran quite well early on, even leading the class for long stretches, but ultimately fell down the field with a carbon under tray issue that cost them several long minutes in the pits.
Ultimately it was down to the brand new for 2019 Project 1 Racing team of Joerg Bergmeister, Patrick Lindsey, and Egidio Perfetti to bring home the Porsche laurels in second place for the GTE Am field. The team looked good for the win as the class leading Ford of Ben Keating was handed a 30 second stop-and-hold penalty for wheel spin leaving his pit box. Keating came in, served his penalty, and returned to the track just a handful of seconds in front of a hard-charging Joerg Bergmeister. Unfortunately the Ford had the legs on the Porsche and Bergmeister could not close on the bright purple Keating car. The gap at the finish was still well under a minute. Because the Keating car is an American one-off entry for Le Mans, it was not eligible for season long points, and Project 1 was awarded the season points for the victory.
With this Le Mans podium, the Project 1 Racing team clinched both the drivers' and teams' championships in GTE Am. Porsche very nearly swept the 8-event super season in GTE Am, grabbing seven class wins, failing only at Spa-Francorchamps some 13 months ago. The Dempsey Proton #77 team actually won five of the races, including Le Mans 2018, Silverstone, Shanghai, Sebring, and Spa 2019, but following an excellent race at Fuji the team was found to have not followed the regulation for minimum fueling time during pit stops. After an investigation, it was found that the data loggers for that car's fuel rig were found to have been tampered with for the prior three races. The team was disqualified from the Fuji round, and all of its points prior to that were nullified. Even still, the Dempsey Proton team finished second in points on 110 to Team Project 1's championship winning 151 points.
Jörg Bergmeister (Porsche 911 RSR #56): "We won both titles in our maiden season. You don't get better than that – sensational. Towards the end, it may have looked from the outside as if we could still win the race, but unfortunately we had to come into the pits once more to refuel. The Ford deserved to win. With our podium result and after winning the title, we have plenty of reason to celebrate."

Matt Campbell (Porsche 911 RSR #77): "We wanted to win and we came fifth. It's not ideal, but that's just the way it is at Le Mans. The competition is intense, the rivals are incredibly strong and the race is very demanding. The effort in making it to the finish under such circumstances definitely deserves high respect."

Louis Prette (Porsche 911 RSR #78): "We came here as greenhorns. My dad and I and our teammate Vincent tackled this mighty race as rookies. We didn't care about where we placed, we just wanted to reach the finish line. But in the end we finished on seventh – crazy! One thing is certain: We definitely want to return to Le Mans in 2020, because there's nothing better!"
Race result
GTE-Pro class
1. Pier Guidi/Calado/Serra (I/GB/BRA), Ferrari 488 GTE, 342 laps
2. Lietz/Bruni/Makowiecki (A/I/F), Porsche 911 RSR, 342 laps
3. Pilet/Bamber/Tandy (F/NZ/GB), Porsche 911 RSR, 342 laps
8. Müller/Jaminet/Olsen (D/F/N), Porsche 911 RSR, 339 laps
10. Christensen/Estre/Vanthoor (DK/F/B), Porsche 911 RSR, 337 laps
GTE-Am class
1. Keating/Bleekemolen/Fraga (USA/NL/BRA), Ford GT, 334 laps
2. Bergmeister/Lindsey/Perfetti (D/USA/N), Porsche 911 RSR, 334 laps
3. Segal/Baptista/Lu (USA/BRA/CAN), Ferrari 488 GTE, 334 laps
5. Campbell/Ried/Andlauer (AUS/D/F), Porsche 911 RSR, 332 laps
7. Prette/Prette/Abril (I/I/F), Porsche 911 RSR, 332 laps
9. Wainwright/Barker/Preining (GB/GB/A), Porsche 911 RSR, 331 laps
DNF. Hoshino/Roda/Cairoli (J/I/I), Porsche 911 RSR, 79 laps
Pour consulter l'article original et complet, cliquez ici.
Since Porsche has been out of the LMP1 game, ending the program at the conclusion of the 2017 season, our favorite German sports car maker has been pushing their GTE programs to the top of the heap. After winning both GTE Pro and GTE Am classes at Le Mans last year, the team is looking to repeat that feat this weekend. They have a very strong group of teams and drivers, but the competition is extremely heavy. So here we stand, at the end of the 2018-19 « Superseason » with Porsche running a quartet of factory-backed GTE Pro cars, hoping to bring the heat.
Porsche in GTE Pro
Porsche's GTE Pro team has either won or been on the podium at each of the seven FIA WEC rounds this season. Not only does that add up to three victories (including Le Mans) but it secured Porsche the GTE Manufacturers' championship a few rounds ago. Here in the United States, however, things have been even better, as Porsche has won the last three rounds of the IMSA championship for GTLM cars, the 12 hours of Sebring, Long Beach, and Mid Ohio. Both pairs of cars, the Euro squad run by Manthey Racing and the USA squad run by CORE Autosport, are riding high on a season full of greatness, and hope to carry that momentum through the most important race of their collective seasons.
With all of that said, the GTE Pro grid at Le Mans is about as strong as anyone could ever face. In qualifying this week the top five positions were taken by five different manufacturers. Aston Martin is on Pole, followed by Ford, Corvette, Porsche (4th), and BMW, and they're all within 1.1 seconds of the Aston's pole time. There are two Corvettes, two Aston Martins, two BMWs, three Ferraris, and four Ford GTs in this field to battle four Porsches, and every single one of them has a package capable of winning the class. The Porsche's new exhaust doesn't sound quite as good as it did last year, but thankfully the GTE Am cars have to run last year's specs, so they'll still be roaring up and down the field.
Michael Christensen, driver of the #92 911 RSR, commented after qualifying, "We're actually better than the qualifying result indicates. On my flying lap I had to let two prototypes pass in the middle sector, and then I had to overtake a GT car. This cost me a lot of time. Of course we would have preferred to start from further up the grid, but our car is really well balanced, which means we'll be able to make up a lot of ground in the race. I'm heading into the season finale feeling really good."
Porsche in GTE Am
In GTE Am it's a slightly different story, one of both ups and downs. Porsche nabbed pole in qualifying with the #88 car of Dempsey-Proton Racing. Not only that, but Porsche locked out 1st, 2nd, and 3rd starting positions on the grid, and are supported by two more P-cars starting 5th and 6th. Even better than that, Porsche has netted 6 of 7 WEC round victories this season, including Le Mans 2018. Even better than that, it was the #77 Dempsey-Proton car that has won five of those 6. Team Project 1 won in Fuji when Dempsey-Proton was disqualified for not meeting minimum fuel filling time during pit stops. In any case, Porsche looks very strong for Le Mans this year with an excellent balance of speed and fuel economy.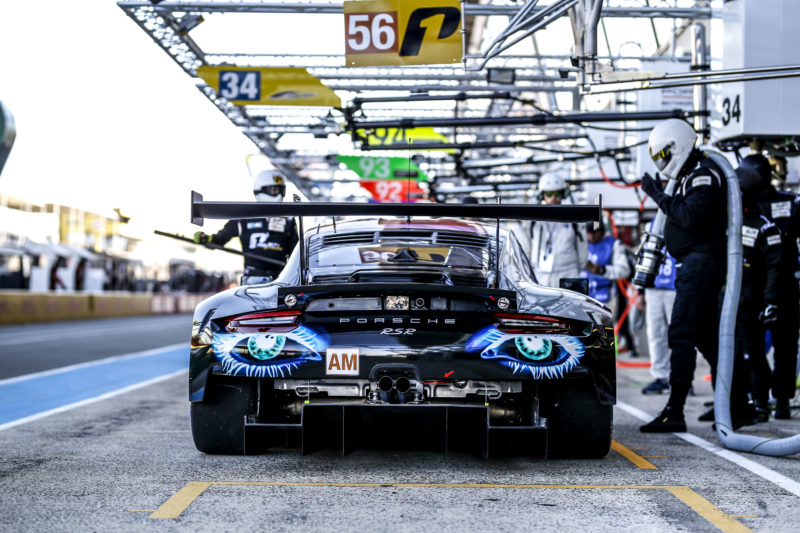 Matteo Cairoli, who grabbed the pole, had this to say: "This is my second pole position in a row at Le Mans – I'm blown away! My fastest lap was good, but I still lost a little time in some places. At the end I was nervous because it looked as if some other Porsche 911 RSR might still pose a threat. But it was enough. We're heading into the big race feeling terrific."
So that's all the good news sorted then. Now for the bad news. A sixth 911 RSR was planned to enter the 24 Hour race this weekend in GTE Am, a third Dempsey-Proton entry fielded for Krohn Racing. That car's am driver, Tracy Krohn, crashed the car in practice and while he was given a clean bill of health by the trackside doctors, the FIA put him on a one-week race ban for potential brain injury due to the g-forces involved in the accident. With Patrick Long and Nic Jonsson ascribed to the car to join him, that car, the #99, has been withdrawn from the proceedings. This will mark the first time in 16 years that Patrick Long has not raced at Le Mans. Bummer.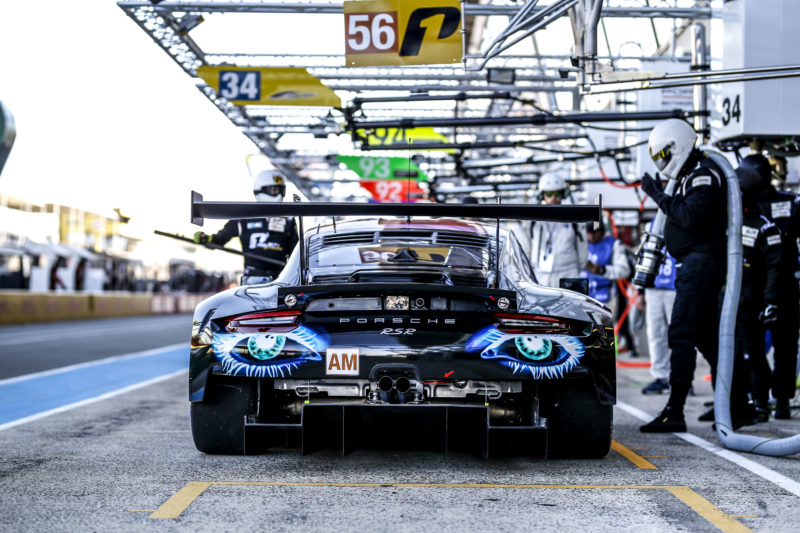 Race Resources for Porsche Fans
Starting at 8AM eastern on Saturday, the cable channel MotorTrend TV (what used to be Discovery/Velocity), and the MotorTrend On Demand app streaming site will broadcast the full 24 hour race live in high definition. What a time to be alive!
Pour consulter l'article original et complet, cliquez ici.
Just like last year, Porsche has amassed a full grid of ten GTE-classed 911 RSR in an attempt to take on the best comers from Ferrari, Ford, BMW, Corvette, and Aston Martin. Because this is a transition season, this weekend's Le Mans is technically inside the same « super season » as last year's Le Mans, and will decide a number of FIA WEC championships. Porsche have again recruited four cars in an attempt to defend its LM GTE Pro class victory in 2018, with four factory-entered mid-engine 911 RSRs. The GTE Am category features six cars from four different teams. Both categories feature heavily stacked lineups and incredibly talented drivers. Both categories are really anyone's game, and you'll have to watch to find out if Porsche can do it again. Porsche has won three times in the World Endurance Championship GTE Pro class from seven rounds this season, including Le Mans 2018. Astonishingly, the Dempsey-Proton #77 has blitzed the competition winning five of seven rounds, with Team Project 1 grabbing one.
For long endurance races like this one, Twitter can be an invaluable source of information. Not only can Twitter provide an up-to-the-minute view of what's happening in the race, it can connect you with intimate details and insight from the drivers and teams themselves.  In fact, we know of no other way to stay as closely and accurately informed about what's happening in the Porsche world before, during and after the race (even if you were at the event itself) than through the « Twittersphere ». You just need to know who to follow.
OFFICIAL INFORMATION
GREAT RESOURCES
PORSCHE DRIVERS ON TWITTER
The GTE Pro Class
Porsche Motorsport Team Manthey #91 @manthey_racing
Porsche Motorsport Team Manthey #92 @manthey_racing
Porsche Motorsport North America #93 @PorscheNARacing
Porsche Motorsport North America #94 @PorscheNARacing
The GTE Am Class
Team Project 1 @Project1_93
Dempsey-Proton Racing #77 @ProtonRacing
Proton Competition #78 @ProtonRacing
Gulf Racing #86 @Gulf_Racing
Dempsey-Proton Racing #88 @ProtonRacing
Dempsey-Proton Competition #99 @ProtonRacing
Pour consulter l'article original et complet, cliquez ici.
Sebring is signaling great things for Porsche, with victories at both the WEC and IMSA events. In Friday's 1,000 Miles of Sebring, the weekend's WEC event, Porsche managed first place finishes in both GTE-Pro and GTE-Am. The winning Pro car, #91 driven by Gianmaria Bruni and Richard Lietz, finished a lap ahead of their teammates Kevin Estre and Michael Christensen in the #92 car. The winning GTE-Am Dempesy-Proton 911 RSR was piloted by Porsche Young Professional Matt Campbell, Porsche Junior Julien Andlauer, and Christian Ried.
Qualifying
Porsche's qualifying results were surprisingly mixed for the GTE-Pro cars, with one pole and an eighth place result. Michaelson and Estre ran a near-perfect qualifying session in the #92 car, achieving pole position with a blistering 1:57.500 lap. During qualifying the Porsche GT Team kept both cars in the pits during the early phases of qualifying. This allowed the team to avoid the heavy traffic evident early in the session, and emerge into a more open track on fresh tires.
This performance gained an additional championship point for the Michaelson and Estre. Lietz and Bruni qualified in eighth place, 0.613 seconds down from the leaders. According to eventual race-winner Gianmaria Bruni;
 "We're probably the only team who opted out of using another set of fresh tyres. That was the right decision, because early on in my qualifying stint the track was so dirty that the first lap was only good for cleaning up the rubber. In the second lap I caught up to an Aston Martin. Otherwise I would have definitely done better than position eight."
The lead GTE-Am cars of Dempsey Proton and Project 1 locked out the first row on the grid. Australian Matt Campbell proved to be the fastest in GTE-Am, with a qualifying time of 1:59.790. The Project 1 911 RSR of Bergmeister, Lindsey, and Perfetti qualified second, 0.145 seconds behind the leaders.
GTE-Pro
The 1,000 Miles of Sebring was subject to numerous changes prior to the beginning of the season, being shortened from 1,500 miles to 1,000, and ultimately capped at just 8 hours. These quirks made the Sebring event the only event of its length in the 2018-2019 WEC calendar.
Unfortunately Lietz and Estre were unable to continue their qualifying success through the 8-hour event. Early race collisions, first involving a pair of AF Corse Ferraris, and then the Aston Martin of Darren Turner resulted in a drive-through penalty for the #92 car, costing Lietz and Estre their lead. Due to limited overtaking opportunities at Sebring, the #92 car was unable to regain their lead.
A remarkably rapid pit stop for tires evaporated the leading BMW's lead with less than 25 minutes left in the race. The #91 car of Bruni and Lietz were able to move into the lead, which they would retain through the end of the race. From Gianmaria Bruni:
"It's a fantastic result for us drivers and for Porsche. The way the team managed to catapult us to the front at the last pit stop was simply sensational. This shows just how special our crew is. The fact that we were able to win the 1,000-mile race at the return of the WEC to Sebring is incredible. For me personally it's even more special: it's the first time I've won a race for Porsche. That means so much to me."
And Estre:
The rain at the end was a blessing. Gimmi managed to keep the car steady on the wet track, and the team worked at lightning speed. That was the decisive factor in the race. Everything ran perfectly for us. I'm totally over the moon with my first win of this season.
GTE-Am
In the GTE-Am category, Dempsey Proton Racing brought the marque a second victory. Porsche Young Professional Matt Campbell, Porsche Junior Julien Andlauer, and Christian Ried performed consistently, moving from pole position to ultimate victory. Project 1, with drivers works drivers Jörg Bergmeister, Patrick Lindsey, and Egidio Perfetti secured a third place finish, with the Gulf Racing car of Thomas Preining, Ben Barker and Michael Wainwright finished Fourth. Porsche's appearance at Sebring was rounded out by a seventh place finish by the #88 Dempsey Proton car of Mattero Cairoli, Giorgio Roda, and Gianluca Roda.
Results and Gallery
Following this race the #92 car of Christiansen and Estre retain their points lead in the championship, with the #91 car still in second position. In the manufacturer's standings Porsche has a lead of 100 points over Ferrari, and 102 over Ford.
GTE-Pro class
1. Lietz/Bruni (A/I), Porsche 911 RSR, 226 laps
2. Tomczyk/Catsburg/Sims (D/NL/GB), BMW M8 GTE, 226 laps
3. Priaulx/Tincknell/Bomarito (GB/GB/USA), Ford GT, 225 laps
5. Christensen/Estre (DK/F), Porsche 911 RSR, 225 laps
GTE-Am class
1. Ried/Andlauer/Campbell (D/F/AUS), Porsche 911 RSR, 221 laps
2. Flohr/Castellacci/Fisichella (CH/I/I), Ferrari 488 GTE, 221 laps
3. Bergmeister/Lindsey/Perfetti (D/USA/N), Porsche 911 RSR, 221 laps
4. Wainwright/Barker/Preining (GB/GB/A), Porsche 911 RSR, 221 laps
7. Roda/Roda/Cairoli (I/I/I), Porsche 911 RSR, 219 laps
Pour consulter l'article original et complet, cliquez ici.