We at Elferspot Magazine are constantly looking for exciting vehicles and their history behind them. Of course, we are particularly interested in the people who, driven by love and passion, turn these cars into special vehicles. This time we were allowed to talk to Carl, who owns a very special Porsche 964.
Hello Carl! Thank you for taking time for Elferspot magazine. We follow you on Instagram for a while and your profile says: Racer, Porsche maniac and Photographer. That sounds promising and we are looking for people like you. You describe yourself as a Porsche maniac. How did that happen?
Like many, I grew up loving race cars.  The Porsche 911 has such a unique and beautiful shape.  Couple that with its race breed performance and I was completely sold at an early age.  Air cooled 911s are my absolute favorite cars.  They are just tough as nails and so rewarding to drive.  Most other super cars out there just can't take real track duty for any extended period of time.  Both of my 911s are setup for the track and just run like demons, smiling at the end of every session or race.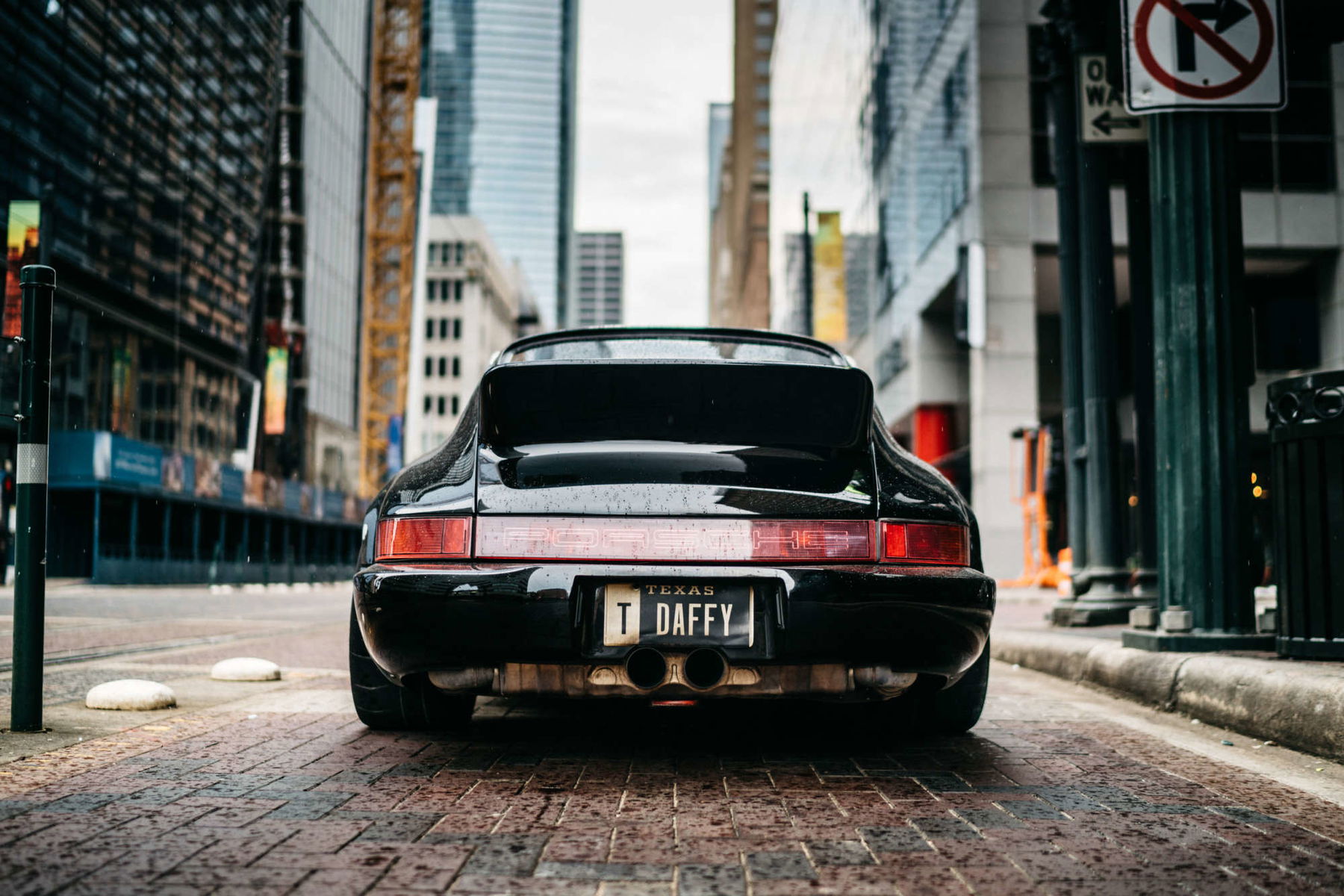 So you also drive on racetracks. What do you like most about it?
The track is a safe environment where you can push you and your car to the limit and then some.  It's such an incredible rush.  I'm now an advanced driving instructor with PCA and a PCA club racer.  When I'm not on track, I'm thinking about my next weekend at the track. A great friend of my often says "Race car driving makes a heroin addiction seem like a mild craving for something salty."  It's just an insane addiction.
"Race car driving makes a heroin addiction seem like a mild craving for something salty."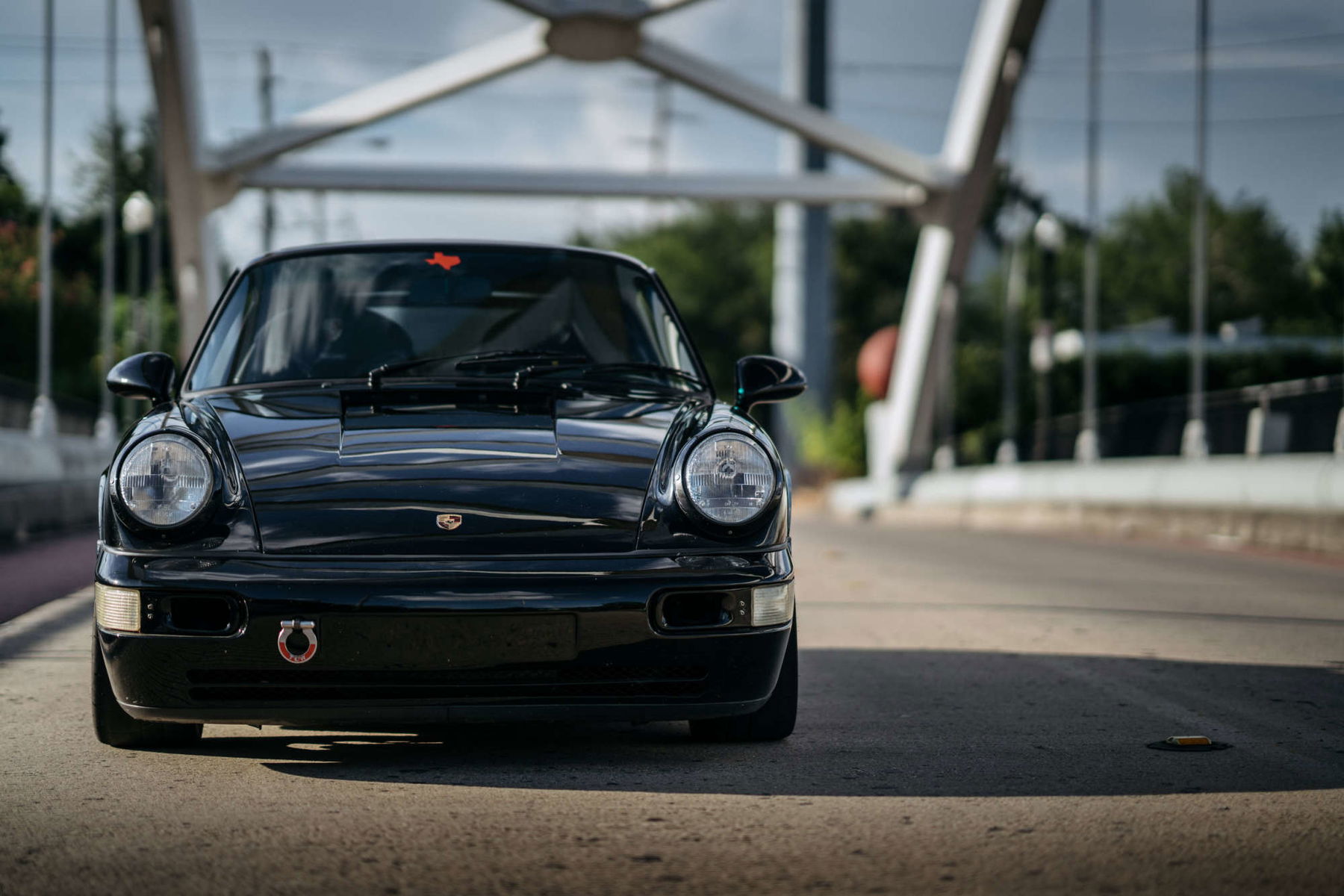 Your beautifully modified 964 is called Daffy. How did this name come about?
My 74 Carrera racecar is named Taz.  It just seemed fitting to name it after the Tasmanian devil.  That started the Loony Toons naming.  My 964 is black with a ducktail.  She is a crazy black duck so I named it Daffy.
She is a crazy black duck so I named it Daffy.
You made your 964 very individual. Can you tell us something about your modifications? Who made it?
I bought the 964 with the track in mind.  I wanted to build an air cooled GT3. The motor and gearbox were built by Jeff Gamroth.  The motor is a heavily modified 964 motor now making 381hp.  The gear box is a 6 speed from a 993 with short gears, steel syncros and a Guard race limited slip differential.  She's been stripped of most creature comforts including AC, heating and rear seats.  I've got her down to 2650lbs but a good friend of mine has plans to get her down to 2550lbs. The suspension is also heavily modified.  The front suspension is from a 993 GT2.  I've got adjustable coilover shocks and upgraded brake system that includes larger brakes and a dual master cylinder. The exhaust is a custom Gamroth set of headers with a modified dual center exhaust from a GT3. Cosmetically I've done just minor things.  Updated mirrors, ducktail, half cage, bumpers and the tow hooks.  I've also powder coated a set of MY02 996 wheels black.  They were the lightest wheel I could find that looked good on the car.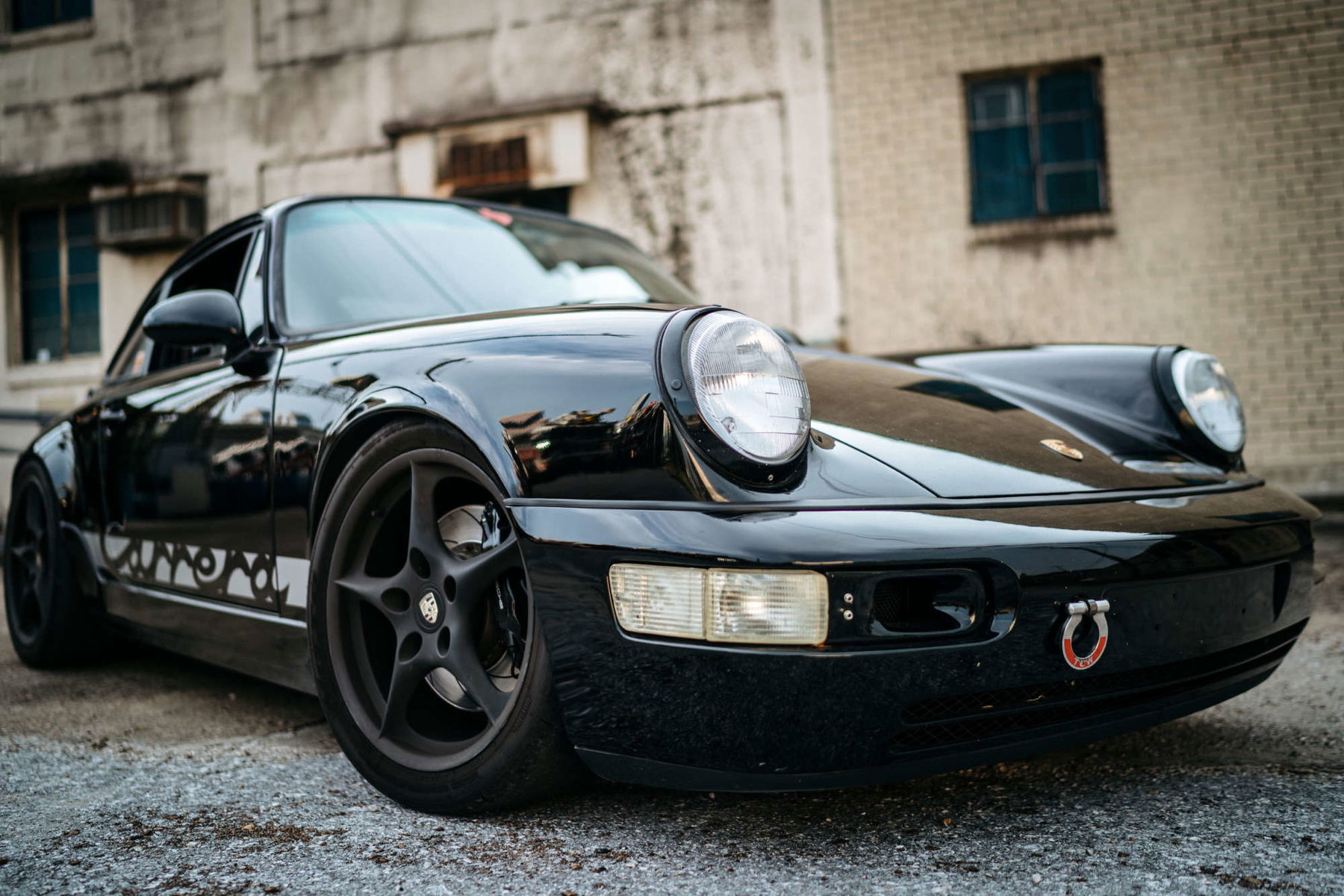 How often do you use your 964?
I drive it to work 3 times a week.  Without AC in the Texas heat it can be a bitch sometimes.
If you could choose another 911, which one would you take?
That's a TOUGH one.  Part of me would love a new 911 Turbo just to have all the creature comforts.  I would thoroughly enjoy daily driving it.  On the other hand, I would love to build an old ST and really get all the weight out.
Without AC in the Texas heat it can be a bitch sometimes.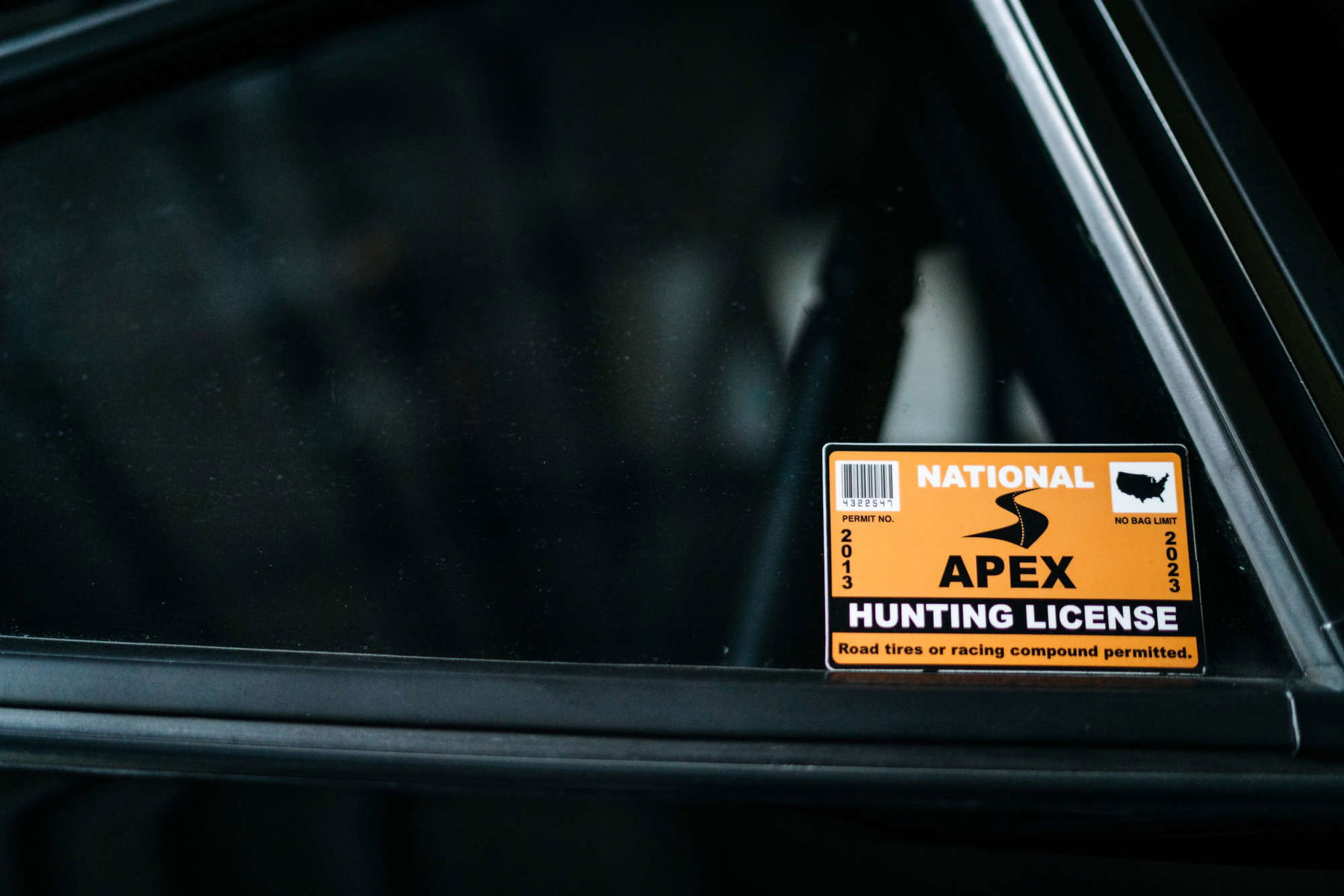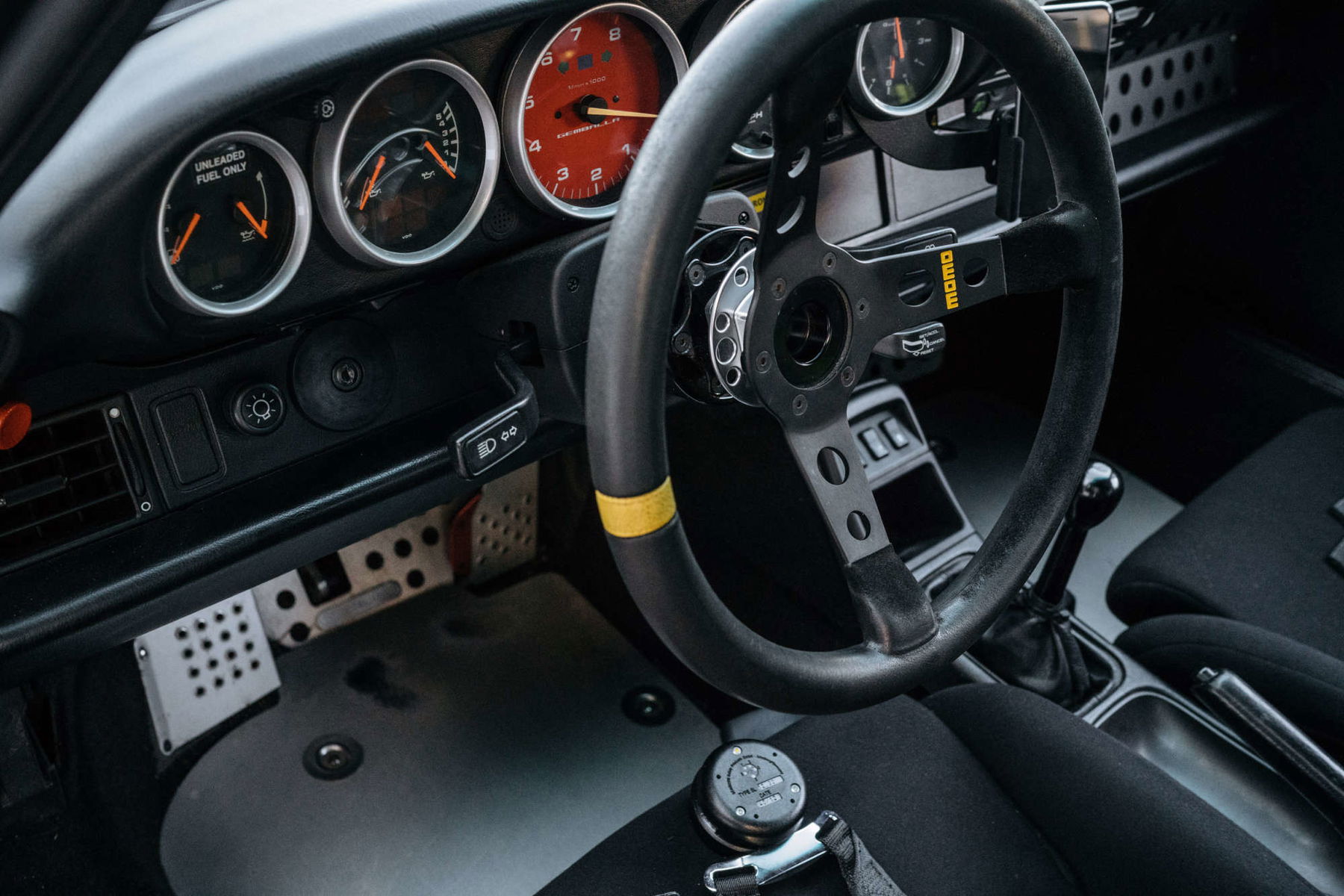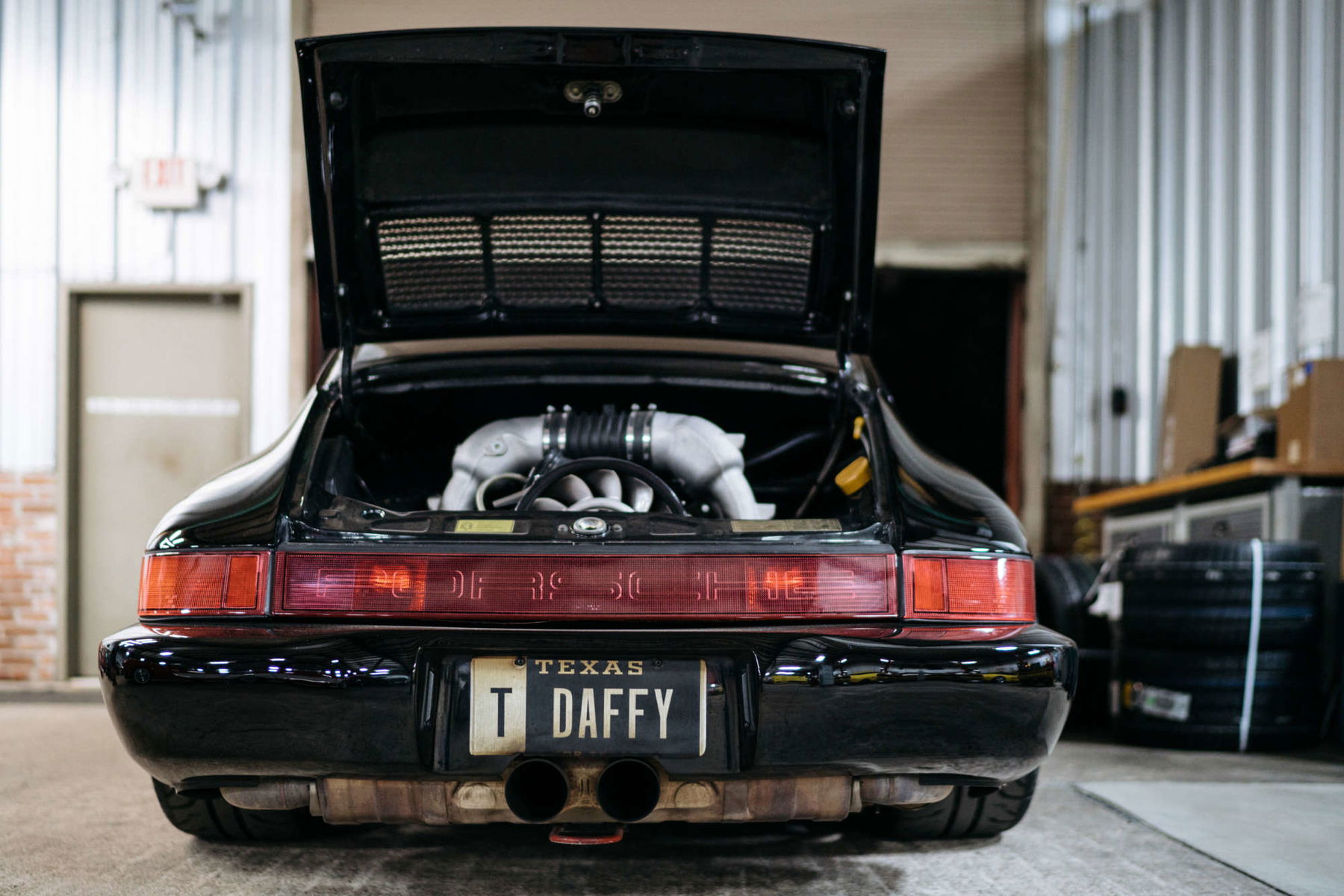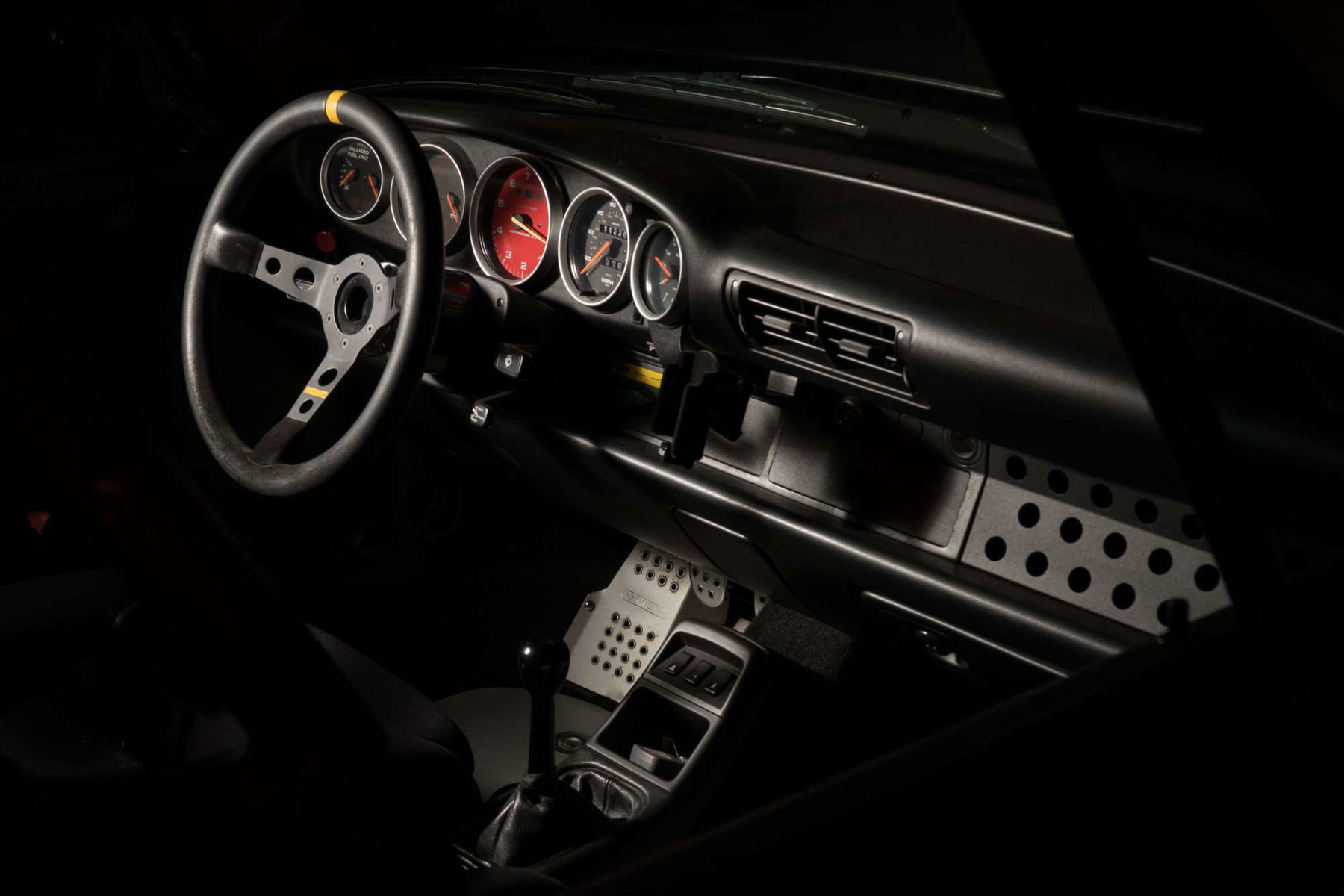 You are a professional photographer. What are your main motives?
I actually work in oil and gas primarily.  Photography and cars are my serious hobbies.  I photograph portraits and fashion.  I also enjoy photographing cars.  My favorite is to combine subjects so I've started a series with both fashion models and old vintage cars.
Many thanks, Carl. It was a pleasure speaking to you.
My favorite is to combine subjects so I've started a series with both fashion models and old vintage cars.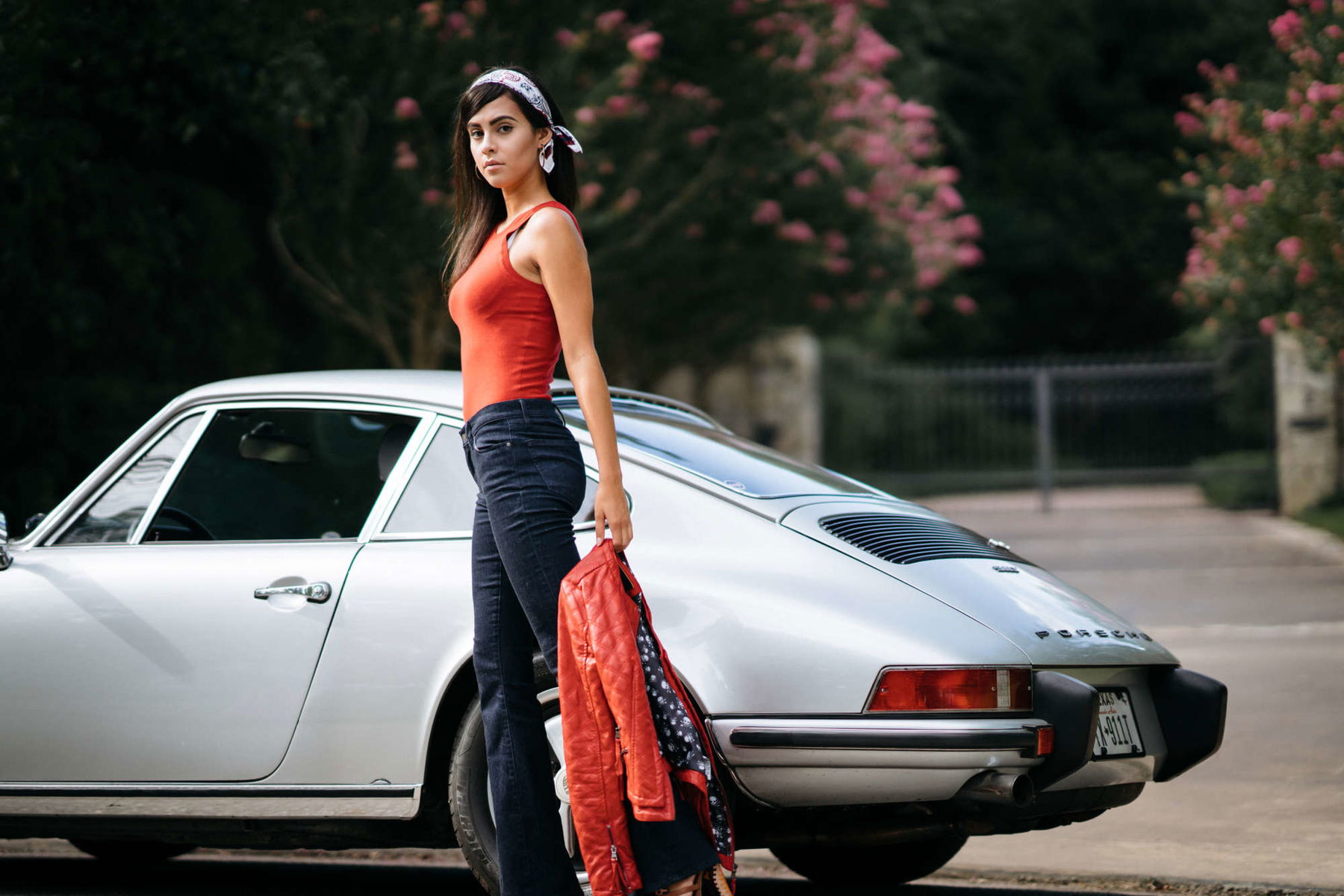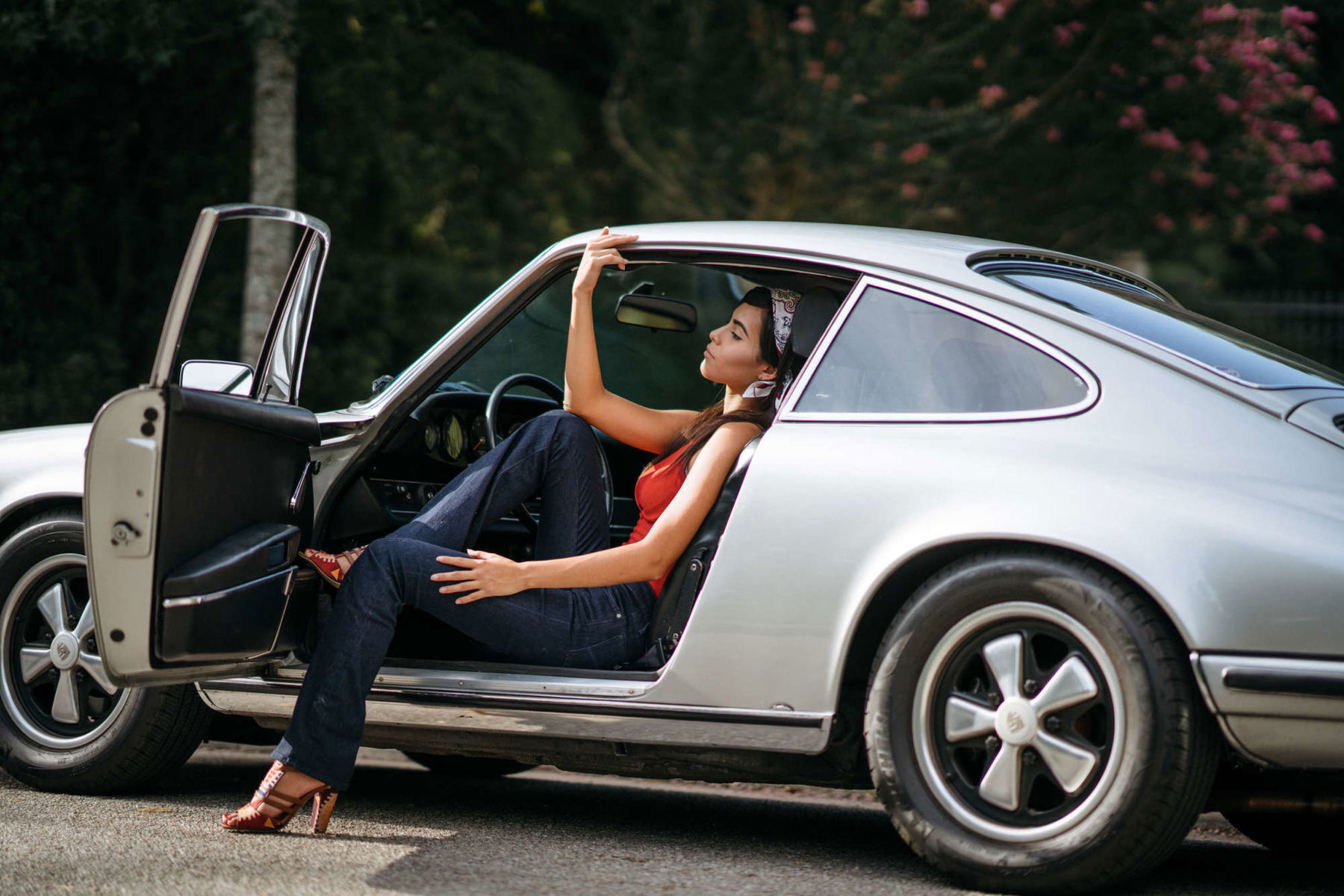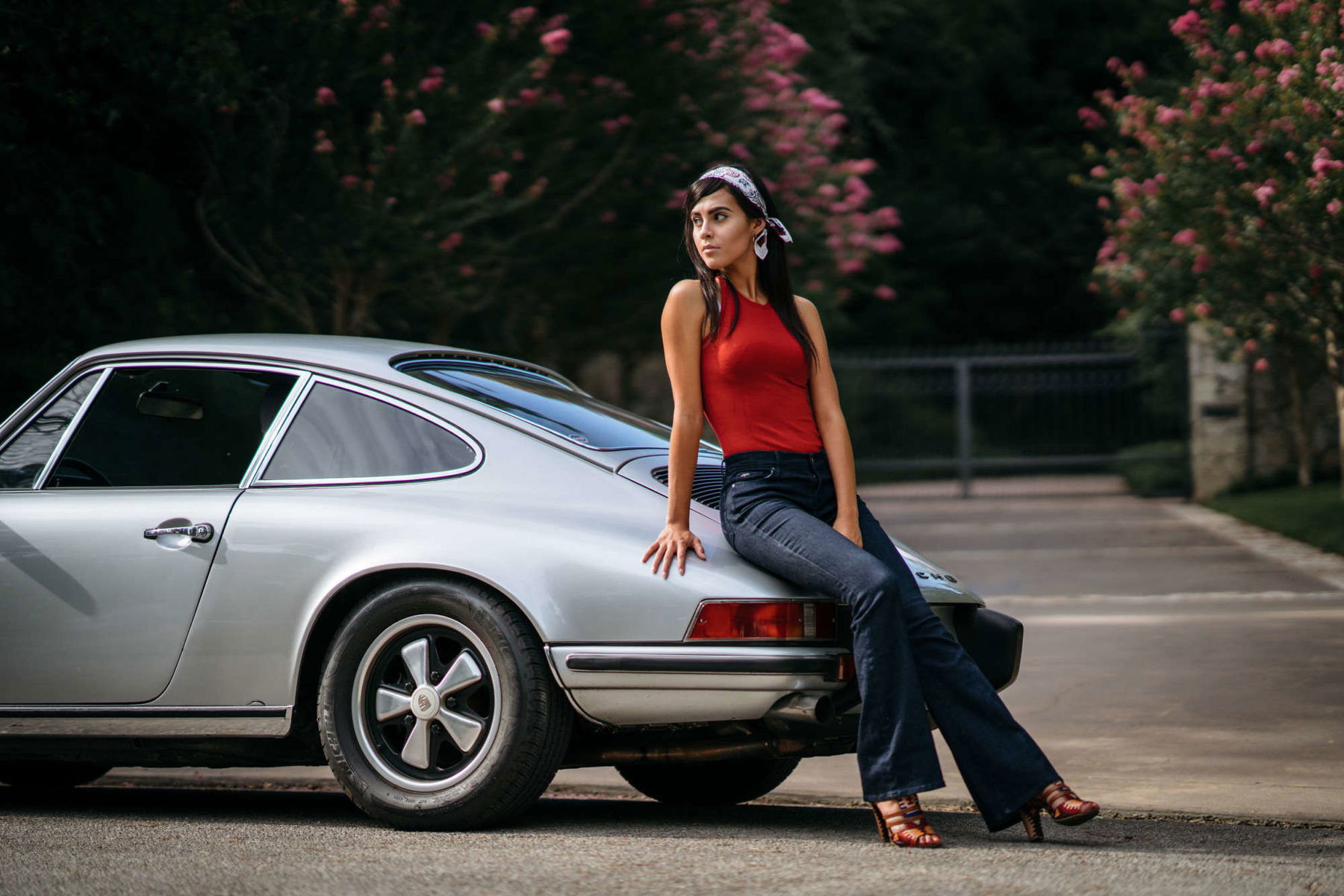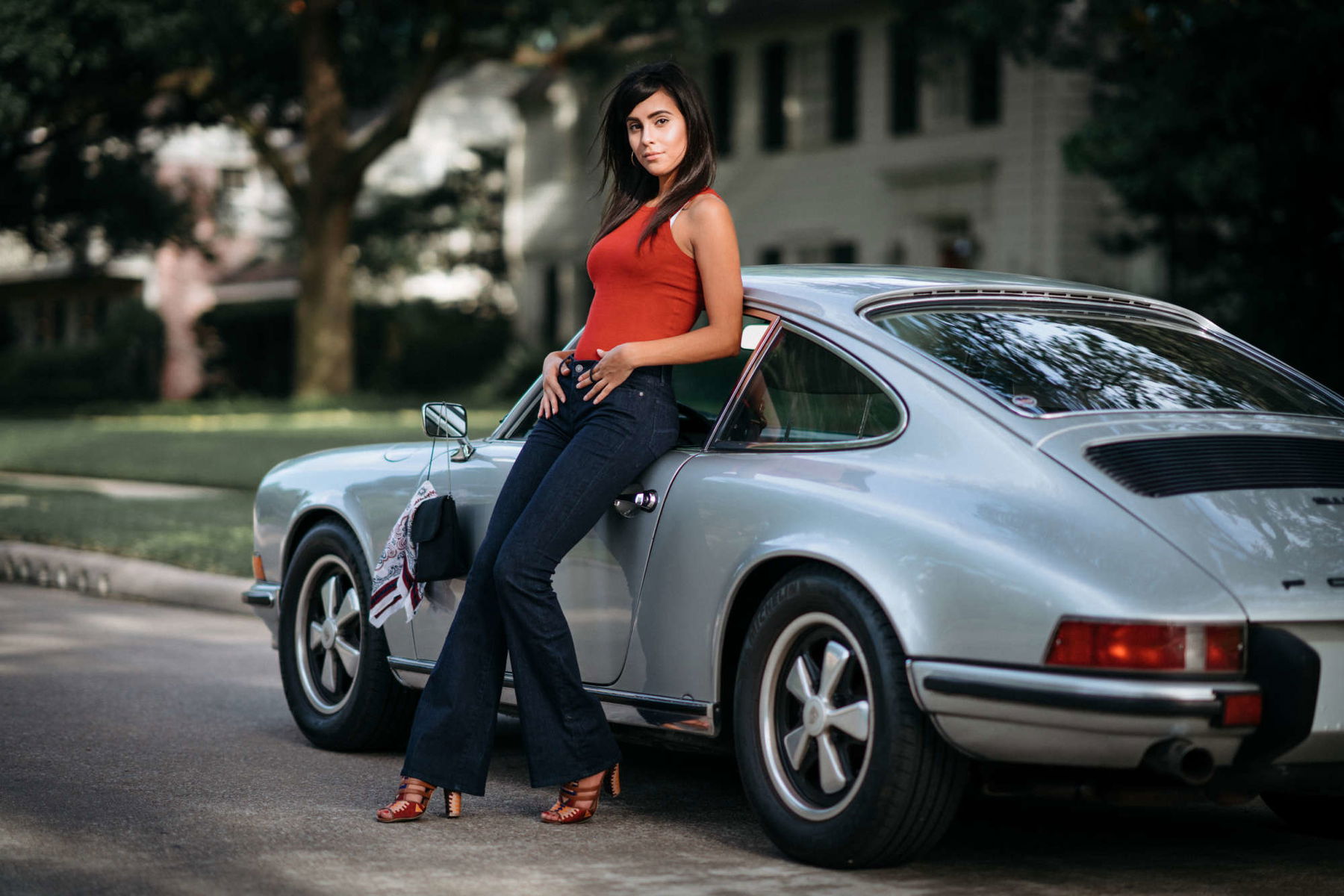 Pictures: Carl Fehres, all rights reserved!
Text: Elferspot Magazine
Follow Carl on Instagram
More "Daffy" pics: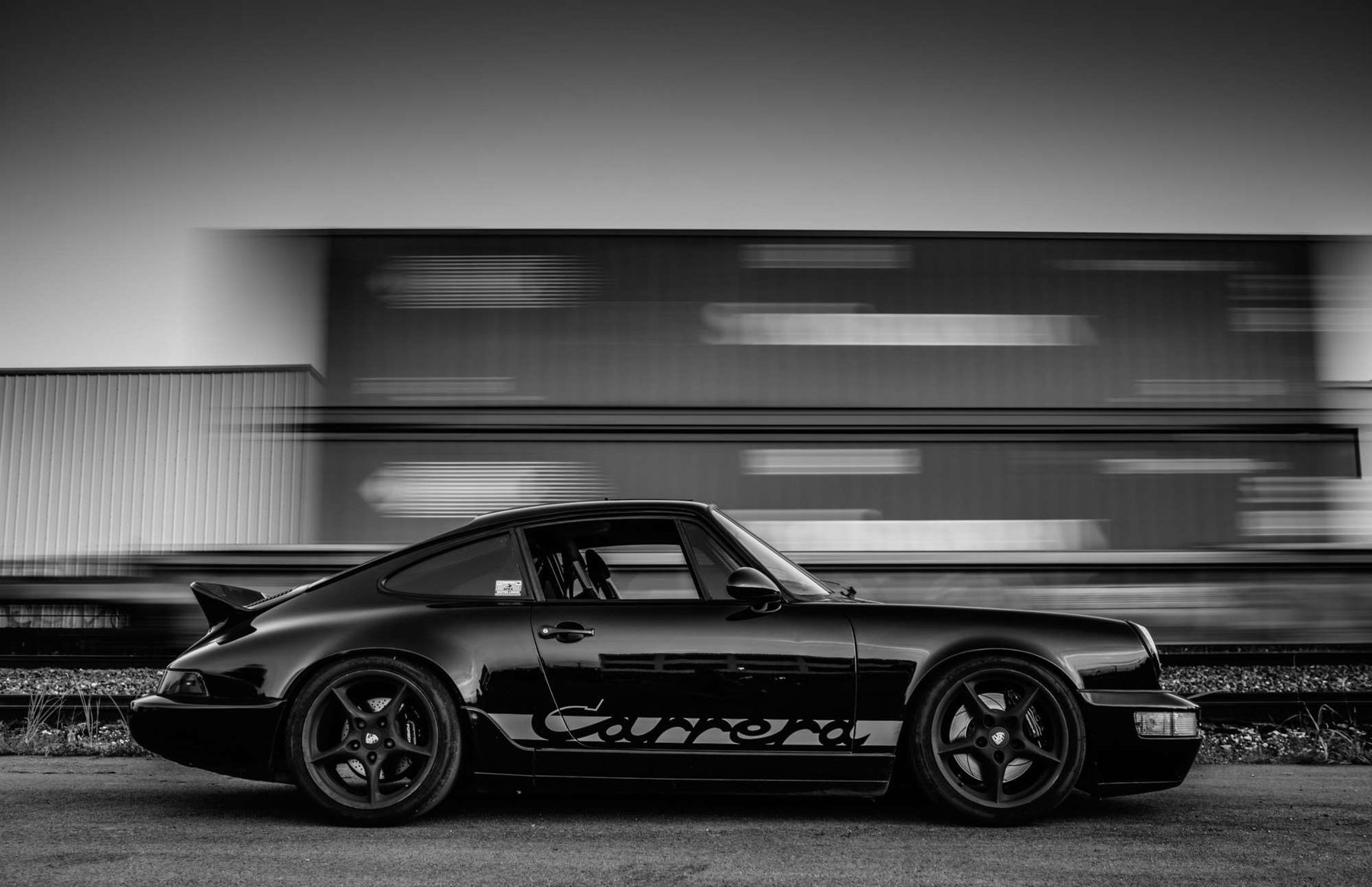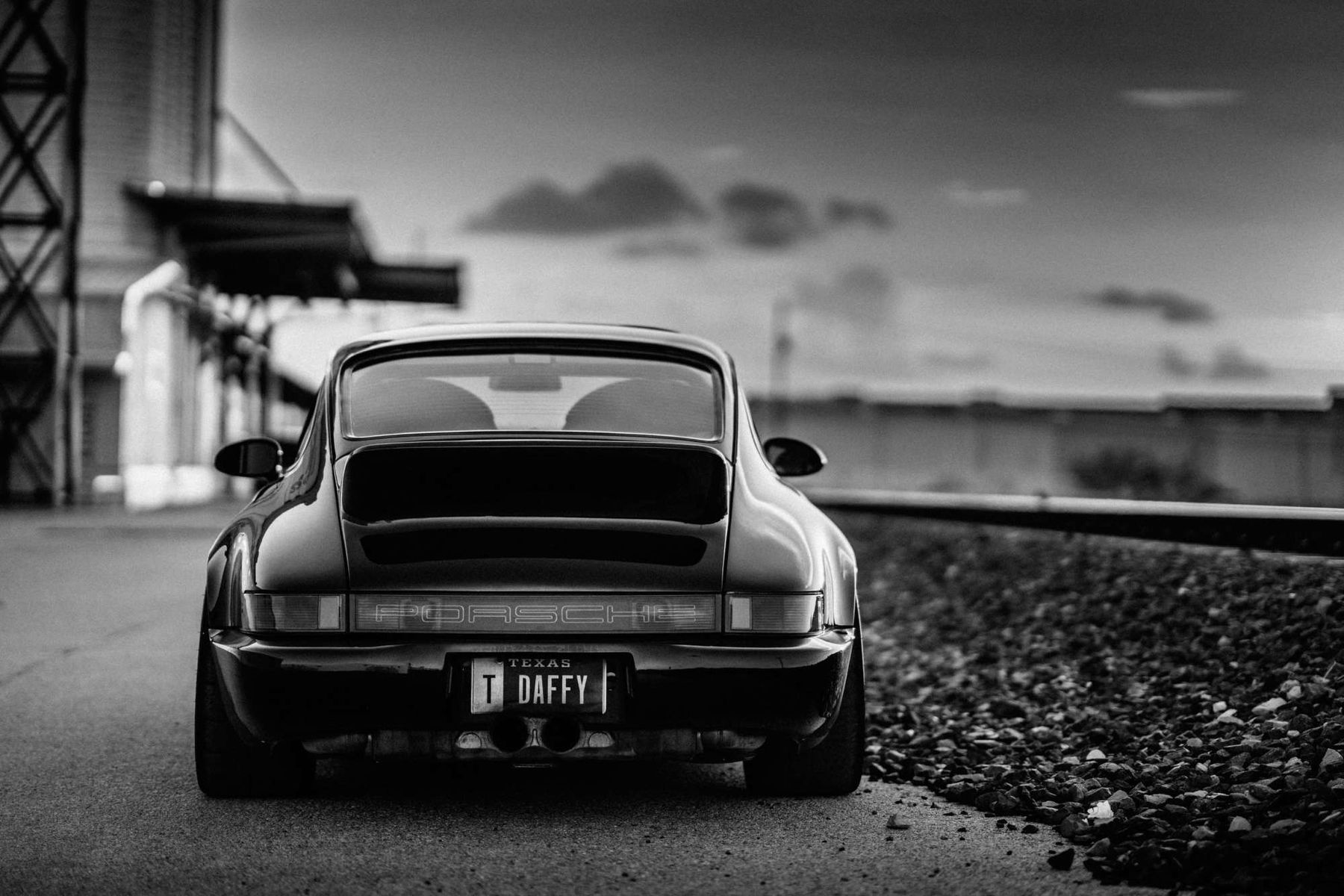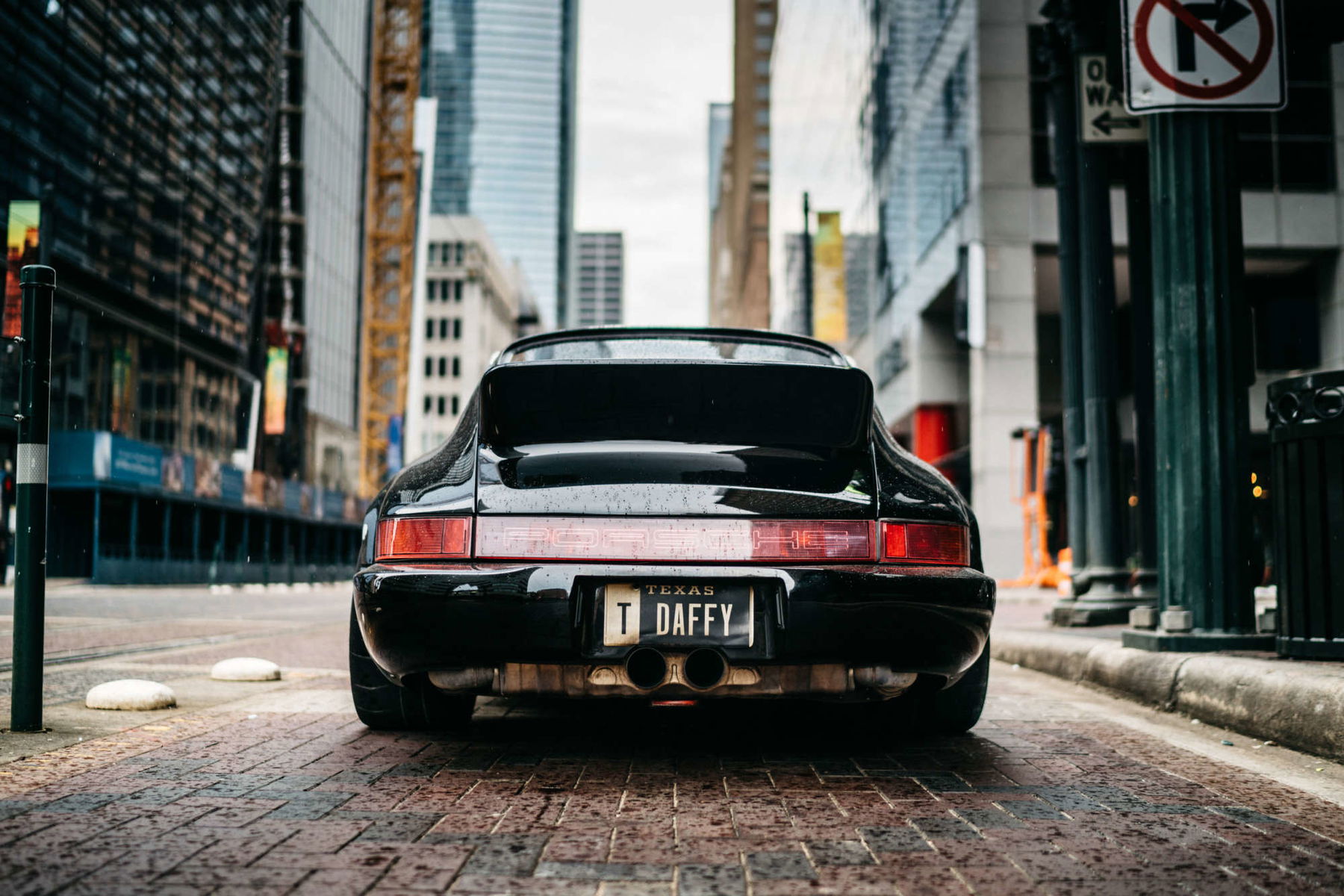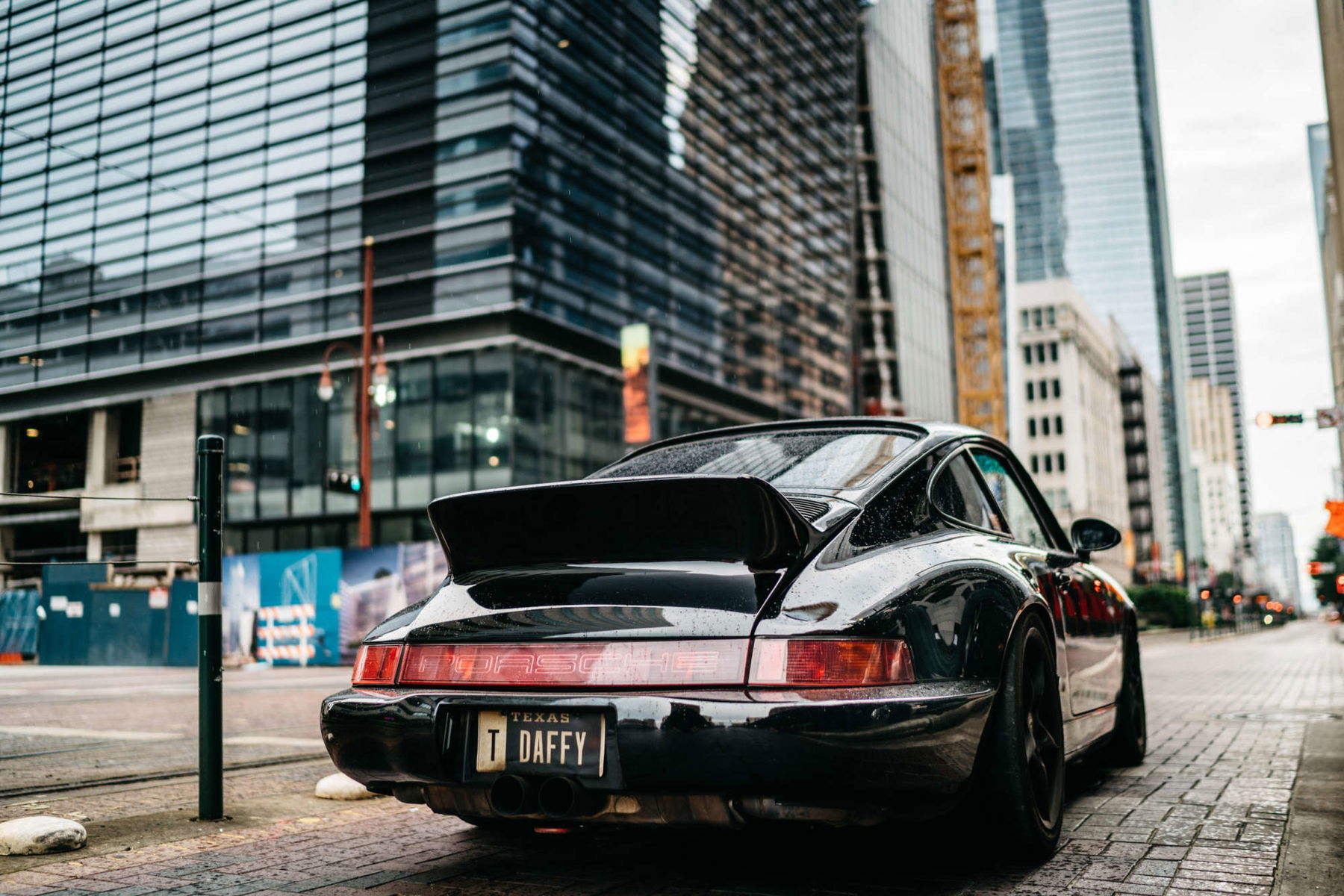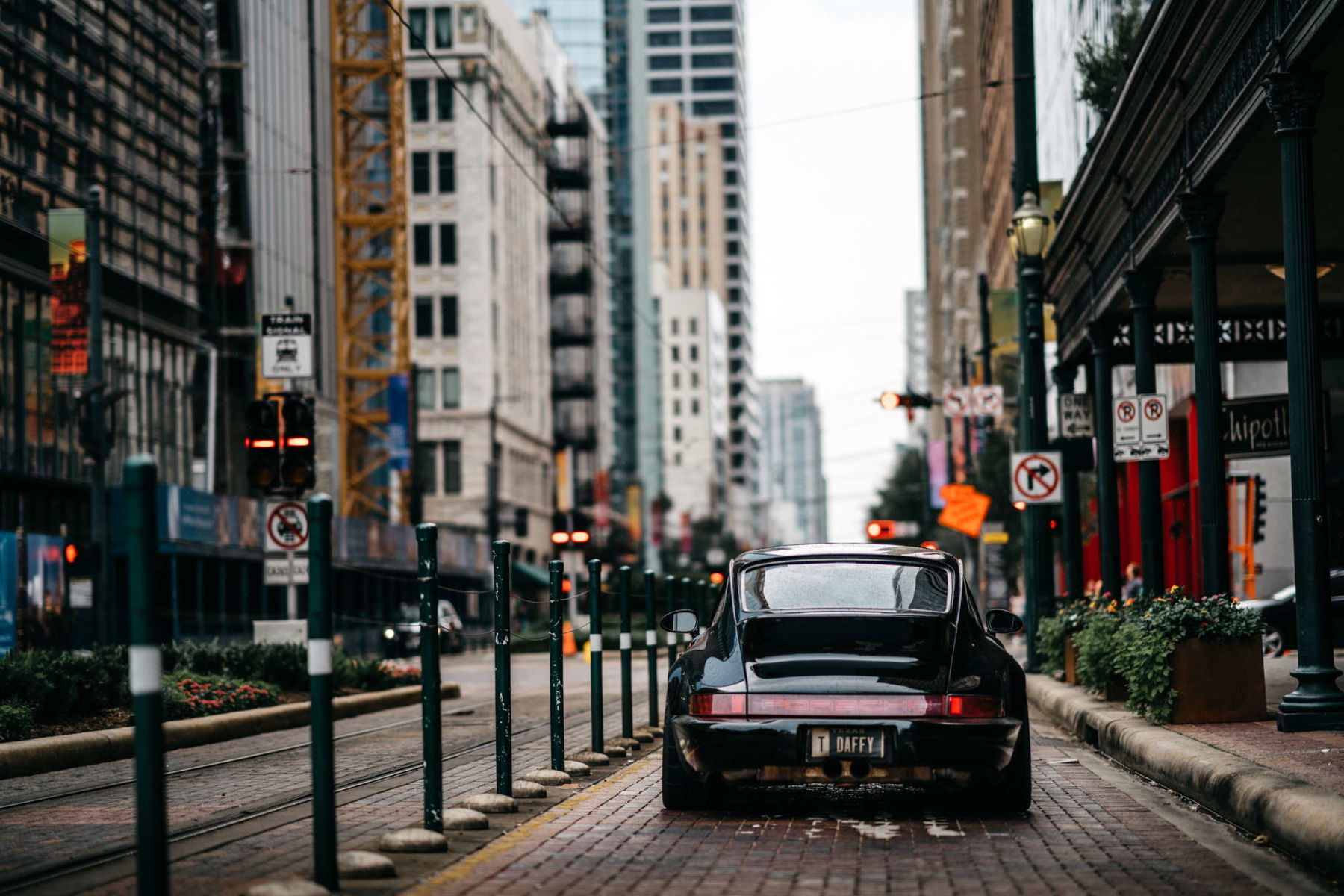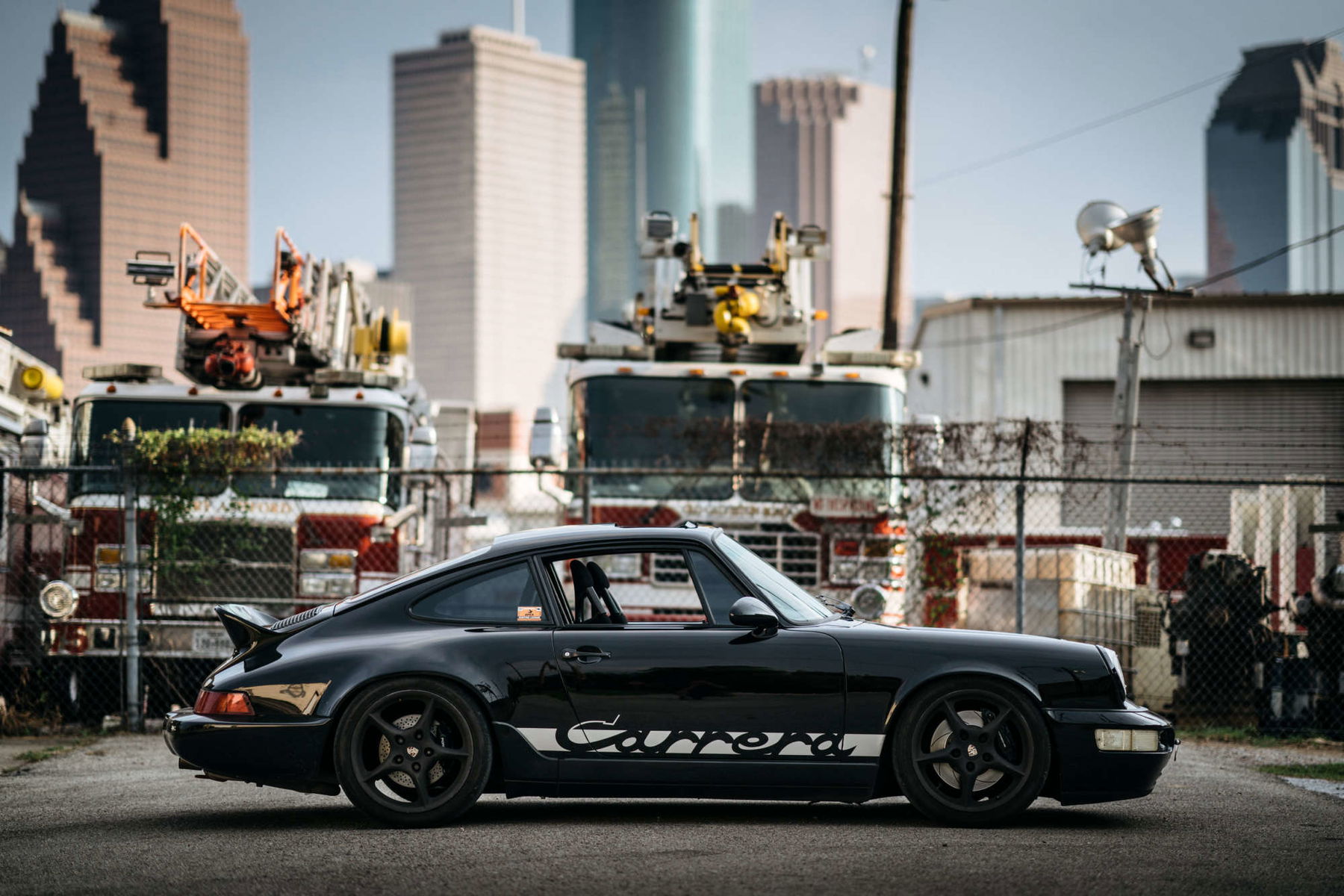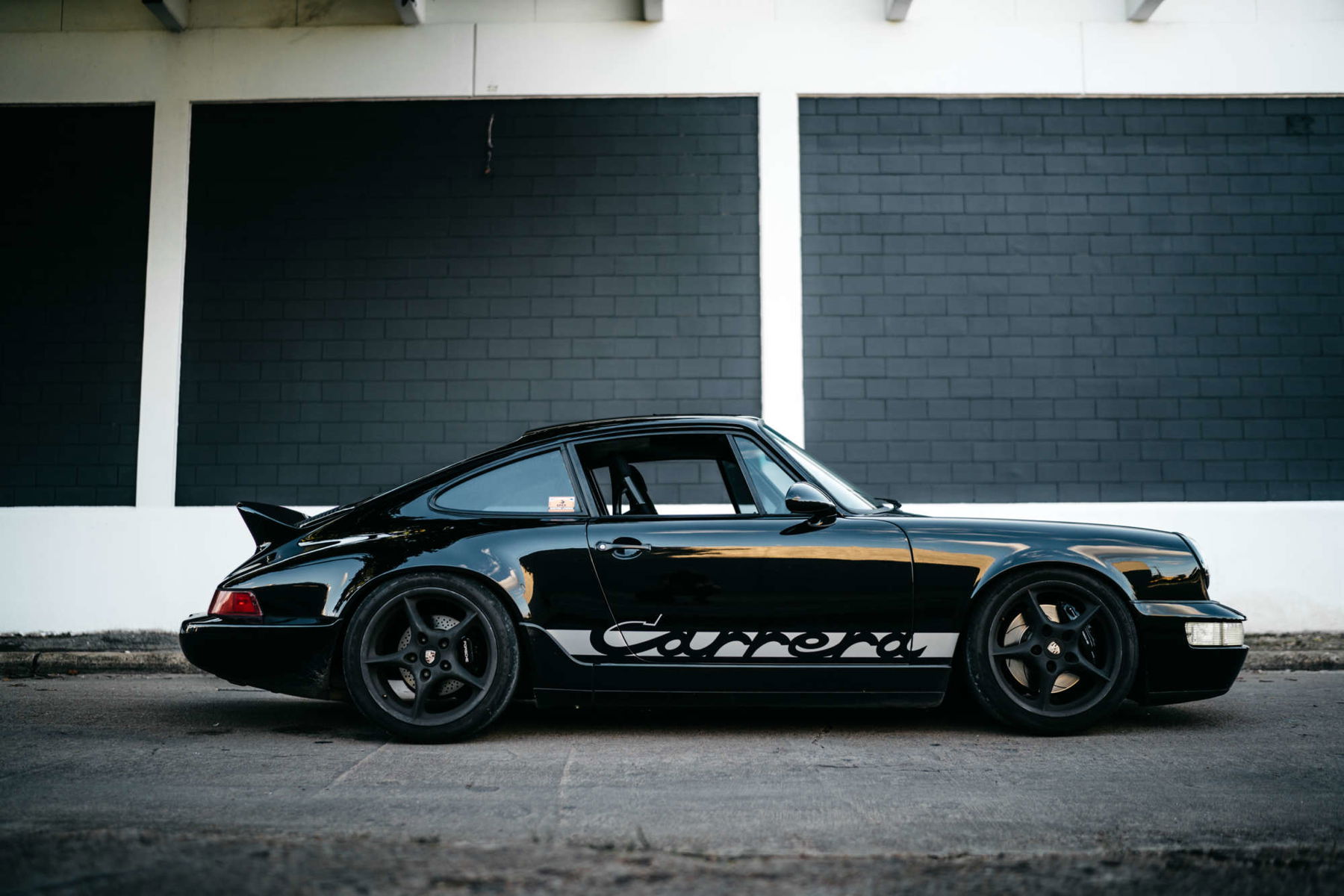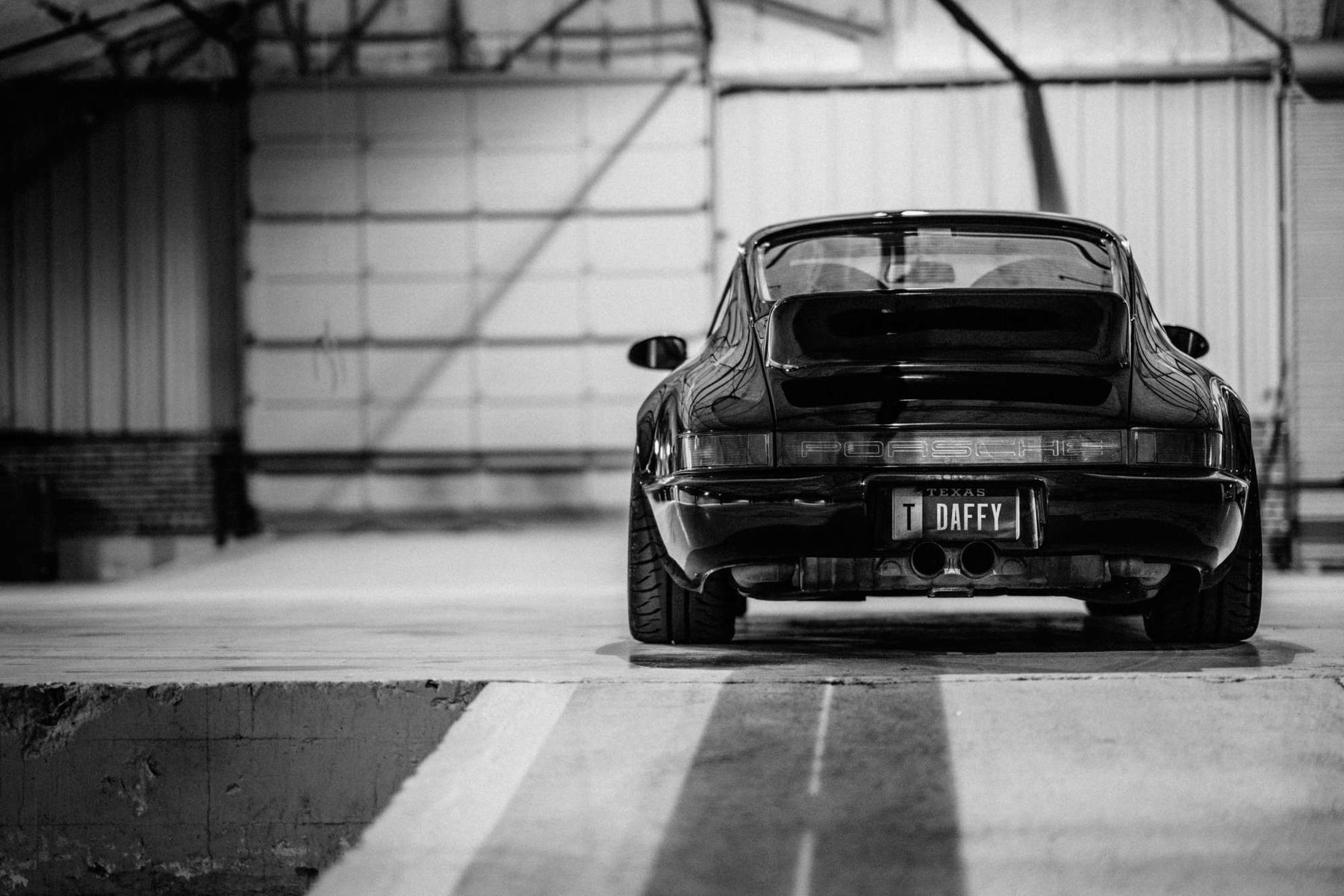 Pour consulter l'article original et complet, cliquez ici.
This 2002 Porsche 996 GT2 "RSR" is the subject of an on-going, 4 year active project by 911Design in an effort to build one of the most extreme street/track 911 GT2's, possibly of all time. The custom fabrication craftsmanship and attention to detail in the suspension, engine and brakes, and all of it's associated hardware is just absolute art. No posing here. In it's final iteration, the 3.8 Twin Turbo engine was dynoed at 843 rwhp at 1.1 bar while running 100 octane race fuel. The transmission of choice to handle all of that power was a sequential gearbox from Cartonics in Germany, with steel synchros and revised ratios. Since engine rebuilds are not cheap at an estimated $40k-$50k, the redline was set to "only" 8600 rpm. Loren Beggs, of 911 Design (www.nine11design.com) in Los Angeles, California and suspension guru Cary Eisenlohr of ERP are legends in the Porsche 911 race car world who can be given credit for creating this particular beast for car owner and 6speenonline.com member "1badGT2". Over the course of approximately 4 years, the discussion of this monster has grown to 55 pages, and counting. With a street car build as wild as this it can be expected to ask why he […]
Pour consulter l'article original et complet, cliquez ici.
Nick Tandy – the factory driver:


Compared to the likes of football, rugby and tennis, motor racing is a sport where, even when you are considered successful, it is likely you will lose more than you will win.
After all, only one driver or car can top the podium at each race. However, even with that knowledge, it never makes it any easier to deal with defeat.
As many of my friends often remind me, I'm a hugely competitive person – I think a lot of us are at Porsche Motorsport – and that means I want to win every event I compete in, and I was really confident heading into the 12 Hours of Sebring this year.
Ever since we left Florida in 2014, we haven't had the rub of the green as a team, and so I really did feel it was Porsche North America Racing's time to head back to the victory lane. The simple law of averages says that with the pace we are showing in the GTLM class, we are overdue a win.
With 11 hours of the race gone at Sebring, it really looked like we were about to break our run of poor luck as we were running first and second.
Ben Barker – the Supercup superstar:


Coffee. It's incredible what can happen over a cup of the stuff. I'm sure you've all met someone important, or had your own moment of inspiration, while sipping on the black gold.
Coffee plays a big part in my life; I'd like to think I'm something of a connoisseur when it comes to cortados, flat whites, espressos and the like. Therefore it was fitting that last year, it was over a cup of coffee that I was introduced to the man who has now become my new manager.
However, he likes to stay out of the limelight. Tubbs, as we all know him, runs the London-based chain of coffee shops, Sacred. His café and coffee business has been going from strength to strength over the last few years though he wanted to get back involved with his other passion: the motorsport scene.
Back in the day he was manager for World Superbike ace Aaron Slight. In 2010, Sacred Coffee became a partner of the Carrera Cup GB before I agreed to become a brand ambassador for them last season.
Before you start wondering how this relates to my racing, don't worry; it's all about to become apparent.
Josh Webster – the Carrera Cup champion:


The official test and media day is always an exciting annual event to mark the start of the season. The Porsche Carrera Cup GB Official Test Day was held at Silverstone on 17 March and it was a really good experience, brilliantly put together by the Porsche GB Motorsport Team.
We were able to invite our sponsors to the test day, which was based in the BRDC Clubhouse. It was really nice for our guests to see the inside of the Clubhouse, which houses some amazing motorsport memorabilia and historic items as well as having a fantastic view of the circuit.
It's a very special place and although I have been privileged to be a Rising Star Member of the BRDC since 2011 and visit often, guest passes are very exclusive, so it was so nice to know that all my guests were able to enjoy the day in the iconic building.
All the drivers got together for the start-of-the-year photograph and it was great to see all the different car liveries; I have to say all the cars look great. My livery is once again based on my headline sponsor Nine Group's corporate colours of purple, white and grey, but the design is different and the feedback was that everyone really loved it.
To read all three of our racers' columns in full, make sure you pick issue 124 in store now. Alternatively order your copy online or download to your digital device here.
Pour consulter l'article original et complet, cliquez ici.
This weekend was a mighty exciting one for gearheads the world over with the 2104 24 Hours of Le Mans race taking place. Easily one of the most well known endurance races of the year, this year was a special one, particularly for Porsche fans. The factory entered several cars and driving teams with the Porsche 919 Hybrid (LMP1) being the company's star entry.
Although neither of the two 919 Hybrids made it to the podium, both were strong contenders throughout the race, with the #20 car leading the race for a significant period of time before a powertrain issue took it out of the race. A summary of the race from Porsche's point of view is below.
I absolutely love that Porsche returned to Le Mans after a long hiatus, and can't wait to see what the coming years brings for the company and the envelope pushing technology they're building into their entires. Racing has long been a foundation of the company and the cars that end up making it to the street.
I was thinking the other day about my experience driving some high end, exotic cars on a short race track a few months ago. One of them was a Porsche 911 Turbo S. As I spent some time on the sidelines watching other drivers take to the track in these cars before my turn behind the wheel, I was struck by the realization of how appropriate it was these regular old street cars were found on the track. It's where these cars were meant to be. Cars from companies like Porsche, Ferrari, McLaren and even Lamborghini (probably to a lesser degree from a liability standpoint) were meant to be driven hard on a track.
The quality of street cars from high end car manufacturers we have seen over the years is made possible, in my opinion, thanks to the race environment the technology is born in and for. Being competitive in an event like Le Mans means pushing the limits of technology as we know it today and developing new technology to gain a competitive advantage. This has to happen in a reliable fashion, especially for a 24 hour race. As technology makes it way to the production cars we have the privilege of parking in our garages, we have the race arm to thank.
Kind of gives you a greater appreciation for what races like Le Mans represent in the longer term picture.
Here is the press release from Porsche about the race:
Strong performance by the two Porsche 919 Hybrids but no dream ending

Stuttgart. After a strong performance by both 919 Hybrids the Porsche Team was left empty handed after a dramatic final stage of the race. After more than 22 hours the LMP1 crew of car no. 20 (Timo Bernhard/Brendon Hartley/Mark Webber) suffered a powertrain problem at the most famous endurance race in the world. Earlier in the race the car was leading for a significant period. The second innovative and highly complex prototype – in the hands of Romain Dumas, Neel Jani and Marc Lieb – likewise proved to be very competitive, but was hampered by a drivetrain problem. However, their no. 14 car crossed the finish line under its own power.

After a thrilling start to the race with changing weather conditions, numerous accidents and a relatively calm night, Timo Bernhard took the lead in the Porsche 919 Hybrid. This was after 20 of the 24 hours. At 12:36 on Sunday he handed the leading car over to Mark Webber. Less than 20 minutes later the Australian was forced to slow down and drove solely on electric power back to the pits. The team could not repair the damaged powertrain.

Not even half an hour later, the sister car with Marc Lieb at the wheel had a gearbox failure. Car no. 14 was lying fourth before it was pushed into the garage at 12:54. Shortly before the chequered flag was waived, the Porsche 919 Hybrid returned to track but in the end was not classified.

Matthias Müller, Chairman of the Executive Board of Porsche AG: "Our return to Le Mans has been a strong team effort. It almost happened that our secret dream came true to top the debut of the Porsche 919 Hybrid with a podium finish. For a remarkable period we were leading the race. I want to thank everyone who contributed with hard work. Now we keep our heads up and will plan an even stronger return for 2015."

Wolfgang Hatz, Board member for Research and Development Porsche AG: "It was our declared target to finish this race. This didn't really work out, but at least we have managed to show the huge potential of the 919 Hybrid and its innovative powertrain. We believe in our courageous concept and we will develop it further. We have already started work on the 2015 race car."

Fritz Enzinger, Vice President LMP1: "This result is not the reward our team deserved after this intense time of preparation work. We have had an unbelievable and unforgettable race with its highs and lows. Everyone in the entire team was working to the limits and never gave up. I am very proud of our team."

Andreas Seidl, Team Principal LMP1: "At the moment, of course, there is a lot of disappointment. But if anyone would have told us before the race that the outcome would be what it was, we would have been very happy with it. We have learned a lot for next year and tomorrow we start to prepare for 2015. The drivers and the entire crew – everyone did a great job. We are proud to have brought one car to the finish line. To be able to fight with the other one for the silverware until shortly before the end was the icing on the cake.

Alexander Hitzinger, Technical Director LMP1: "Congratulations to Audi for the well deserved victory. Certainly we are disappointed, because such a good result seemed to be within reach for us too. But still we can be proud of what we have achieved. We have proven that we have got a fast car and our competition has taken notice of the 919 Hybrid. It was our target to finish the race, but in a different way than we did. I am looking forward to the remaining races of the FIA World Endurance Championship and to Le Mans 2015. Today the car was not always easy to handle and our drivers did a great job. I want to thank them for that."

Porsche 919 Hybrid (car no 14)

Neel Jani: "Our car ran really well. At times we have been right at the front. Because such a huge potential was there, I am very disappointed about the result. On the other hand, we always knew that sustainability was crucial and difficult to achieve quickly."

Marc Lieb: "I am rather lost for words, because it is hard to deal with incidents like those that occurred during the race. The no. 20 Porsche 919 Hybrid had a really fantastic race. They had no problems at all until shortly before the end. On the other hand, our no. 14 car was slowed down by some minor technical failures, which forced us to stop several times in the pits. Nevertheless, we did the best we could. Some one and a half hours before the chequered flag there was a bigger problem. The team managed to get the car running again and we finally managed to cross the line."

Porsche 919 Hybrid (car no 20)

Timo Bernhard: "I think, after all, it was a great return for Porsche – to come back to Le Mans and to the WEC after such a long time. But for me it is very sad because we were fighting very hard – at the end, in fact, also for the victory. It would have been a podium at least. It is hard to take, the guys did a great job. The car was running well. We had some difficult issues with the balance of the car, and it was not easy to drive. But in the end, I was saving fuel and keeping away from the kerbs. And then we had a broken engine, which happened in first gear. But I think the bottom line is, it's a great return by Porsche."

Mark Webber: "That was tough for everyone. It would have been such an amazing achievement to go through to the finish. I think we never expected to be in such a great position towards the end of the race. What Porsche did is a very big feather in its cap. Few people know how hard it is to get the cars to this point in the race. I'm really sorry for the guys. There is never ever a good retirement in Le Mans, but today is one of the best you could probably have in a way, because we went so far and we learned so much. If you stop early you learn nothing and it's tough. When you stop with a lap to go it's probably even more brutal. It was our first time here at Le Mans and we were very close to the podium."
[Source & Images: Porsche]
Pour consulter l'article original et complet, cliquez ici.