Getting around the Green Hell with the sun shining overhead is hard enough. When the track is sodden, putting 520 horsepower to the pavement and not tapping a barrier is a Herculean challenge. For today's demonstration, we have Kevin Estre as our guide around the 12.9-mile circuit. The thirty-year-old Frenchman is a Porsche Supercup, FIA WEC, and 24 Hours of Le Mans Champion, and his driving is defined by confident displays of opposite-locking, wheel-dropping, and curb-hopping. Simply put, his aggressive style helps him in wet and greasy conditions.
There's more than just quick hands at work here. Estre shows us how to pick a line and apply the throttle when the surface isn't much stickier than an ice rink. The fortunate sebastian vittel, a stellar driver in his own right, can only sit back in his Recaro P1300 carbon bucket and witness Estre's brilliance from the passenger seat.
Tuned for the Track
From the start of this frenetic lap, the GT3 RS' rear is obviously unwilling to put the power down most of the time. Though Manthey Racing filled the Michelin Pilot Sport 4S tires at to 2.2 bar in the rear to generate a little more temperature in the 51 °F conditions, the GT3 still slithers around a bit. Tire pressures were only one of the changes it made to suit the circuit—Manthey also added KW competition suspension designed specifically for the unique demands of the Nordschleife. Along with a new aero kit composed of a GT2 RS MR's carbon wing, front canard, and GT3 R diffuser, there's a little more grip on offer—which is a big plus in these greasy conditions.
Searching for Stick
For most of the run through the 12.9-mile circuit, Estre has to rely on a hybrid line and his quick hands to keep the car moving forward. When he does occasionally run over the dry line, like he does in the second half of Flugplatz (1:48), the car begins to slide at worrying speeds. Even the added downforce can't help him as he runs over the typical out-in-out line, which is impregnated with rubber that provides grip in the dry, but does the opposite in the wet.
He avoids the apex entirely at Aremberg (2:19) for good reason. We see moments later just how asking too much of the car along the conventional line can cost dearly in these conditions—note how abruptly the rear steps out of line at Adenauer Forst (2:49). Quick hands and coordination can save a driver here at slower speeds, but these antics in quick corners probably result in contact with the barriers.
That said, he can get away with smaller shimmies and snaps at higher speeds as long as he keeps some of his wheels off the conventional line. When crests and elevation changes are thrown into the equation, he has to proceed even more cautiously. Look how he, even after turning gingerly into Wipperman (6:18), has to catch the slithering rear the second he places his inside tires on the conventional line. It's almost as if he's driving a rally car here! Only a pro of his stature can pull these stunts off while looking relaxed, but his driving is much more than courage and coordination—it requires circumspection, too.
Pour consulter l'article original et complet, cliquez ici.
One of just forty-five 993 RSRs in existence, this 3.8-liter monster is a rare sight. Despite the small numbers, those curvaceous haunches, massive tires, and snorkels in the rear make you wonder why this model is not as well known.
Perhaps this example deserves some special attention, since it's Olaf Manthey's very first racing car. A little over two decades ago, Manthey converted this from a 993 Cup car into an RSR. He elaborates on the version in this article: « The whole rear with fenders, bumpers and the tailgate was built from scratch. At the front, we relocated the oil coolers. We redesigned the air ducts so that the spent air was not routed underneath the car but dissipated on the side. We also designed the underfloor and the rear diffuser." That last tweak made it particularly effective at the crowned and cambered Nordschleife, which wasn't as smooth twenty years ago as it is today. This particular car enjoyed a lot of success at the Green Hell, which made Manthey's reuniting with this car at last week's AvD Oldtimer Grand Prix all the more special.
Since its retirement from professional racing in 2002, it's enjoyed a few more tweaks and now produces little more power than a standard 993 RSR. Today, the M64/75 engine sends roughly 380 horsepower through a six-speed manual transmission. Powering a stripped frame weighing just 2,425 pounds, it is strikingly quick for something not too powerful by today's standards. Just witness the way it sits nicely at corner exits and accrues speed down the Nurburgring GP circuit's straights. Unfortunately the footage doesn't capture the incredible bark of the car well, but the link below certainly does.
For an onboard experience with the 993 RSR, watch Leh Keen at work in one here.
Pour consulter l'article original et complet, cliquez ici.
Il y a peu, Porsche annonçait avec fierté que sa berline électrique avait de l'endurance et savait rouler vite pendant longtemps. C'était lors d'une session qui se déroulait sur le circuit de Nardo durant laquelle la Taycan a parcouru quelques 3.425 km en 24 heures.
Ce jour, Porsche nous fait savoir que la Taycan vient d'établir un nouveau record dans la déjà fameuse catégorie des berlines électriques à 4 portes… Tout un programme !
Surtout un tour rapide
Le constructeur de Stuttgart fait savoir que sa grande berline Taycan a réalisé sur la Nordschleife un temps de 7 min 42 sec 34… c'est à dire un temps qui la situe très loin des voitures thermiques de puissance équivalente (~600 ch).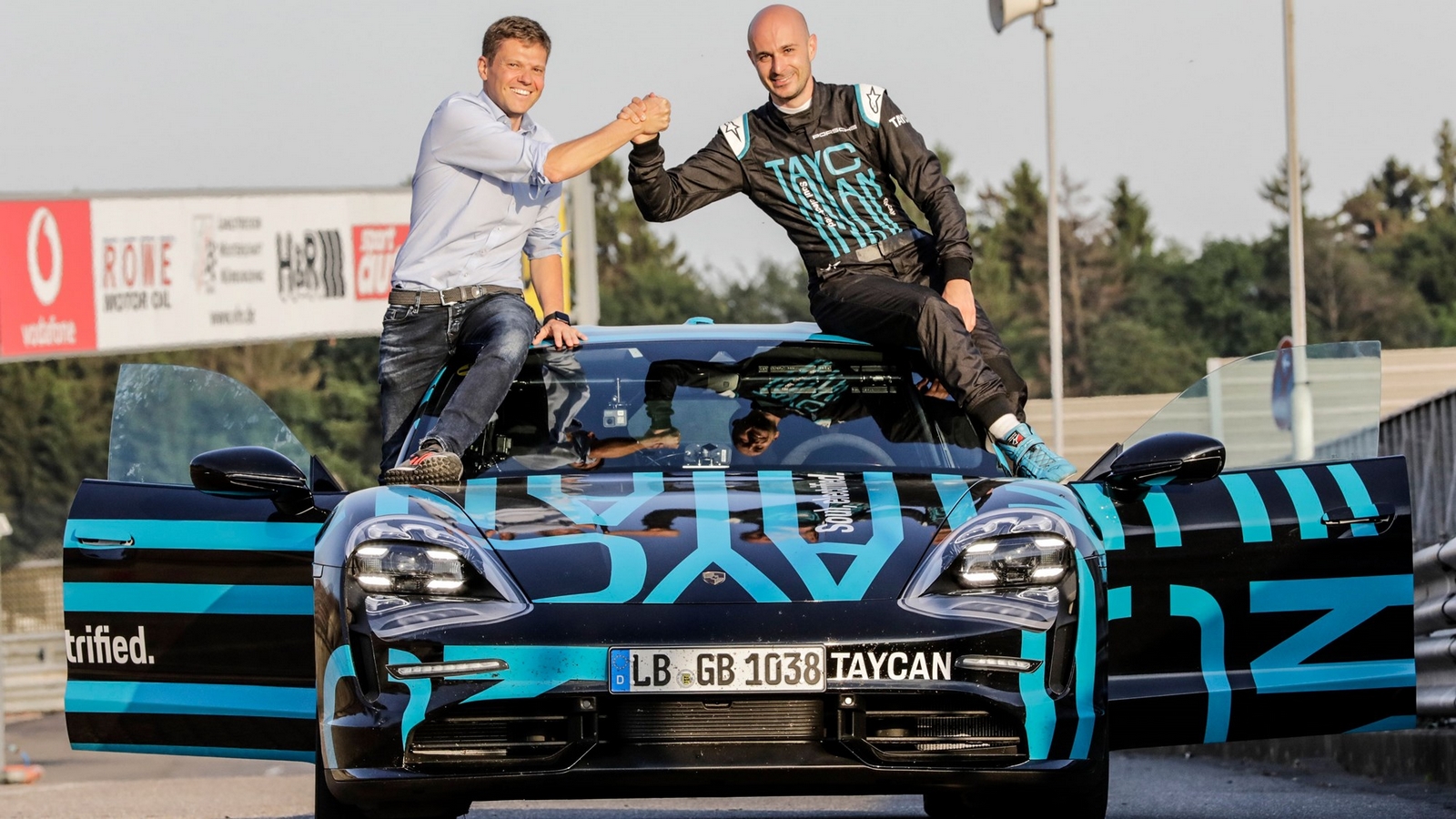 Avec un tel chrono, la nouvelle berline de Porsche se prend « une dose » ou se fait « déposer » par la nouvelle Renault Mégane R.S Trophy-R sur le même tracé.
En effet, avec seulement 300 ch, 400 Nm et deux roues avant motrices, la compacte sportive de la marque au losange colle plus de 2 secondes sur le temps au tour à la Porsche qui annonce deux moteurs, une puissance de 440 kW (600 ch), 900 Nm de couple et quatre roues motrices.
Ce « Lap time » place la nouvelle Porsche Taycan entre le temps de 7 min 42 sec réalisé par une Porsche 911 GT3 (997) en 2006 et celui d'une Chevrolet Corvette C6 Z06 de 2005 qui claquait alors un chrono de 7 min 42 sec 9.
Pour mémoire, le flatsix de la 911 délivrait 415 ch et le V8 de la Corvette 512 ch.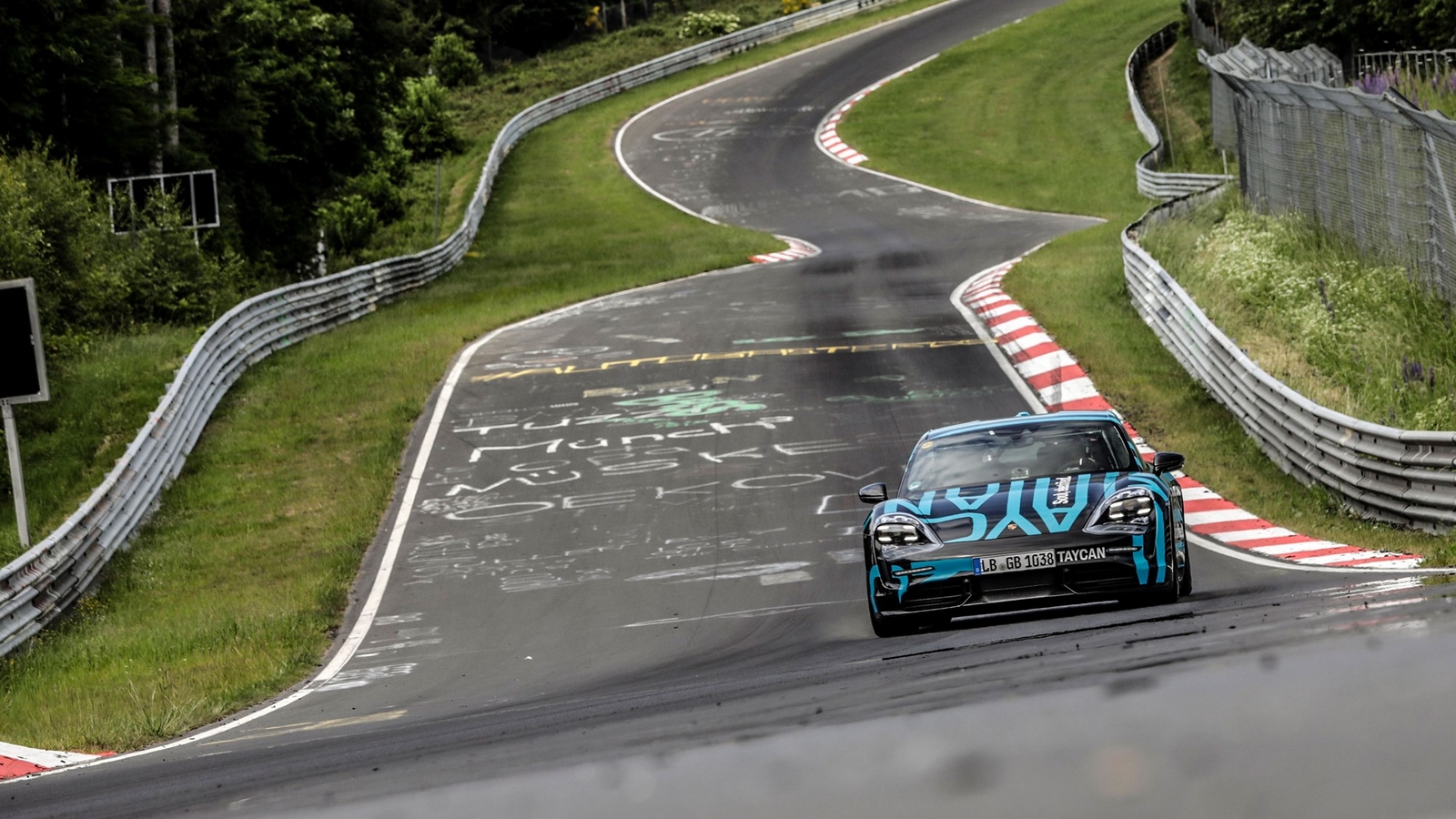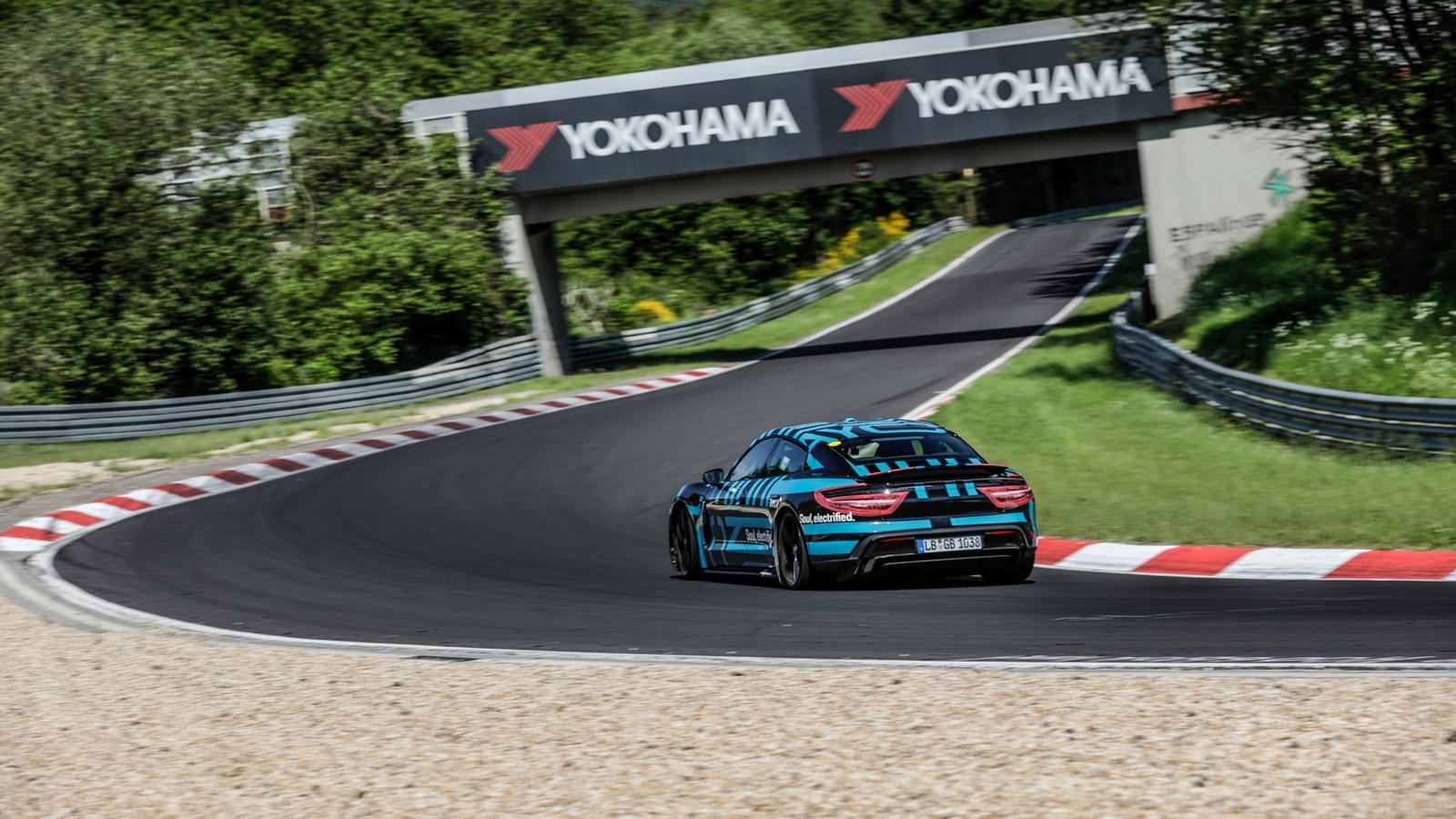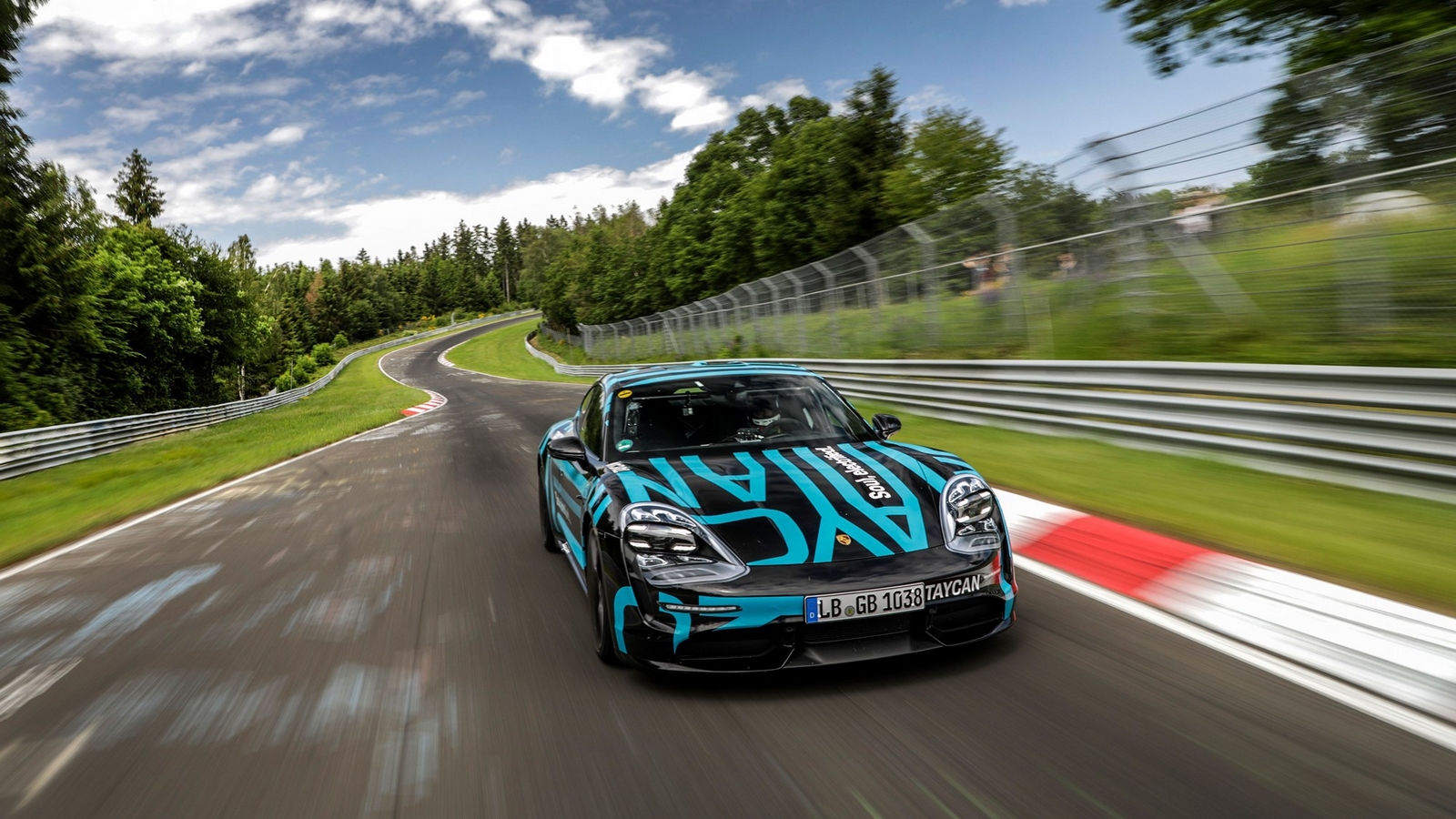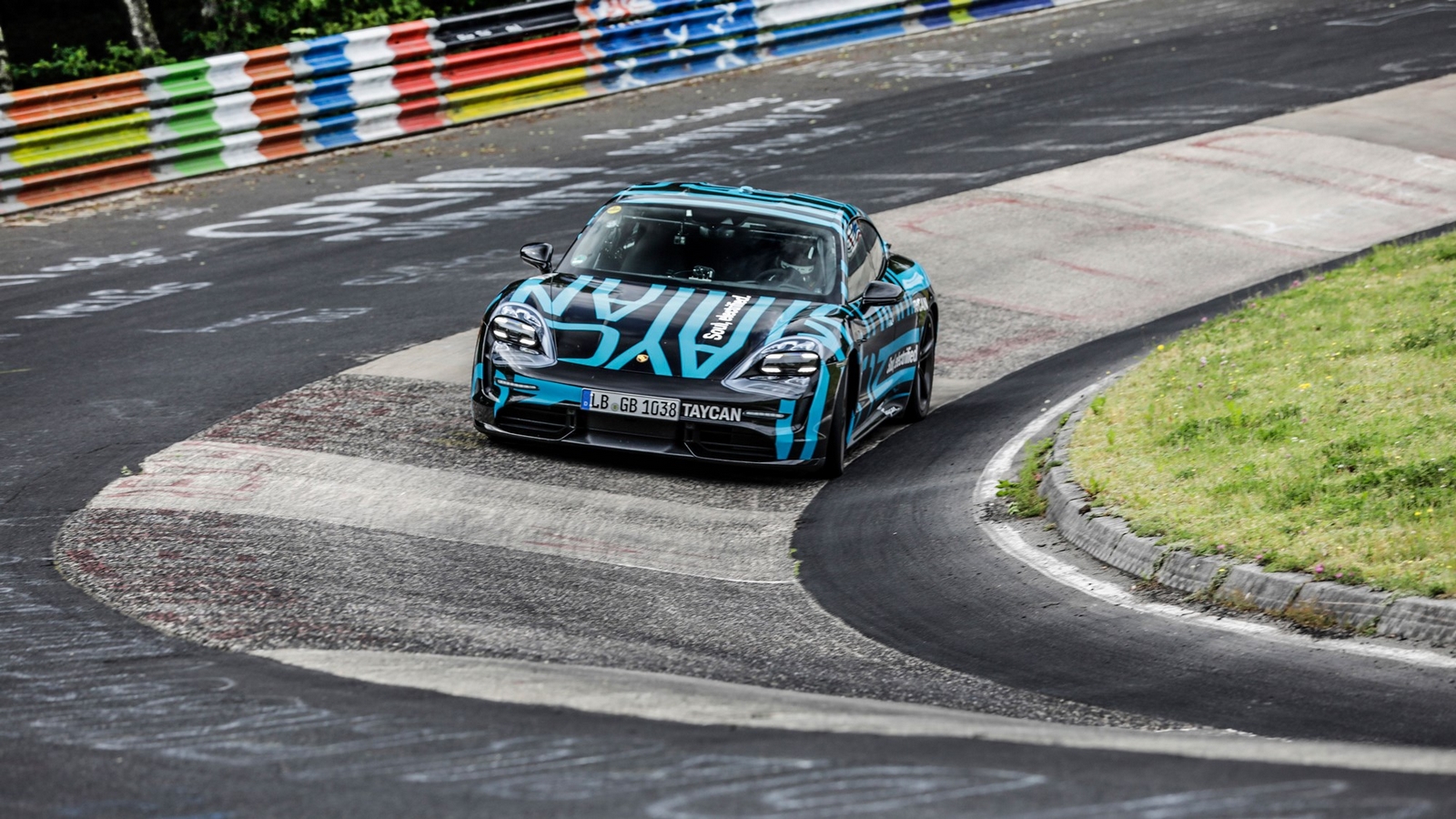 Bien sur, Porsche annonce un exercice du 0 à 100 km/h expédié en moins de 3.5 secondes et celui du 0 à 200 km/h plié en 10.0 secondes mais ces exercices se font en ligne droite et non sur un tracé vallonné et varié comme l'est le Nürburgring.
Heavy is not right
Avec ce temps presque quelconque, la Taycan démontre ici assez clairement qu'une voiture électrique actuelle avec ses lourdes et imposantes batteries n'a rien d'une voiture sportive et dynamique et ce, quelle que soit la marque.
Ce « record » dans la catégorie des berlines électriques à 4 portes a été établi par une voiture de pré-série, équipée d'un arceau de sécurité, d'un siège baquet et d'un harnais pour accueillir Lars Kern qui est un des pilotes de développement du constructeur allemand.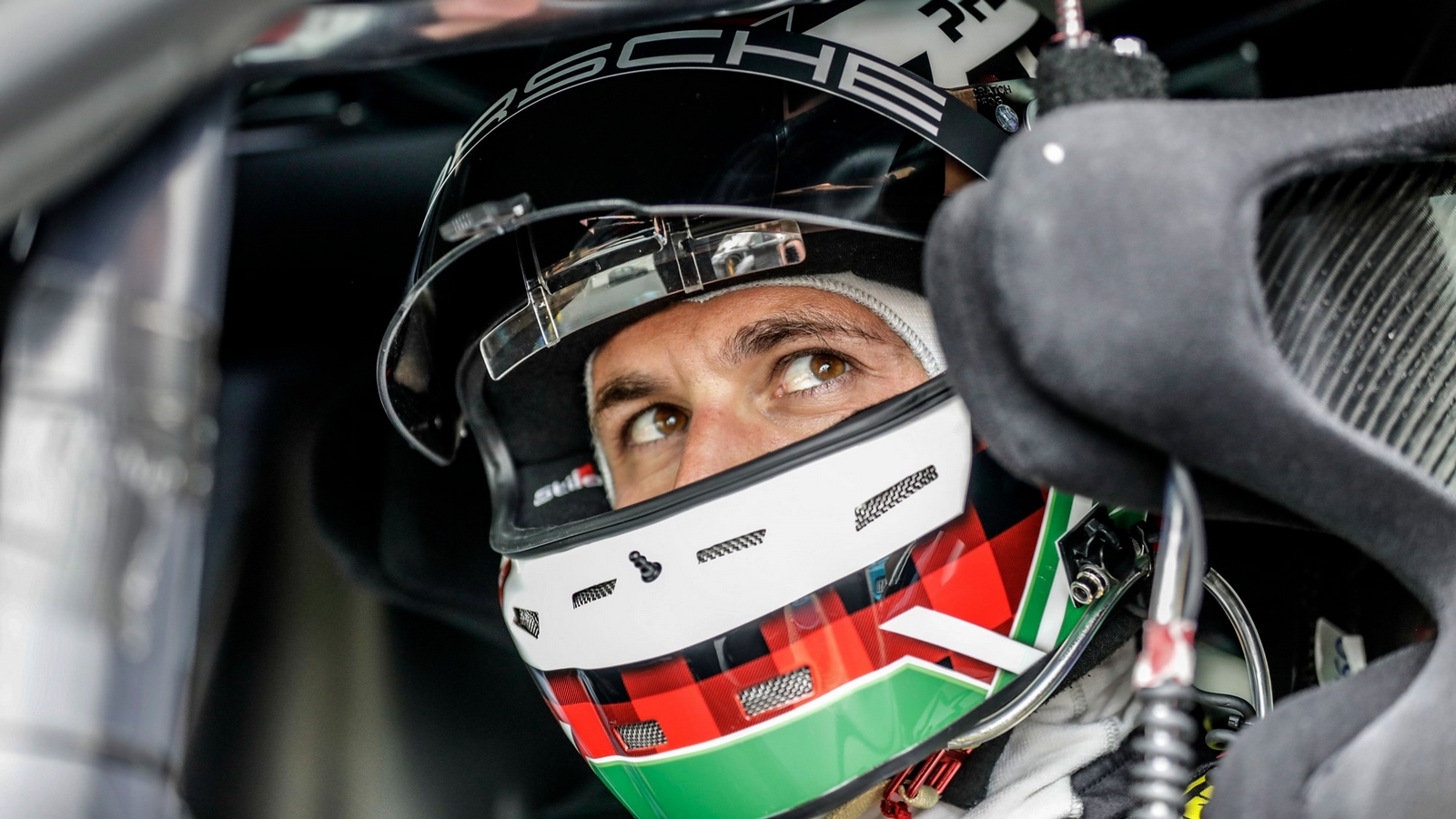 Après le tour chronométré, le pilote précisait :  » La Porsche Taycan s'est comportée de manière stable et sereine dans les sections rapides comme Kesselchen et elle accélérait de manière neutre et pas piégeuse dans les parties serrées comme Adenauer Forst ».
On constate donc que le pilote-essayeur ne parle aucunement de sportivité, de vivacité ou de dynamisme avec cette voiture électrique.
Pour ce qui est du plaisir au volant, nous n'en savons rien et seuls les essais qui auront lieu dans quelques mois nous en diront plus sur cette nouvelle Porsche du futur.
Les vidéos du record
A retrouver le 4 septembre prochain… ou avant si Porsche a encore des choses à nous dire ou nous montrer.
ndla : Après quelques recherches dans les tableaux des meilleurs tours sur le grand Nürburgring, on découvre qu'en 2017, une Panamera Turbo (550 ch), soeur de gabarit et de gamme de la Taycan, claquait un temps de seulement 7 min 38 sec c'est à dire 4 secondes de moins au tour que la nouveauté.
Pour consulter l'article original et complet, cliquez ici.
Dans quelques jours au salon de Francfort (IAA 2019), la première Porsche électrique sera officiellement dévoilée. En attendant, en guise de teaser, la Porsche Taycan vient d'établir un chrono de référence sur la Boucle Nord (Nordschleife) du Nürburgring, le constructeur allemand présentant ce tour canon comme un record du célèbre tracé d'outre-Rhin. En 7'42″34, la […]
Pour consulter l'article original et complet, cliquez ici.
Porsche établit de nouvelles normes pour les voitures de sport toutes électriques à quatre portes sur la boucle nord du circuit du Nürburgring. En 7 minutes et 42 secondes, le pilote d'essai Lars Kern a donc conquis la piste légendaire, connue sous le nom de «Green Hell». Le temps au tour a été établi sur …
Pour consulter l'article original et complet, cliquez ici.