Back in the early 1960s, Porsche was still a tiny sports car manufacturer punching way above its weight in international racing. With an astonishingly small 1.5-liter flat eight motor stuffed into a bespoke chassis just barely large enough to contain the lanky Dan Gurney, the 804 was a beast from day one. While it's difficult to call it a serious contender in 1962 Grand Prix racing, it did score a pole at the German Grand Prix, and a victory at Rouen in France (as well as a non-points race Solituderennen) against the mighty Jim Clark and Graham Hill who raced for Lotus and BRM respectively.
The Porsche 804 is a bit of a footnote in Porsche history these days as they are infrequently seen, and even less often heard. Only four 804s were built for the 1962 season, and one of those was never raced. Allegedly only two examples of the 804 remain in existence, one in a private collection. The example seen in the video below [by 19Bozzy92 on YouTube] was restored by the Porsche Museum in 2016. Since then it has only been run in a pair of vintage events, the Monaco Historique in 2016, and the Goodwood Festival of Speed last year (where this video comes from). I've been a Porsche fanatic for decades, and I've never heard this car shout its mighty growl before now.
The Type 753 flat eight makes about 177 horsepower, which is pretty impressive compared to what Porsche road cars were producing in 1962. More importantly, it weighs under 1000 pounds, and goes like stink. For such a diminutive displacement, I did not expect the engine to be quite so throaty. In fairness, the Type 753 can rev to nearly 10,000 RPM and the driver in these clips is surely not giving it the full beans. Considering how many millions something like this must be worth, I can't say I blame them.
Even if that driver is the famed Le Mans victor Richard Attwood.
Pour consulter l'article original et complet, cliquez ici.
After the recent announcement of Dan Gurney's death, we thought it only fitting to remember Dan and the car that took him through 1962.
For the 1961 season, Porsche was content with using a modified Fuhrmann four-cam engine for their Grand Prix efforts, never really expecting to win, but knowing that it was important to just be on the grid. After a season that saw Dan Gurney hustle the car to a trio of podiums (second at Riems, Monza, and Watkins Glen), Porsche realized that in order to win a race they would need a more powerful engine to get the straightline speed on the competition.
Time For A New Engine
As the rest of the field advanced around them in engine technology, Porsche realized that their Typ-547, needed to be swapped out for a new engine. In a bid for competitive performance, Porsche provided its drivers; Dan Gurney and Jo Bonnier, a four-cam flat-eight engine, along with a newly developed chassis, with which to attack the 1962 season. This Porsche, the Typ-804, was the first and only chassis Porsche ever developed expressly for the purpose of competing in Formula 1. At the hands of Dan Gurney, when it ran properly, Porsche's 804 was an incredible weapon.
The new engine in the 804 was a marvel of technology for Porsche. It was, however, still a bit behind the times in Formula 1. The British manufacturers were experimenting with alloy wheels for a reduction of unsprung weight, and fuel injection for improved engine performance. Porsche, however, remained loyal to tried and true steel wheels and Weber carburetors. Similarly, the 804 also remained sprung by torsion bar suspension front and rear, and continued to be air-cooled in Porsche tradition. The engine, however, was capable of a stratospheric 9200 RPM. The rev-happy engine was capable of producing excellent power in the higher ranges, but power at lower RPM was not on par with those offerings from BRM and Climax.
The 1962 Season Began Inauspiciously for Porsche
Arriving at Zandvoort and qualifying 13th (Bonnier) and 8th (Gurney), this was not exactly what the factory had hoped. The race itself was punctuated by a Gurney gearbox failure, and Bonnier struggling home in 7th place. This proved to be all the more humiliating, by the fact that privateer Carel Godin de Beaufort finished in 6th using Porsche's discarded 1961 machinery.
Qualifying in Monaco proved a bit better, as Gurney stuck his car on the inside of the third row, however, Bonnier started a bit behind him in 18th. At the start Gurney shunted on the first lap, but Bonnier shuffled back into the deck to finish fifth, still a startling 7-laps in arrears of the victor. With Bonnier's result, however, Porsche did manage to score their first pair of world championship points for the season.
For the third round of the Formula 1 Grand Prix season at Spa Francorchamps in Belgium, Porsche didn't show. There were two Porsche cars on the entry form for Bonnier and Gurney, but due to a worker strike in Stuttgart, the manufacturer was not able to make the event. Gurney did attempt to contest the event in a privateer Lotus with a BRM engine, but later withdrew, announcing the car to be unfit for competition.
Porsche's First Win
In early July, Porsche made the journey to France to compete at the Rouen Les Essarts circuit. Prepared for the journey, Porsche knew that Rouen was a circuit well suited to the 804. With long sections of high speed straight and sweeping curves, the Porsche could really stretch its high RPM advantage on the competition. In qualifying, JB pulled out a 9th grid place, and Gurney settled into the 6th position. A fight to the front ensued, and once Dan settled into the lead, he never looked back. The BRM competition couldn't keep up with Porsche on the straights, and Gurney won the race driving away, more than a lap up on second place. Unfortunately, after a similarly competitive run, Jo Bonnier suffered a fuel system failure and dropped out 10-laps from the finish. If you want to find out more about the Rouen Porsche victory, watch this vintage recap of the race from Castrol, part 1 is below.
One week after Dan Gurney's victory, Porsche showed more success at a non-championship event run to Formula 1 specifications. This race was a home race of sorts, as it took place at the German Stuttgart-adjacent Solitudering. The race did not attract many of the primary competitors of the grand-prix season, drawing out many of the also-rans and poorly funded privateers. However, wishing to show up Porsche on their home turf, Lotus made the trek with drivers Jim Clark and Trevor Taylor. Clark managed to take the pole position away from Porsche in qualifying, but Gurney and Bonnier finished out 2nd and 3rd ahead of Taylor. Clark streaked away, but suffered an accident just seven laps in the 25-lap event. From the point of Clark's retirement, it was a three-horse race with Gurney leading the way. Porsche finished 1-2, with Taylor trailing half a lap behind. This was Gurney's second victory in as many weeks, and this time, in front of a Porsche home crowd of nearly 300,000.
The Start of Something Good?
Following this burst of success, Porsche executives expected to run away with the rest of the season. A differential failure and a 9th place finish at Aintree in England faded their expectations quickly. At the German Grand Prix, hosted at the Nurburgring, Porsche was over the moon to see Gurney take a pole position. The position didn't hold past the start of the race and he was later passed by Graham Hill, who won, and John Surtees wrested second position from Gurney as well. While a podium placement was nice, the Germans were expectant of a victory.
The Italian Grand Prix at Monza, similar to Rouen, showed a high prospect for Porsche, with long straights playing into their strong traits. Reality, however, proved far from expectation, as Gurney's 804 now suffered a differential failure, and Bonnier salvaged only a single championship point for the manufacturer.
Salvation in the States?/h3>
The following event, the United States Grand Prix at Watkins Glen, New York, again showed promise, with Gurney champing at the bit for a home country victory. Starting fourth, Gurney fought hard, but nobody could catch Clark and Hill as they shot for the fences, breaking and rebreaking track records. Gurney fought for the entire race, but only managed a fifth. Bonnier finished in the 19th position, after some mid-race trouble, coming home some 21-laps down to the leaders.
Homecoming
After the 804s returned home to Germany, it was decided that they had run their last event. Porsche was done with Formula 1, returning to a focus on international sports car racing. The final event of the 1962 season, in faraway South Africa, would remain uncontested by Porsche, and the cars were retired. Formula 1 proved too expensive for Porsche to be competitive, and didn't provide them with the road car knowledge that sports cars once had. Porsche had their victory, and nothing could take that away. Porsche fans owe a round of thanks to Dan Gurney for providing their lone Porsche F1 victory.
Pour consulter l'article original et complet, cliquez ici.
Dan Gurney is among the most storied names in motorsports history. Though his racing career with Porsche was brief, the mark Gurney left on racing is lasting. During his career as a driver Gurney achieved wins in Formula 1, NASCAR, IndyCar and international sports car racing. Indeed, the group of drivers to achieve victories in all four of these fields is limited to Gurney, Mario Andretti and Juan Pablo Montoya. Gurney also achieved the first Formula 1 victories for three different manufacturers, including Posche, Brabham, and All-American Racers (which Gurney owned and co-founded with Carroll Shelby).
Gurney won two Formula 1 races with Porsche
His 1962 win at the French Grand Prix is still the marque's only victory as a constructor in a Formula 1 Championship round. Then again in 1962 Gurney won the Solitude Grand Prix, followed by fellow Porsche drive Jo Bonnier. Both wins occurred in the Porsche 804, a marvelous sounding flat-8 powered Porsche.
Dan Gurney's career in racing of course did not end with Porsche, or even with Formula 1. Before retiring from driving in 1970, Gurney won a total of 51 races, including winning Le Mans with Ford in 1967. His career continued at the helm of All American Racers for the next four decades, and the success as a constructor continued. Though the AAR Formula 1 effort ended in 1968, the company continued on as a constructor in CART, IMSA GT, and Trans-Am. As a constructor AAR pioneered the Gurney flap, a feature which is used on virtually every wing in motorsport.
Gurney's influence continued outside of motorsport. In fact, in recent years, AAR has been involved in aerospace development. Indeed, the company recently constructed the carbon fiber landing struts used by the Space-X program.
He is survived by his wife Evi, five sons, and eight grandchildren.
Pour consulter l'article original et complet, cliquez ici.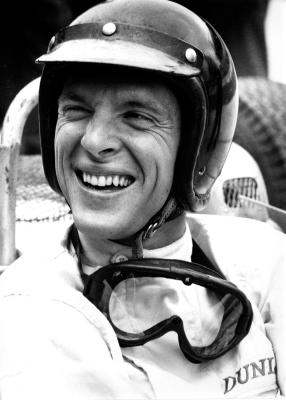 En remportant le Grand Prix de France, à Rouen, en 1962, l'Américain Daniel Sexton Gurney ou « Dan » pour les …
Pour consulter l'article original et complet, cliquez ici.
Dr. Ing. h.c. F. Porsche AG mourns the death of Daniel Sexton Gurney. The racing driver and Formula 1 pilot died on January 14, 2018 at the age of 86. Porsche owes its only success as a vehicle manufacturer in the Formula 1 World Championship to Gurney, who won the 1962 French Grand Prix in Rouen in an eight-cylinder Porsche 804.
Pour consulter l'article original et complet, cliquez ici.