In retrospect, it's easy to say Porsche's mistake was its decision to keep the G-series 911 in production for 15 years, but from the company's point of view, through the early 1980s the 911 was selling ever more strongly.
Regular updates and revisions ensured it remained at the top of the performance stakes. The robustness which made it a car you could count on day after day meant that despite its archaisms, it was still the ultimate road and track sports car.
However, within Porsche it was also a source of frustration to many of its engineers and designers keen to modernise it, dispensing, for example, with the torsion bar suspension and introducing assisted steering and a less idiosyncratic ventilation system. Journalists in other respects always well disposed towards the 911 observed it was becoming increasingly an enthusiast's car, lacking broader appeal and depriving Porsche of a wider market.
The 928 launched in 1977 was supposed to address the GT segment of the market, but by the time the Vorstand had approved the next 911, Typ 964 in April 1984, sales of the 928 were already in decline. The 964 itself was a radical step in engineering terms – a completely new chassis and suspension which allowed fitment of ABS and assisted steering, a larger and more potent flat six, and four-wheel drive.
A conservative board, however, would not permit the designers to change anything above the axle line, which meant the 964, despite its revised front and rear bumpers, looked remarkably similar to its predecessor. Moreover its four-wheel-drive, such an innovation when Audi introduced the Quattro in 1981, was no longer a sensation, and early 964 buyers were able to confirm what the magazine testers had found, that Porsche's fixed 2:1 rear/front torque split made the latest 911 an uninspiring understeerer.
The rear-drive C2 911 appeared a year later, but by then the damage had been done: in a generally morose market, and one which had halved in the US, clearly the 964 would not be the model to rescue an increasingly beleaguered Porsche.
A rolling of management heads saw new blood brought into the company. A former Weissach R&D engineer named Ulrich Bez was enticed from BMW Tech to become engineering boss, and he appointed his chief designer at BMW, Harm Lagaaij, another ex-Weissach man, to reinvigorate Porsche styling. These two were the impetus behind the next 911: the 993.
Bez was particularly critical of the 964's crude ride and the C4's handling, and Lagaaij's remark when he arrived at Porsche's design studios in October 1989 that there was "nothing going on" has gone into the history books. Work on 911 Typ 993 would start within weeks of the 964 C2 reaching the showrooms.
This time, a chastened Vorstand, which had pensioned off its managing, engineering and styling directors in short order, was prepared to offer Bez and Lagaaij more licence, and the pair took as much advantage as their still-constrained development budget permitted. 
Nevertheless, the new 911 represented a challenge: how could the new 993 retain its defining 'Neunelfer-ness' yet be endowed with a more modern appearance and wider appeal? 
Pour consulter l'article original et complet, cliquez ici.
We've been compiling some amazing Porsche models on eBay for a few years now, and we've seen some pretty astonishing examples pop up now and again. This week we don't really have any focus. Hopefully you've enjoyed our « curated » look at the Porsche market. Keep in mind, some of these Porsches could be great collection investments, while others might prove to do more financial harm than good.
INTERESTED IN HAVING YOUR PORSCHE FEATURED HERE?
Every other week, we feature 5 of our favorite Porsches on eBay. That post is sent out to our mailing list of more than 17,000 Porsche owners and fans and is seen by 10s of thousands of other readers who visit our site directly. If you're selling a Porsche on eBay and would like to see it featured here, just shoot us an email with the details and we'll be back in touch. Otherwise, feel free to check out all the other eBay listings we have on our Porsches for sale pages.
1. 2016 Porsche Boxster Spyder For Sale
The 981 Boxster Spyder is a 3.8-liter monster of a road car. In fact, it may well be the best road-going car I've ever had the pleasure of driving. The convertible top is fiddly, but the ride is comfortable and compliant, the power is immense yet tractable, and the steering is sublime. These have held their value quite well, but this one has over 40,000 miles on the odometer and has dipped under the 80,000 dollar mark. If you're looking for a driver grade experience, this is an excellent place to start.
For more pictures, pricing and information, check out the full listing on eBay.
2. 1991 Porsche 911 Carrera 2 For Sale
Tahoe Blue is one of the most beautiful colors in Porsche's color palette. It's a damn shame that it is such a rare shade, because I'd love to see more of these. The 964's body shape is simple and easy on the eyes, and makes for a great canvas for this color. If you're in the market for a nice 964, grab this one up before it gets Singer-ized or RWB'd.
For more pictures, pricing and information, check out the full listing on eBay.
3. 2007 Porsche 911 Turbo For Sale
Another excellent shade of paint, this 997 Turbo is said to be one-of-one in Zanzibar Red, and the price reflects that. The 997 Turbo is an excellent car, and deserves to be taken out as often as possible. This is a ridiculously fast car that is still comfortable enough to be driven on a daily basis. Though this one has retained a 6-figure price tag more than a decade after it was built, it might just be worth every penny.
For more pictures, pricing and information, check out the full listing on eBay.
4. 1974 Porsche 911S For Sale
While Porsche moved to impact bumpers and poorly planned emissions controls in 1974, this car's color might make up for it not being quite as good as a 1973 long-hood. With only 55,000 miles on the odometer, this Ice Green Metallic beauty looks almost like brand new. The tan interior is an incredible match to the exterior paint color as well. This narrow-body is really growing on me.
For more pictures, pricing and information, check out the full listing on eBay.
5. 2011 Porsche Boxster Spyder For Sale
The 987 Boxster Spyder isn't quite as refined nor as fast as the 981 version, but they're hovering in the 60,000 dollar range, so they are a good bit less expensive, and still an absolute riot to drive on the street. While these only had a modest increase in power, the lightweight wheels and top and suspension tuning contribute to an incredible driving experience. This particular example is a PDK equipped model, and while I'd personally prefer the 6-speed manual option, it's still quite good. If you want a nice driver or collectible piece, look into these before they all disappear.
For more pictures, pricing and information, check out the full listing on eBay.
Pour consulter l'article original et complet, cliquez ici.
« We don't build race cars" Alex Ross quietly muses to me before taking another bite of his fruit and nut bar. We'd just come up the face of a mountain via a demanding and technical 20-mile ribbon of pockmarked and rutted pavement, which had served to make that point blatantly obvious to me. This Guards Red 964 handled the drive in a way that felt distinctly uncharacteristic for an air-cooled Porsche. Compliance is the name of the game here, and what an intoxicating game it is.
We've reached the summit of what must be the greatest driving road in the county (I hesitate to say state) and parked up at the base of an observatory dome. We're above the cloud line up here, isolated from the world. Recent wildfires north of the bay have blocked our view of the real world in all directions. It's a Friday afternoon and everyone else is stuck at their desk. The air is still and with the ignition clicked off the silence washes in to hang over us like a fog. It's a surreal feeling.
I flew hands alight and elbows akimbo on my way up the hill – dive into hairpin, fling the steering wheel 180 degrees, feed in throttle as needed, and float the steering wheel back. This process repeats itself seemingly several hundred times. I'm still moderately out of breath due to the combined altitude, physical nature of the drive, and my auto writer's physique. Mister Ross, with whom I've driven a dozen times before, maintained himself cool and composed, despite the wild ride. Whether that's a testament to my driving ability or the car's ability to handle anything you throw at it, we may never know the answer. I'm kidding, it's definitely the car.
Between slugs from a bottle of Smart Water and the second half of his snack bar, he tells me the tale of the Porsche he bought earlier this year. It's a 1993 964 Carrera 2 that lived a long life on the road at the hands of countless unknown previous owners. They'd collectively driven the car serious distances, but luckily each of them cared for the car quite well during their ownership stint. The paint looks well taken care of, and the interior is more or less excellent. With 964 values ballooning, he picked up what is perhaps the last truly good bargain and set to work getting it right. I'm a fan of the finished product.
In day to day life, Alex is the marketing arm and one of the owners of Porsche tuning shop Sharkwerks. They've made a name for themselves in the Porsche world as having built nuclear-weapons-grade power from large displacement and turbocharged water-cooled engines. Whether for GT3s with 3.9 liter (and larger) high-rev engines, GT2s with over 700 horses of boosted power, track exhausts for 911R, or their everything-is-perfection Cayman GT4s, you've probably heard of their work. All of that said, it's important to note that this is the car Alex wanted to build, an everyday Porsche for himself, not exactly a shop project.
I've driven time and again in Porsches too stiff or too low for proper usefulness. Often, when given the unlimited settings of a coilover suspension system, tuning shops and owners will select a setting that would be excellent on a freshly paved racing circuit, but falls on its face when dealing with California pavement several decades beyond serviceable. Not so in the case of Alex's 964, which leverages the traditional Porsche rear weight bias for unparalleled traction without exhibiting the pendulum swing feeling inherent in most 911s. In this Porsche the engine isn't a bully trying to drag you sideways by the back of your neck, it's a young child tugging at your wrist, trying to get your attention.
Though the 964 chassis is often derided for being the first 911 to move away from the iconic torsion bar suspension design, it is inherently a more sophisticated design. In order to improve the car's natural handling, Bilstein's PSS10 coilover system provides a complete range of adjustability, and combined with a stiffer set of sway bars from H&R is more sophisticated still. Once all of that had been installed, the 964 was dropped off to Tony at TC Design for a quality daily-driver caliber chassis setup and alignment. Whatever type of suspension black magic Tony practices, it's working.
Perhaps the keystone to this whole Porsche is the set of tires Alex chose. Were it not for Alex's good friend Magnus Walker and his relationship with Pirelli, we would not have this sticky set of Trofeo R tires in proper Porsche 964 sizes. This is the tire Magnus recommends for serious canyon carving, and now I know why. I'm not sure how they've done it, but Pirelli seems to have found an alien substance that magnetically bonds to any type of road surface. There was absolutely nothing I could do to upset this Carrera 2's chassis, up to and including abrupt mid-corner corrections to dodge my way around errant wildlife.
From the outside, you would be hard pressed to determine much has been done to this Porsche, and that's the way I like it. Grabbing a few trim pieces from other models, Alex's 964 has a unique look that will only be noticed by the Porsche cognoscenti. A set of chrome H4 headlight trim rings are a simple swap that makes a big visual difference. My favorite addition, however, is the simple RSR-style front lip spoiler. It took me several minutes of examining the car to even notice its presence, but the subtlety was noted and appreciated.
Big power is great and all, but when it comes to daily driver comfort Alex wanted something that he could exploit to its full extent on his way to and from the office. Having been a long-time Porsche fanatic, he also determined it'd been too long since he'd had an air-cooled car. When the right deal fell into his lap, Alex had to jump at the chance for this one.
>When I first opened the door I was happy for a unique set of tan Recaro sportster seats to match the stock tan carpet, but then was disappointed when I folded my 6-foot-2-inch frame into them. The seats are mounted in the perfect place for Alex, who is a bit shorter than I am, but are too far forward and too elevated for my figure. Were it not for the rare small diameter Momo-built Porsche Motorsport steering wheel and Rennline adjustable pedals, I might not have experienced the joy of driving this 964 at all. Even knowing that this is not a fault of the car, I still spent the whole time cursing the angle of my throttle ankle and ended the drive with a bruise atop my head where it contacted the edge of the sunroof surround.
Here in the good 'ole USA we were never treated to the joy of the 964-generation Carrera RS, receiving the shoddy facsimile RS America instead. Our faux RS equates to little more than a standard C2 with a manual steering rack and a rear seat delete; no power upgrade, no lightweight flywheel, and no trick RS suspension. The proper RS wasn't without its foibles, however, as the lightweight flywheel caused many owners to complain of stalling issues. Alex's Porsche fixes that.
The goal for this build was to combine the RS sensibilities with modern drivability. That couldn't exactly be accomplished with the nearly 30-year-old Bosch 'barn door' flapper box intake system as it reacts to throttle position changes the way a tortoise reacts to lettuce—that is, excitedly, but slowly. Working with a UK-based outfit called ST Systems, a complete Delta 400 plug-and-play ECU system was crafted to work with a modern MAP sensor-style intake tract. Combined with a set of larger fuel injectors, the Sharkwerks primary muffler bypass pipe, and a proper tune, the stock 3.6-liter has been given a new life with excellent throttle sensitivity and a 3.8 RS-aping 300 horsepower. It still uses fuel you can purchase from a pump in California, too.
With the engine sorted, reducing the weight of the rotating assembly was next in line. In this case, it was handled without opening the crankcase. The flywheel and pressure plate, a lightweight assembly cribbed from the now-iconic 997 GT3 RS 4.0, work with an un-sprung sport clutch disc to remove appreciable pounds from the end of the crankshaft, allowing the engine to spin up to redline much quicker. A huge improvement over stock, not to mention lighter (and stronger) than even the early RS was from the factory. Shifted through an FD Motorsports short throw, the gear-to-gear change is solid, notchy, and reliable.
With snacktime over, Alex and I climb back aboard and take off for more mountain carving. With coastal Pacific Ocean only a few dozen miles away, I have a distinct sensation that feels very akin to surfing. Incredible grip and the traditionally exquisite light and responsive 911 steering lend this 964 an ability to carve corners in a way that feels distinctly connected. That feeling when you're slotted into a fresh swell? This 964 delivers the same.
A gaggle of squirrels, the odd cow (seriously), and even a family of wild boars conspired to interrupt our traverse down the other side of the mountain. Thankfully for me (and for the wildlife), the car was fitted with a Brembo Club Race big brake kit at all four corners and a good set of pads with serious rotor grabbing power. This kit was chosen primarily because it fit behind the stock 17" Cup-style wheels, and provided a decent decrease in unsprung weight, but the braking power was certainly welcome. Pedal feel remained excellent for the entire drive, as likely the larger swept area of the rotors helped keep brake cooling a non-issue, even with heavy, repeated, and sustained downhill braking. I did find the full floating rotors squeaked almost constantly as the rotor ring moved on its bobbins, but the kit was well worth the minor inconvenience.
As with any 25 year old car, especially one with nigh on 200,000 miles clicked over on the odometer, there are bound to be minor faults. This 964 is no different. In addition to the brake noise, the power steering system groaned after only a few miles of rapid steering wheel movement, and the sunroof is permanently stuck in the closed position. With as good as the rest of this red beast is, a few transgressions can be forgiven, I think.
With a little over 100 pounds removed from the car and a bit more than a 10% power bump, this is a serious 911, far more deserving of Porsche's RS nameplate than the America was. Rolling back down to the bottom of Mt. Hamilton, I exclaimed to Alex how much fun his daily driver was to drive and how great a job Sharkwerks had done with it. In his familiarly humble and surprisingly quiet manner, Alex said simply, "Porsche did most of the work, we just f****d it up a bit".
Pour consulter l'article original et complet, cliquez ici.
We at Elferspot Magazine are constantly looking for exciting vehicles and their history behind them. Of course, we are particularly interested in the people who, driven by love and passion, turn these cars into special vehicles. This time we were allowed to talk to Carl, who owns a very special Porsche 964.
Hello Carl! Thank you for taking time for Elferspot magazine. We follow you on Instagram for a while and your profile says: Racer, Porsche maniac and Photographer. That sounds promising and we are looking for people like you. You describe yourself as a Porsche maniac. How did that happen?
Like many, I grew up loving race cars.  The Porsche 911 has such a unique and beautiful shape.  Couple that with its race breed performance and I was completely sold at an early age.  Air cooled 911s are my absolute favorite cars.  They are just tough as nails and so rewarding to drive.  Most other super cars out there just can't take real track duty for any extended period of time.  Both of my 911s are setup for the track and just run like demons, smiling at the end of every session or race.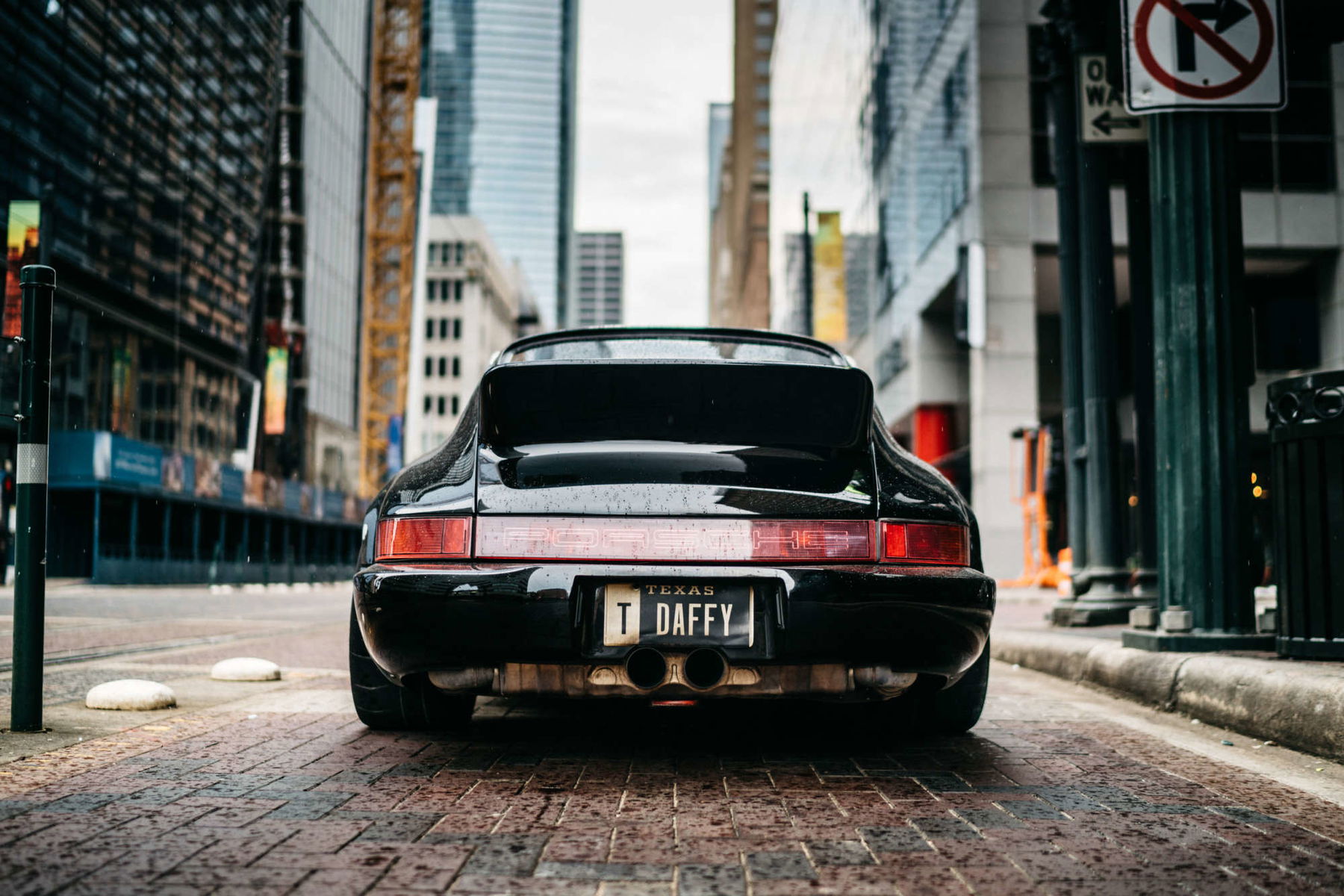 So you also drive on racetracks. What do you like most about it?
The track is a safe environment where you can push you and your car to the limit and then some.  It's such an incredible rush.  I'm now an advanced driving instructor with PCA and a PCA club racer.  When I'm not on track, I'm thinking about my next weekend at the track. A great friend of my often says "Race car driving makes a heroin addiction seem like a mild craving for something salty."  It's just an insane addiction.
"Race car driving makes a heroin addiction seem like a mild craving for something salty."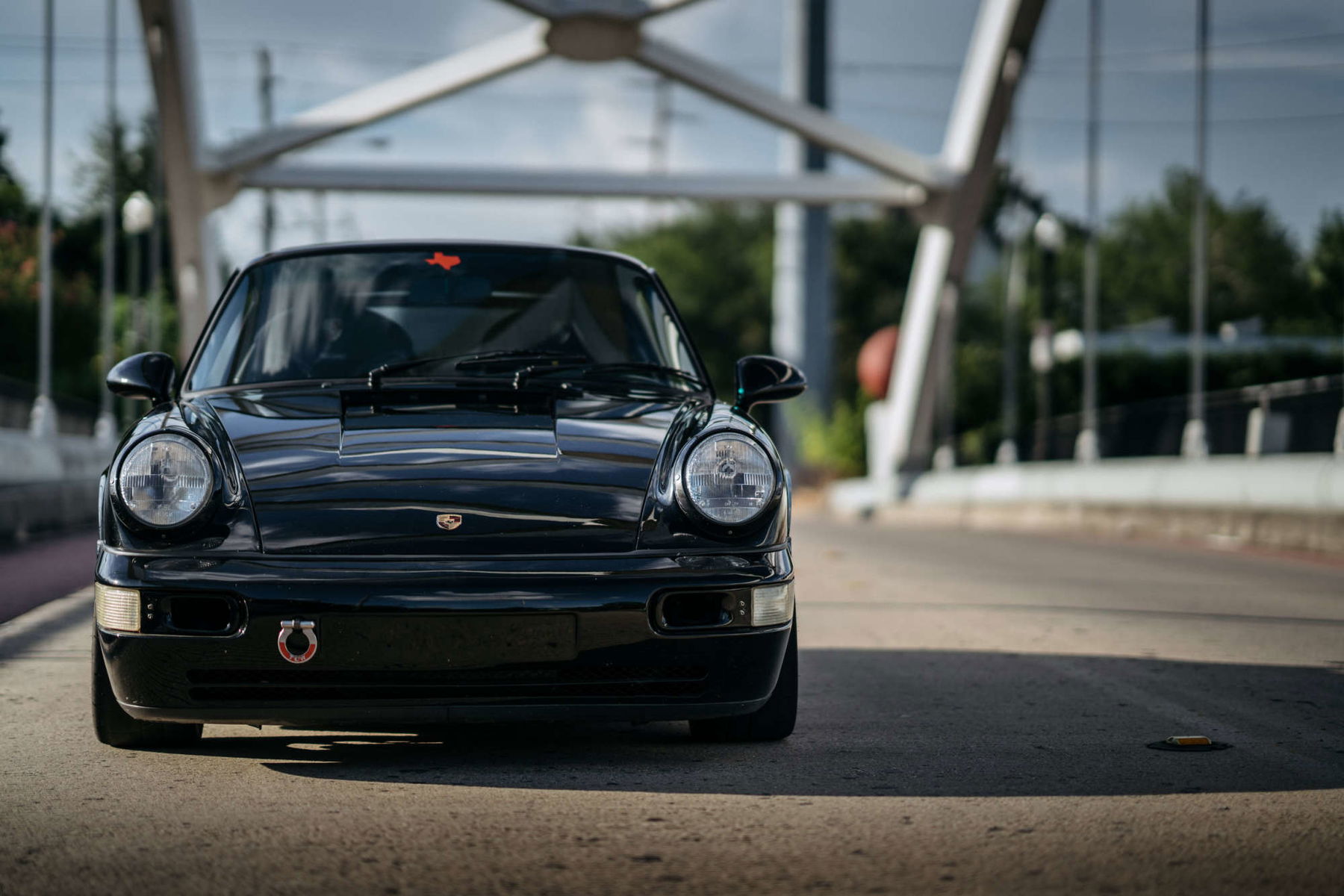 Your beautifully modified 964 is called Daffy. How did this name come about?
My 74 Carrera racecar is named Taz.  It just seemed fitting to name it after the Tasmanian devil.  That started the Loony Toons naming.  My 964 is black with a ducktail.  She is a crazy black duck so I named it Daffy.
She is a crazy black duck so I named it Daffy.
You made your 964 very individual. Can you tell us something about your modifications? Who made it?
I bought the 964 with the track in mind.  I wanted to build an air cooled GT3. The motor and gearbox were built by Jeff Gamroth.  The motor is a heavily modified 964 motor now making 381hp.  The gear box is a 6 speed from a 993 with short gears, steel syncros and a Guard race limited slip differential.  She's been stripped of most creature comforts including AC, heating and rear seats.  I've got her down to 2650lbs but a good friend of mine has plans to get her down to 2550lbs. The suspension is also heavily modified.  The front suspension is from a 993 GT2.  I've got adjustable coilover shocks and upgraded brake system that includes larger brakes and a dual master cylinder. The exhaust is a custom Gamroth set of headers with a modified dual center exhaust from a GT3. Cosmetically I've done just minor things.  Updated mirrors, ducktail, half cage, bumpers and the tow hooks.  I've also powder coated a set of MY02 996 wheels black.  They were the lightest wheel I could find that looked good on the car.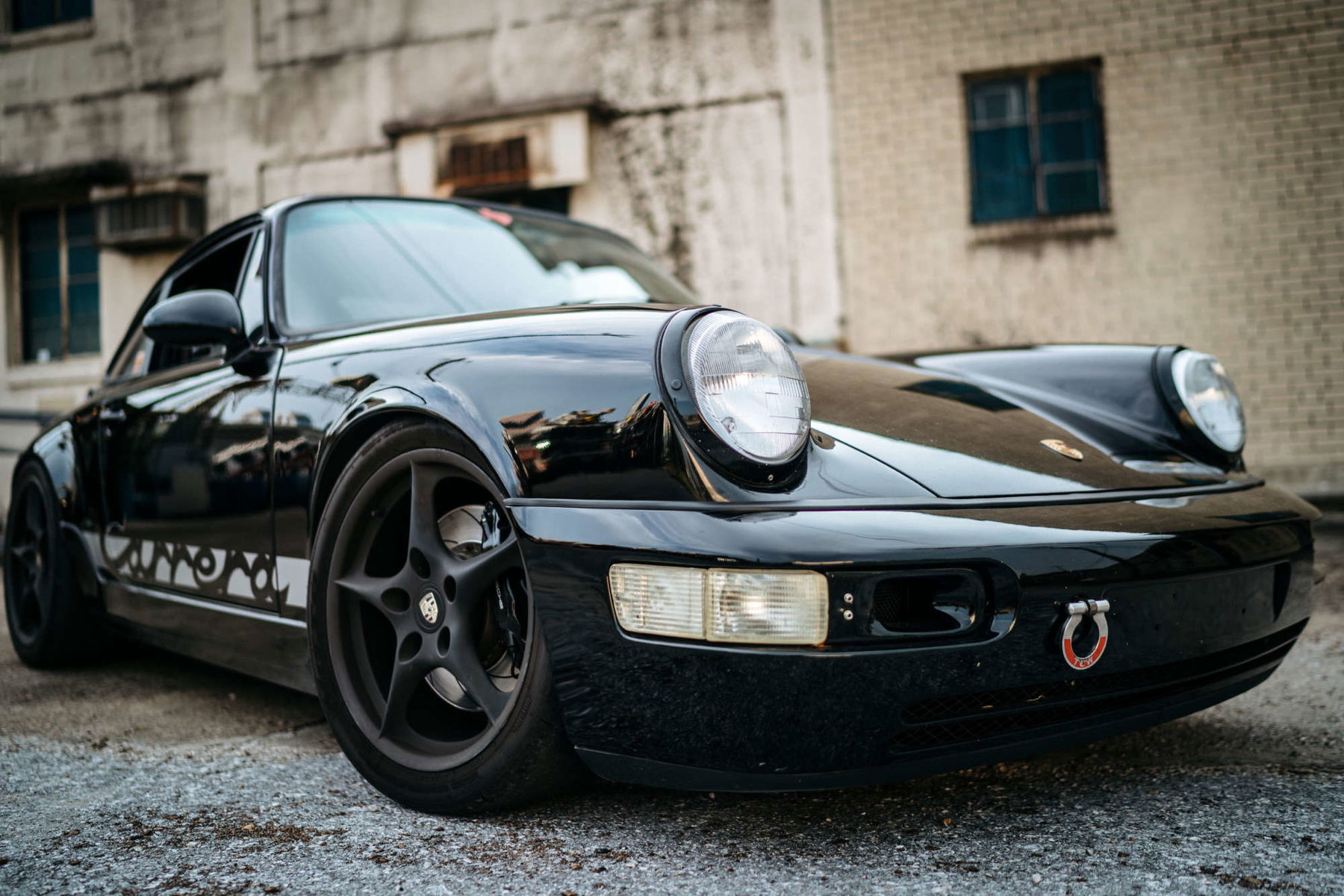 How often do you use your 964?
I drive it to work 3 times a week.  Without AC in the Texas heat it can be a bitch sometimes.
If you could choose another 911, which one would you take?
That's a TOUGH one.  Part of me would love a new 911 Turbo just to have all the creature comforts.  I would thoroughly enjoy daily driving it.  On the other hand, I would love to build an old ST and really get all the weight out.
Without AC in the Texas heat it can be a bitch sometimes.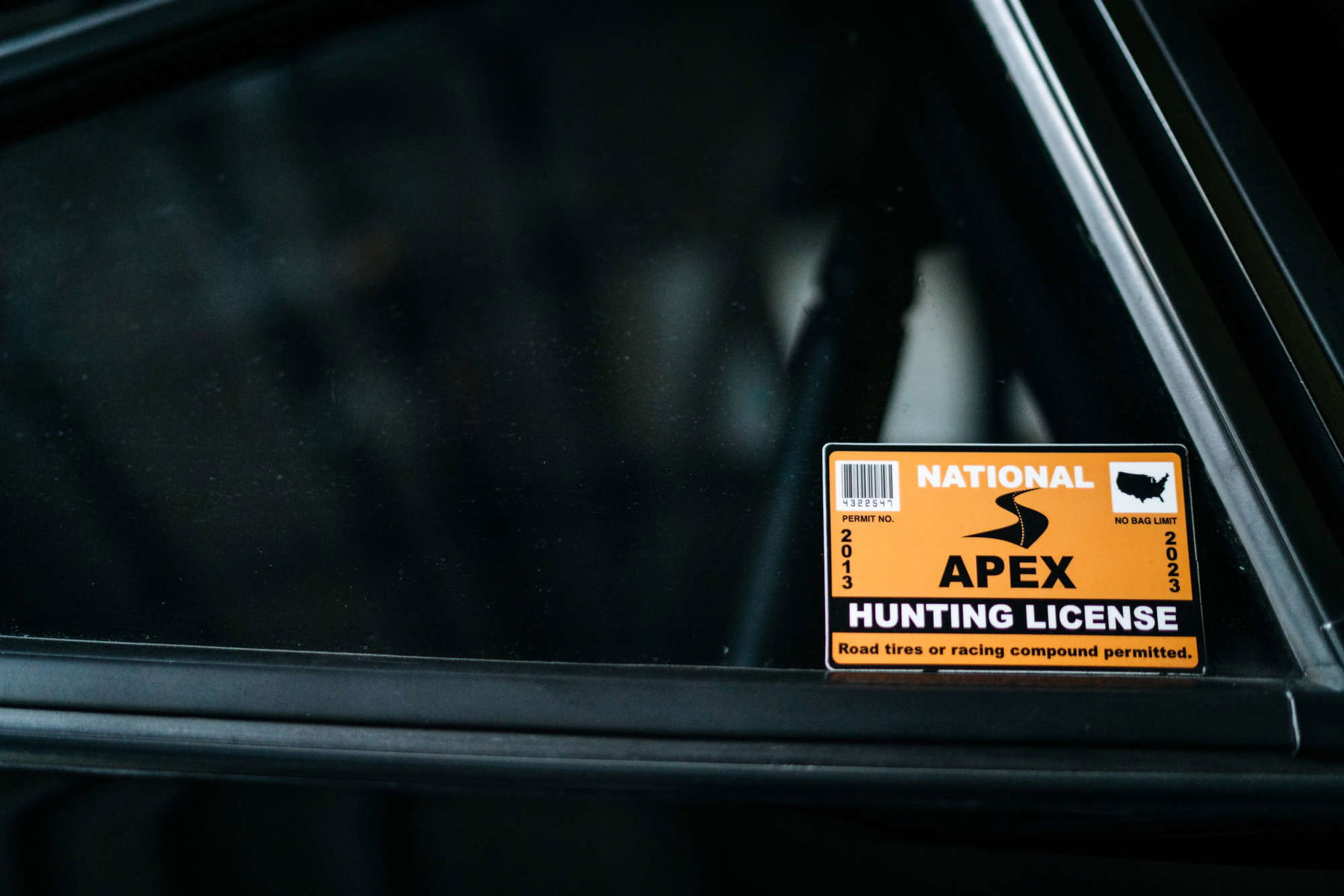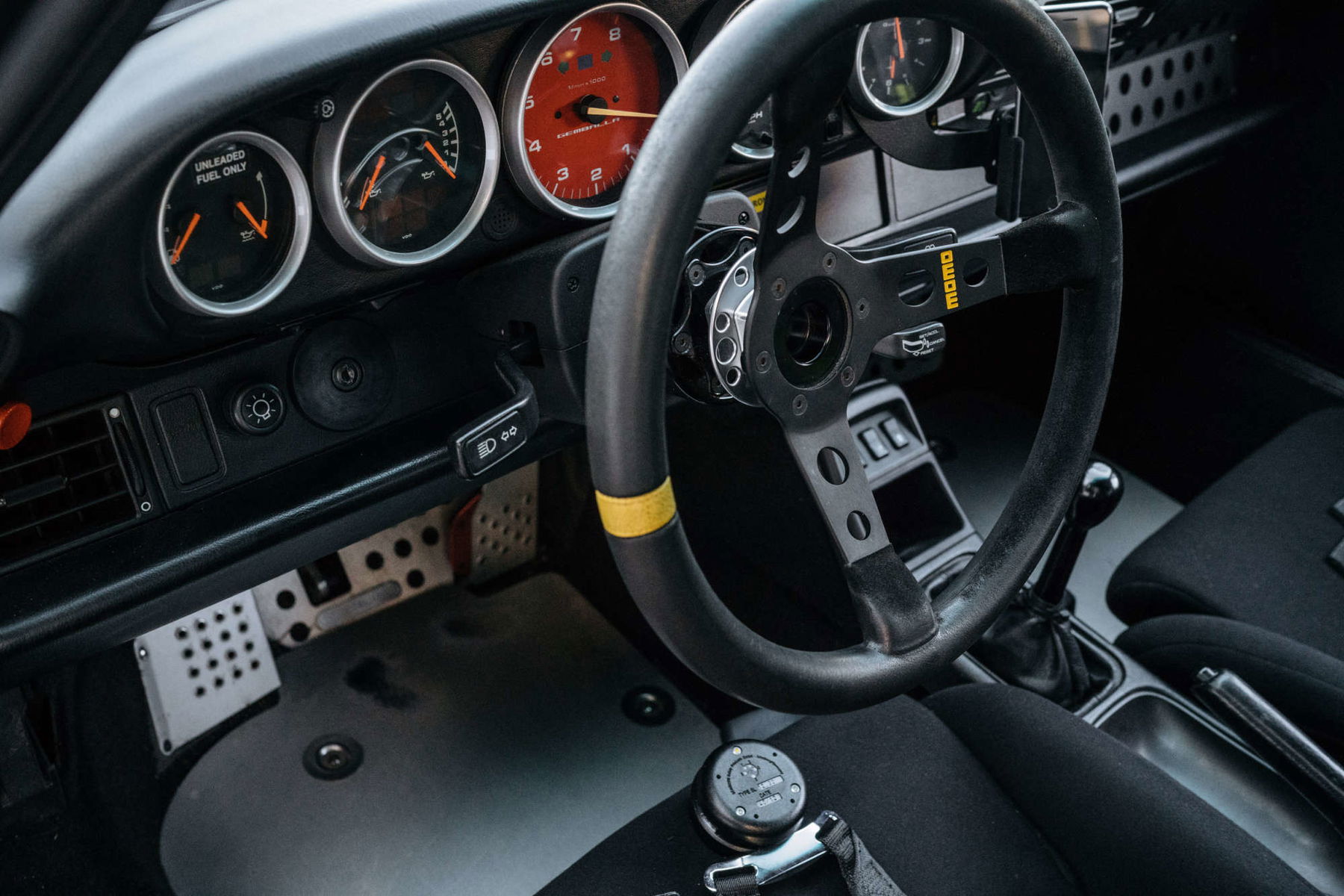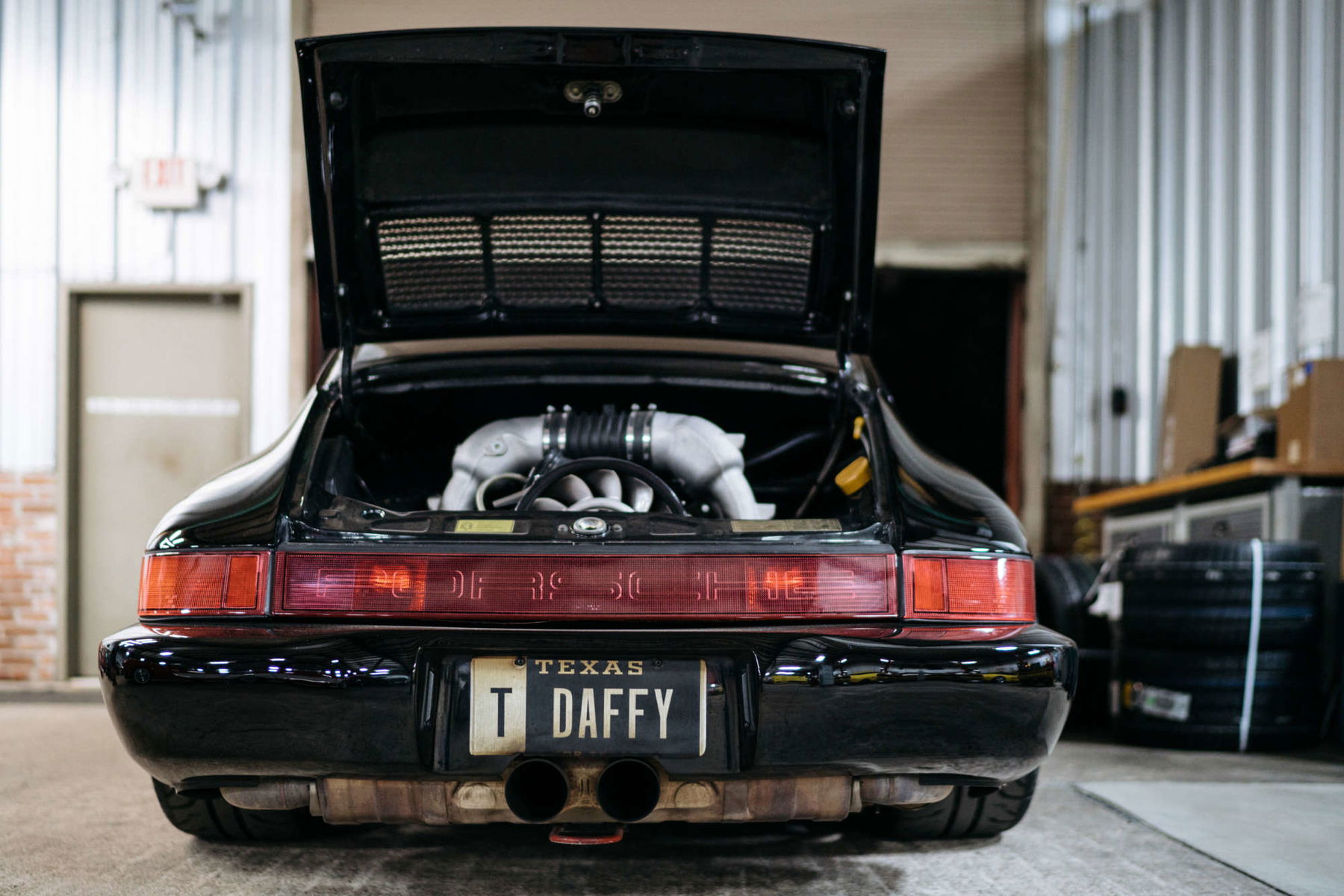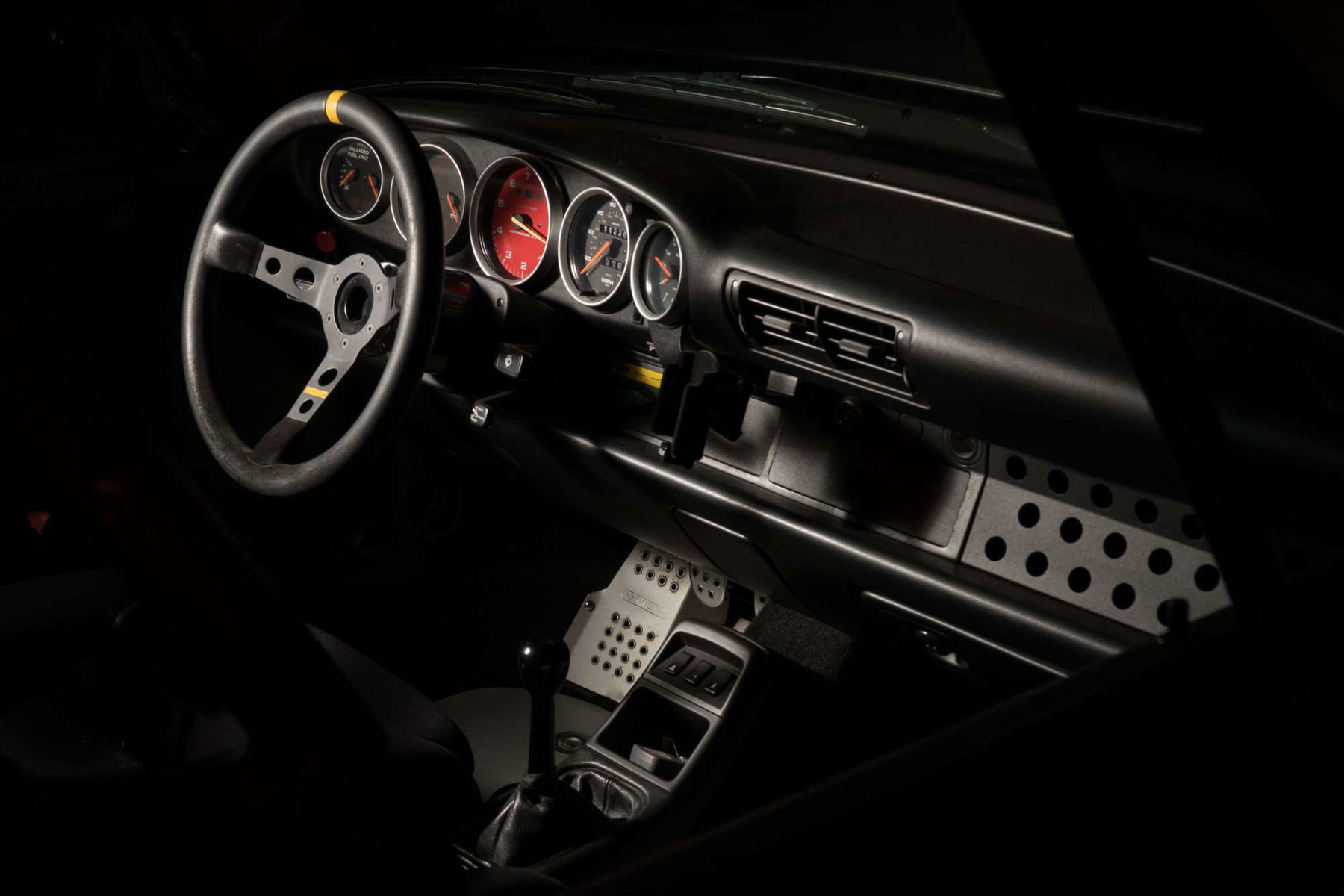 You are a professional photographer. What are your main motives?
I actually work in oil and gas primarily.  Photography and cars are my serious hobbies.  I photograph portraits and fashion.  I also enjoy photographing cars.  My favorite is to combine subjects so I've started a series with both fashion models and old vintage cars.
Many thanks, Carl. It was a pleasure speaking to you.
My favorite is to combine subjects so I've started a series with both fashion models and old vintage cars.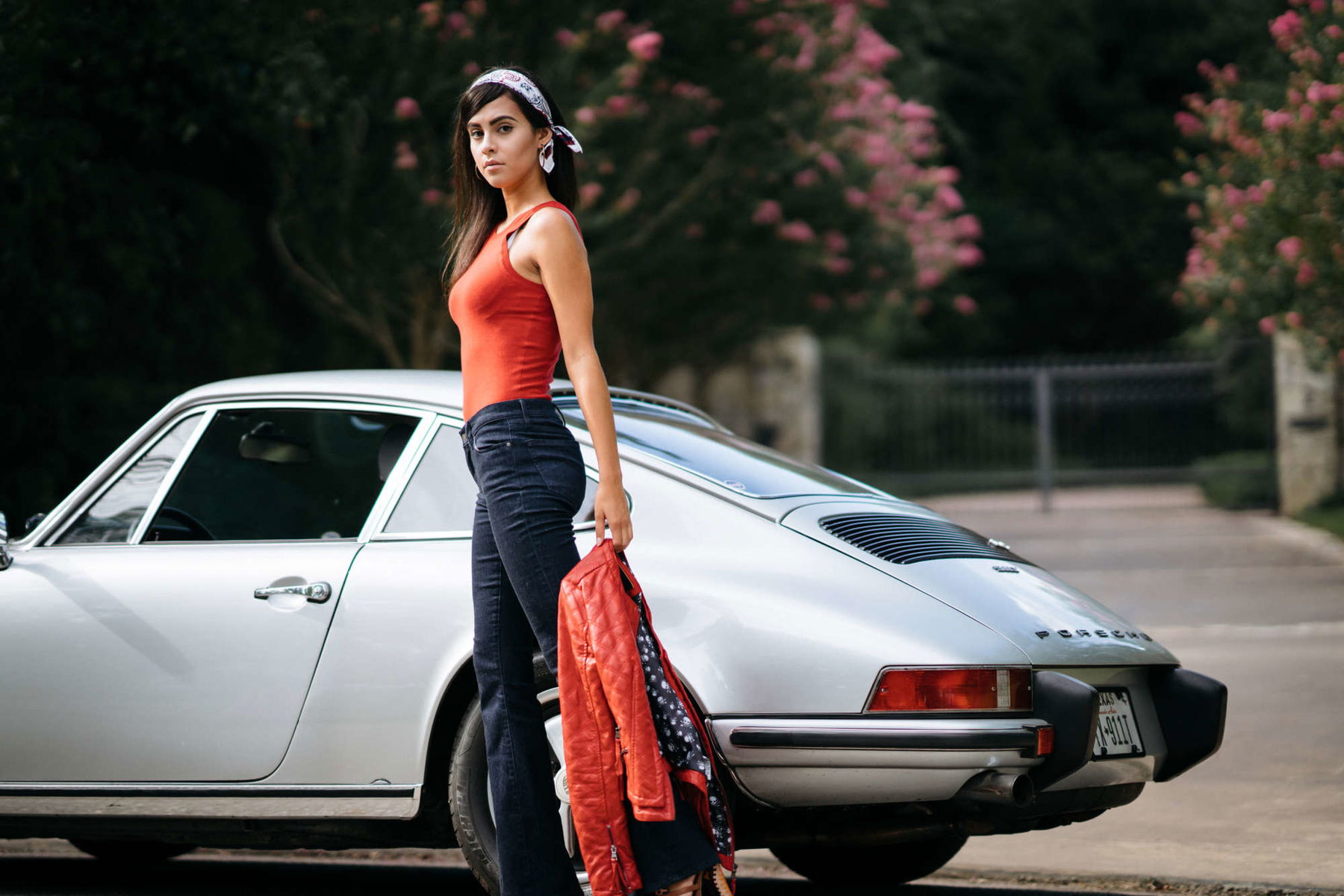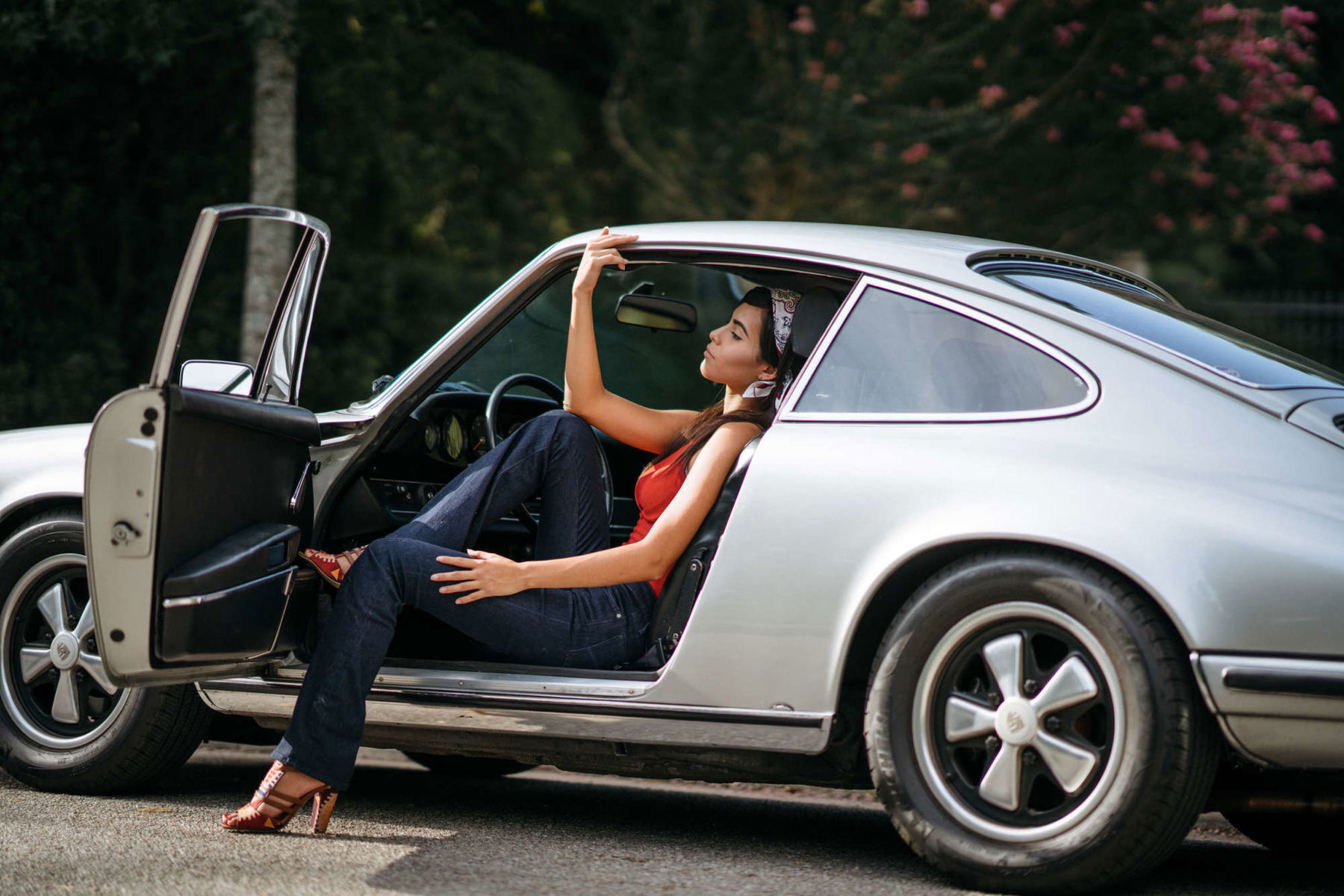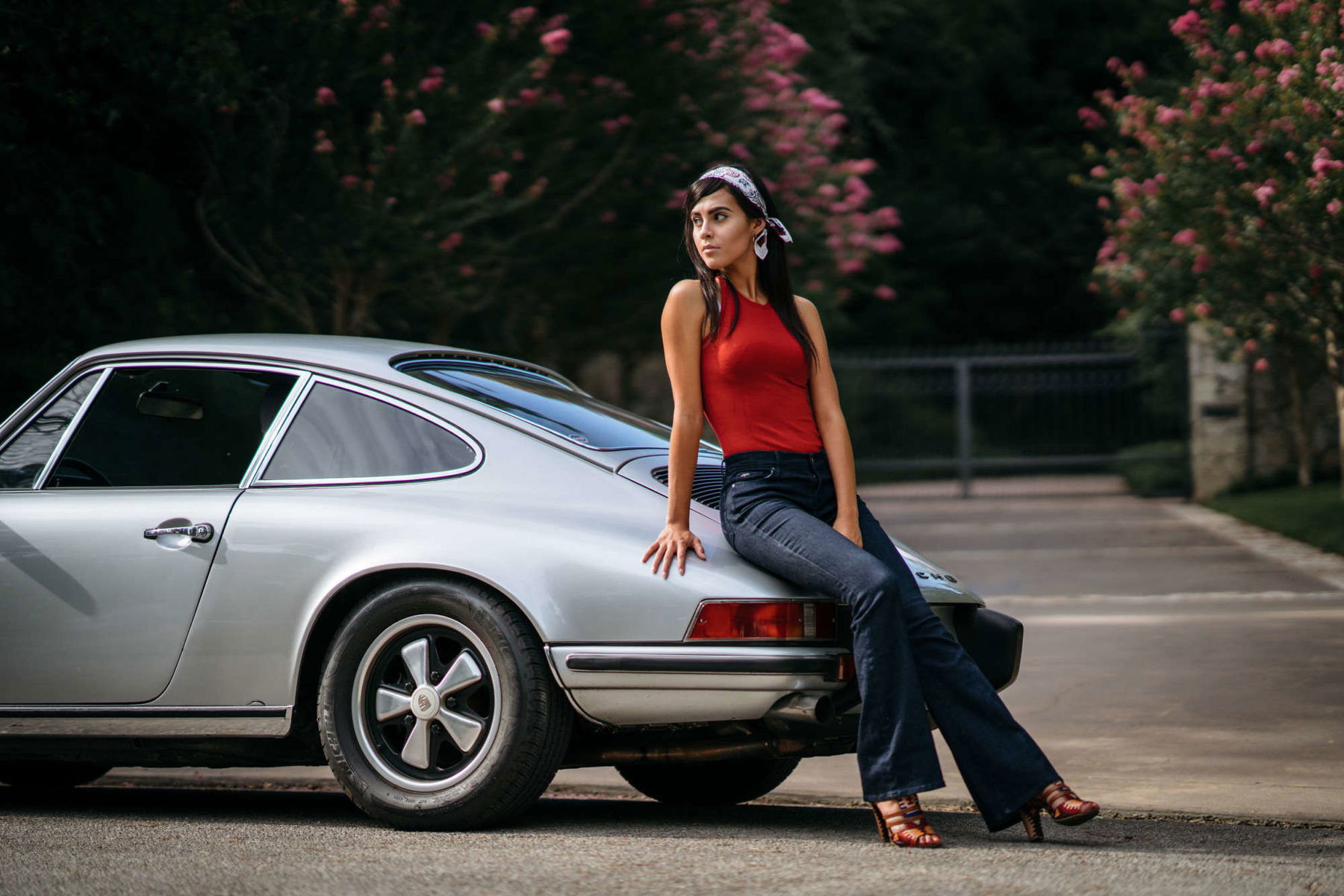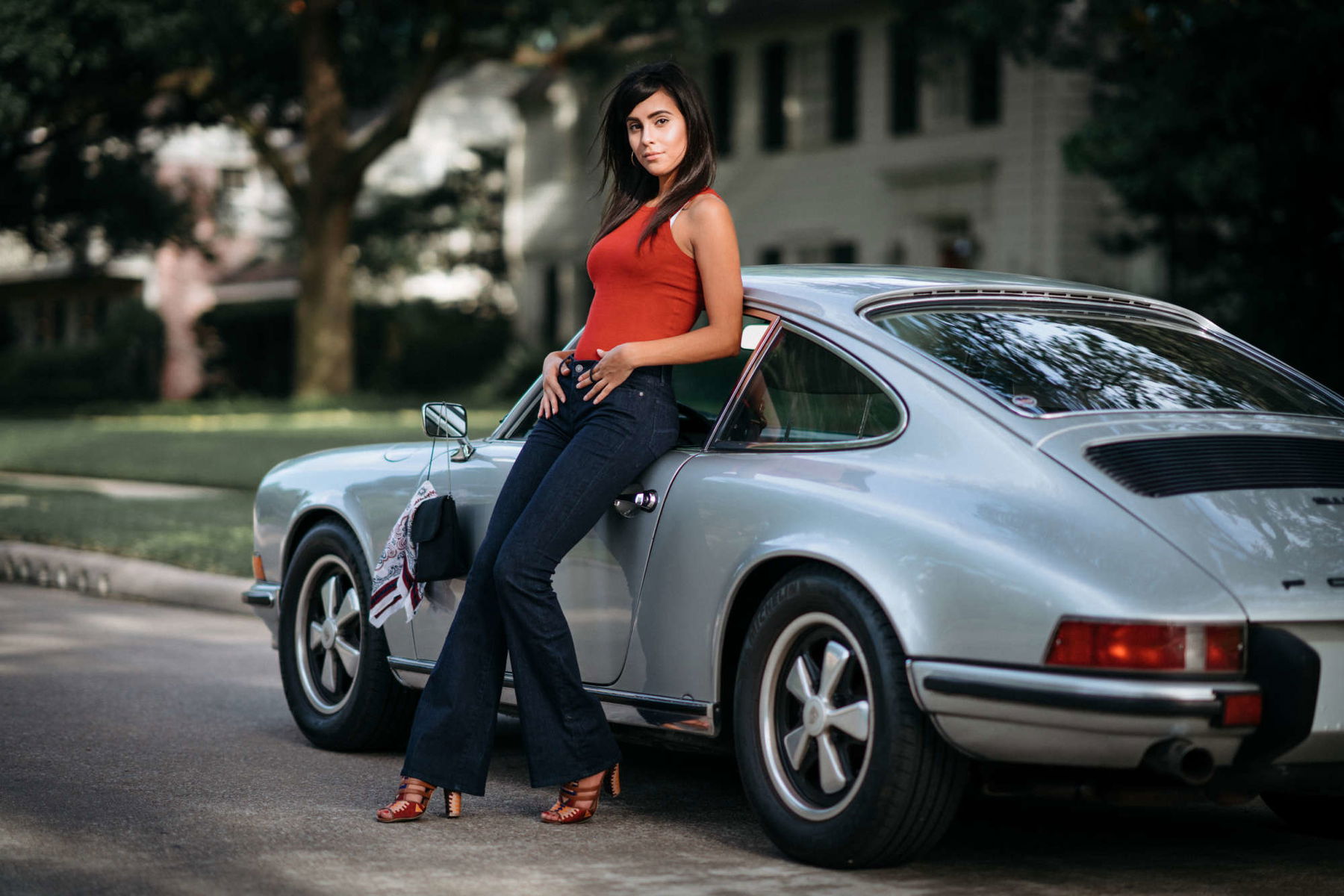 Pictures: Carl Fehres, all rights reserved!
Text: Elferspot Magazine
Follow Carl on Instagram
More "Daffy" pics: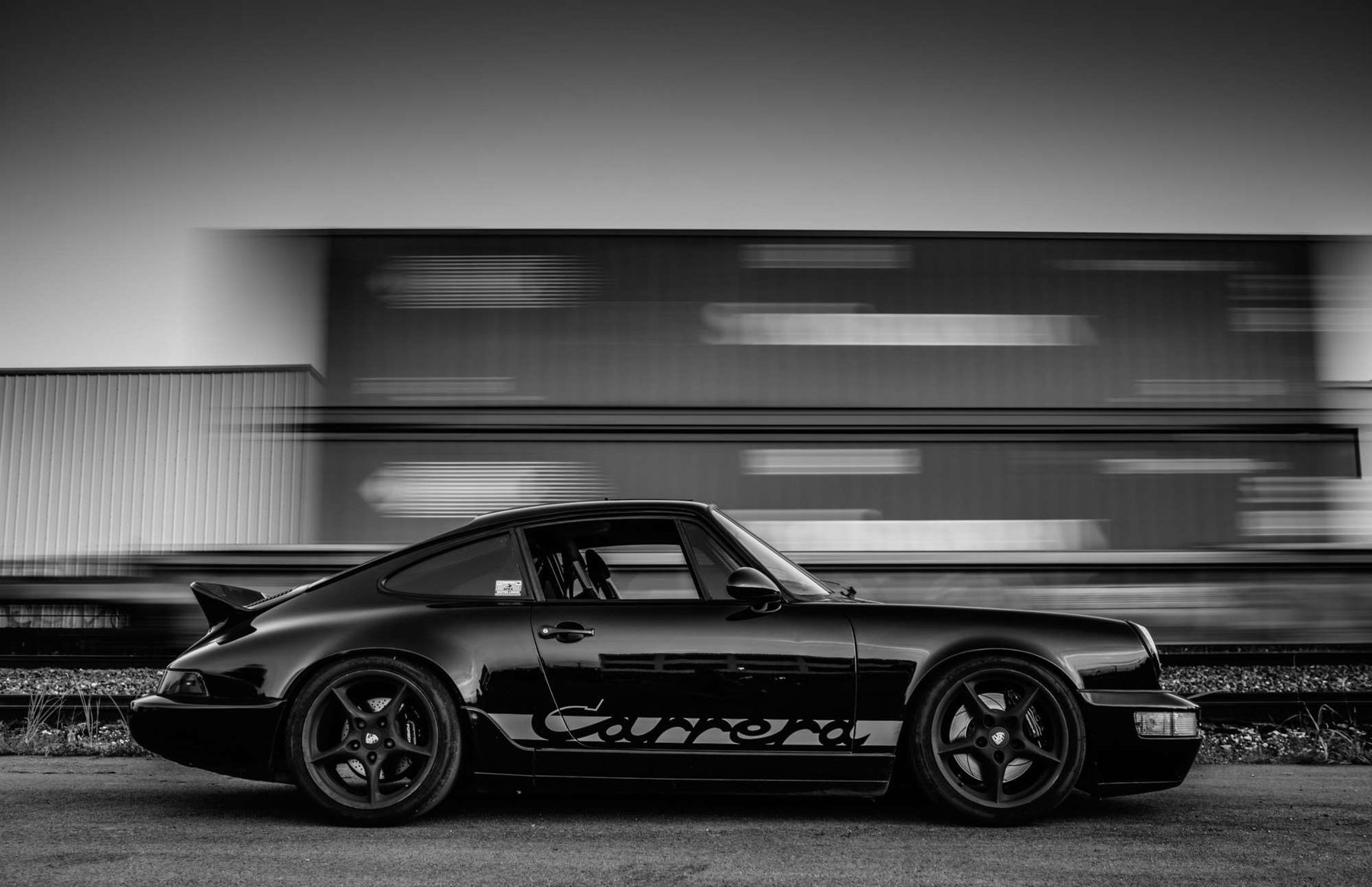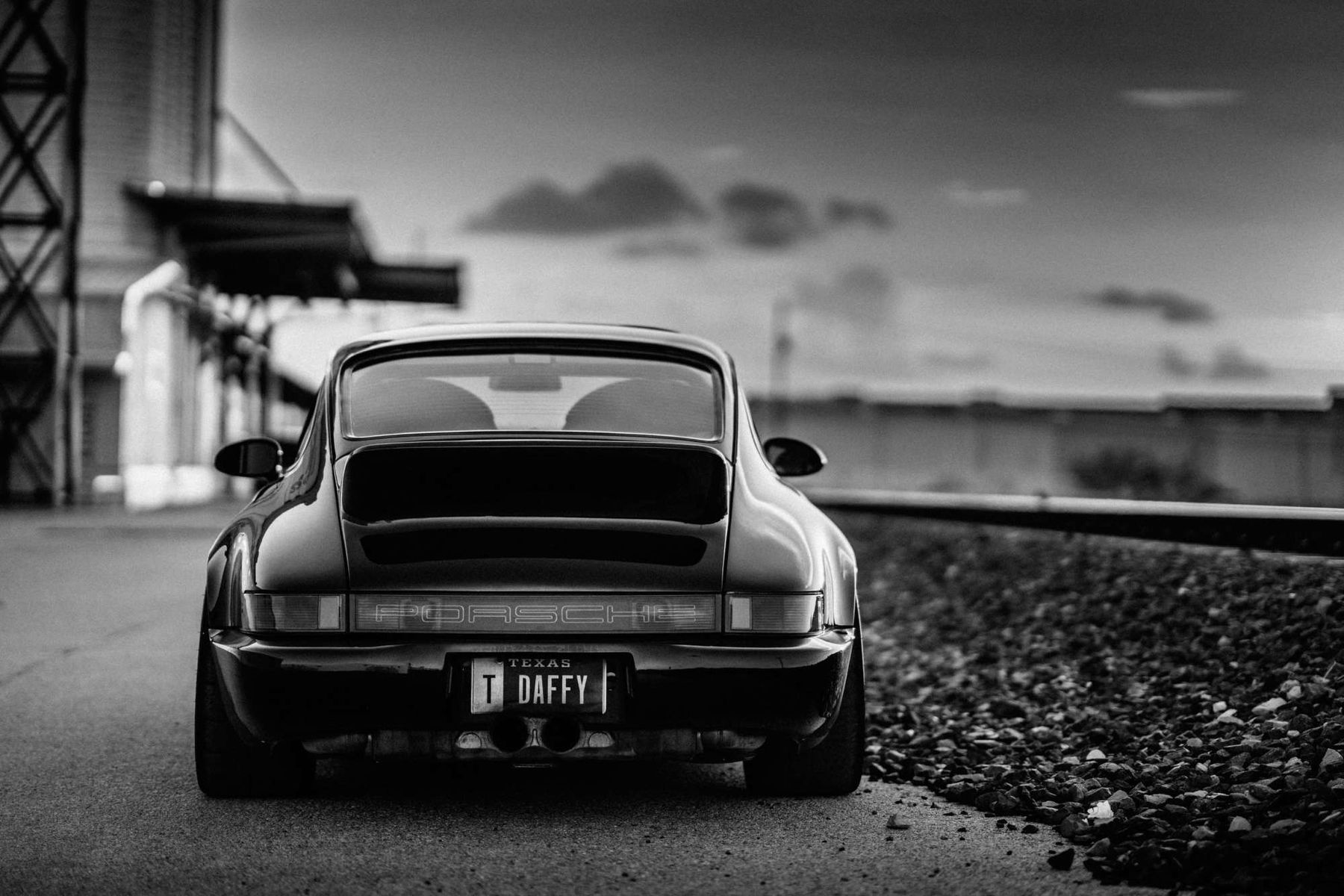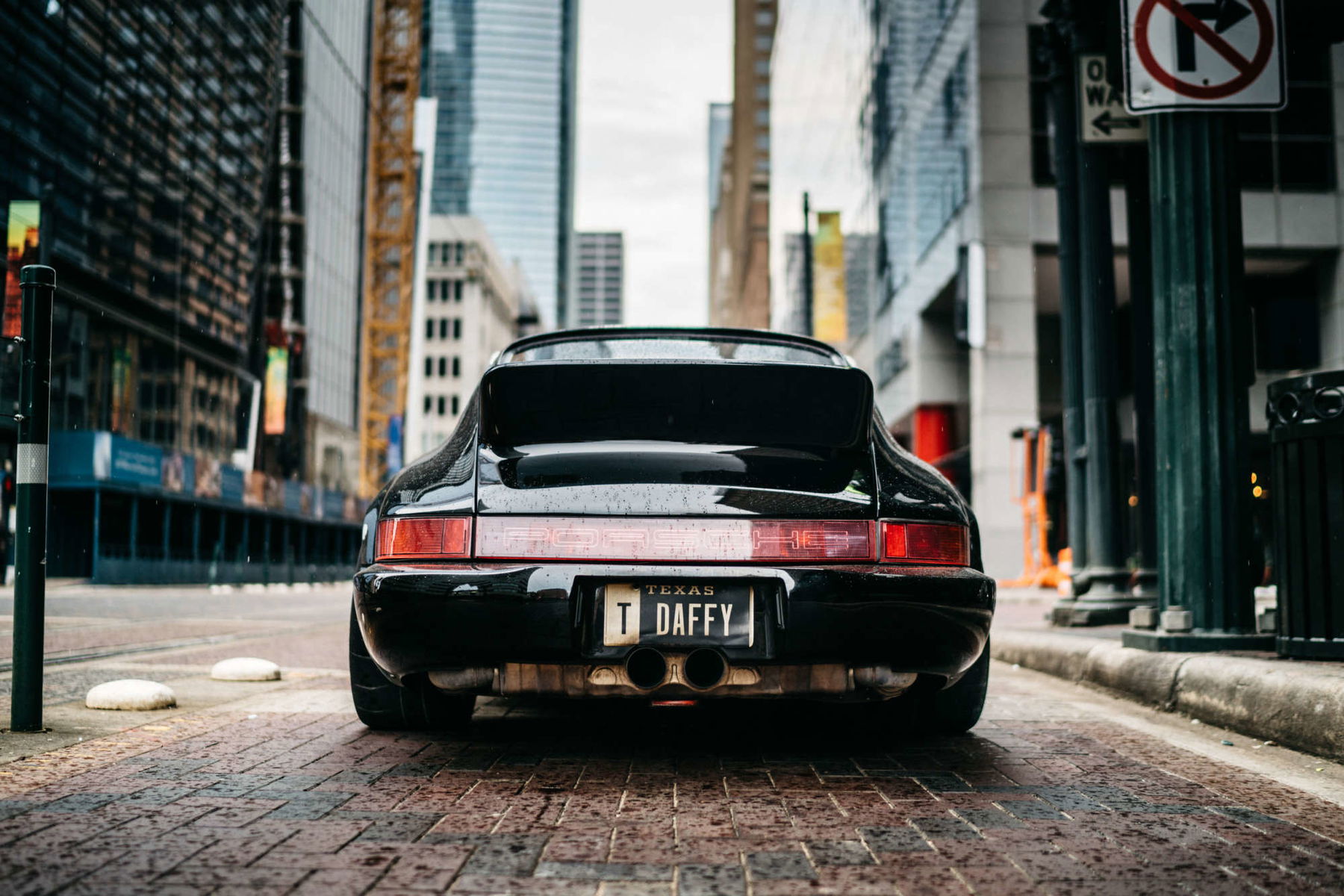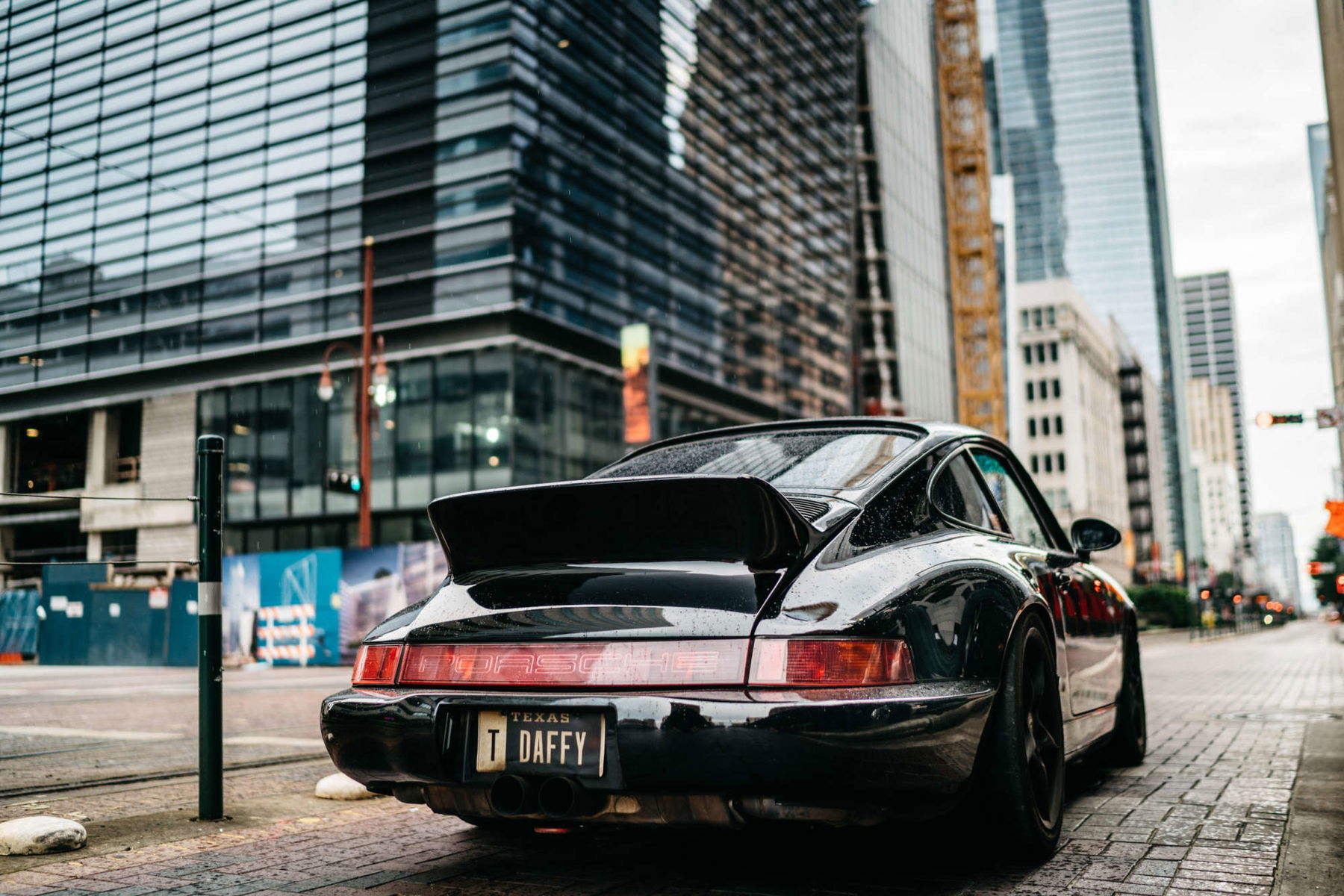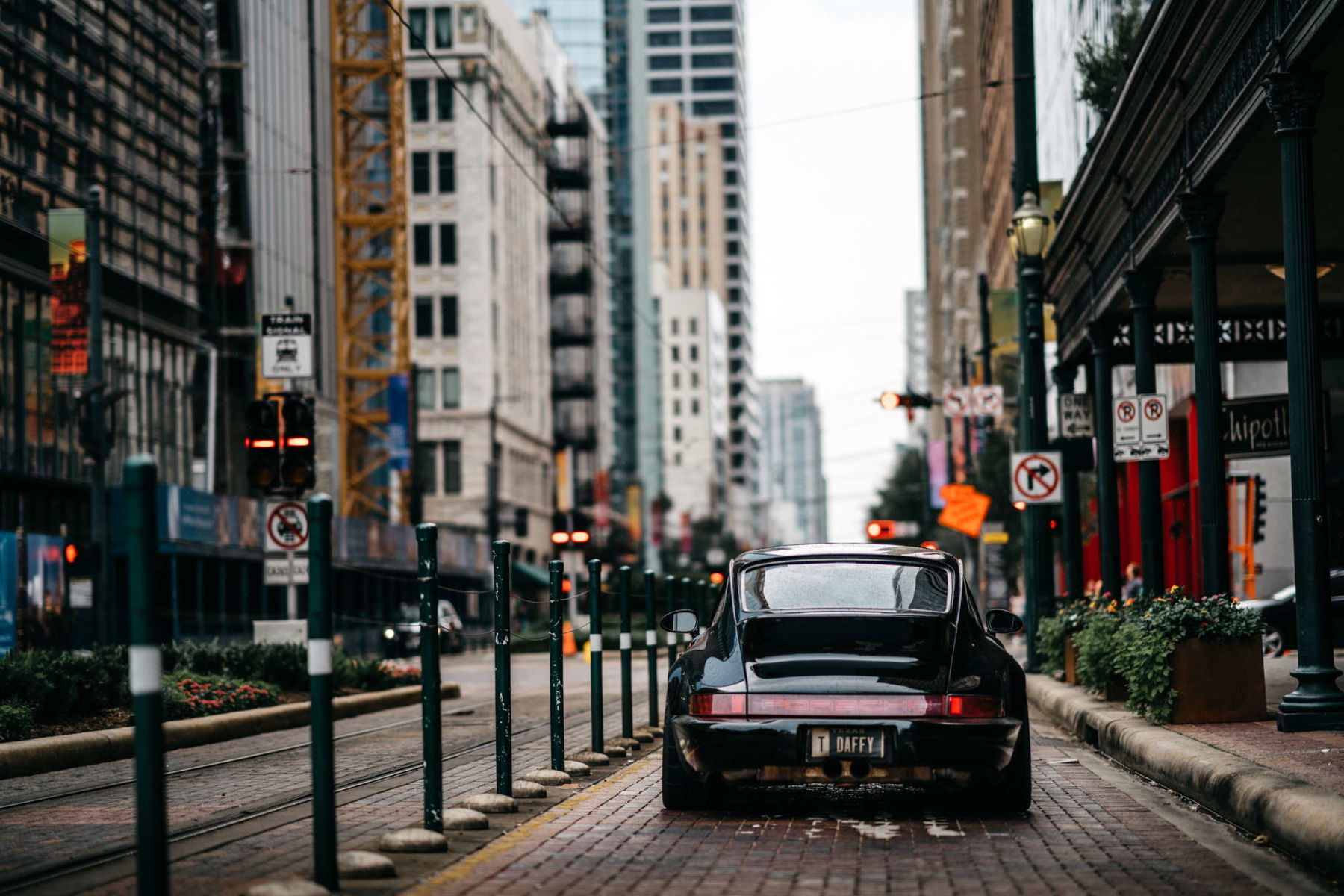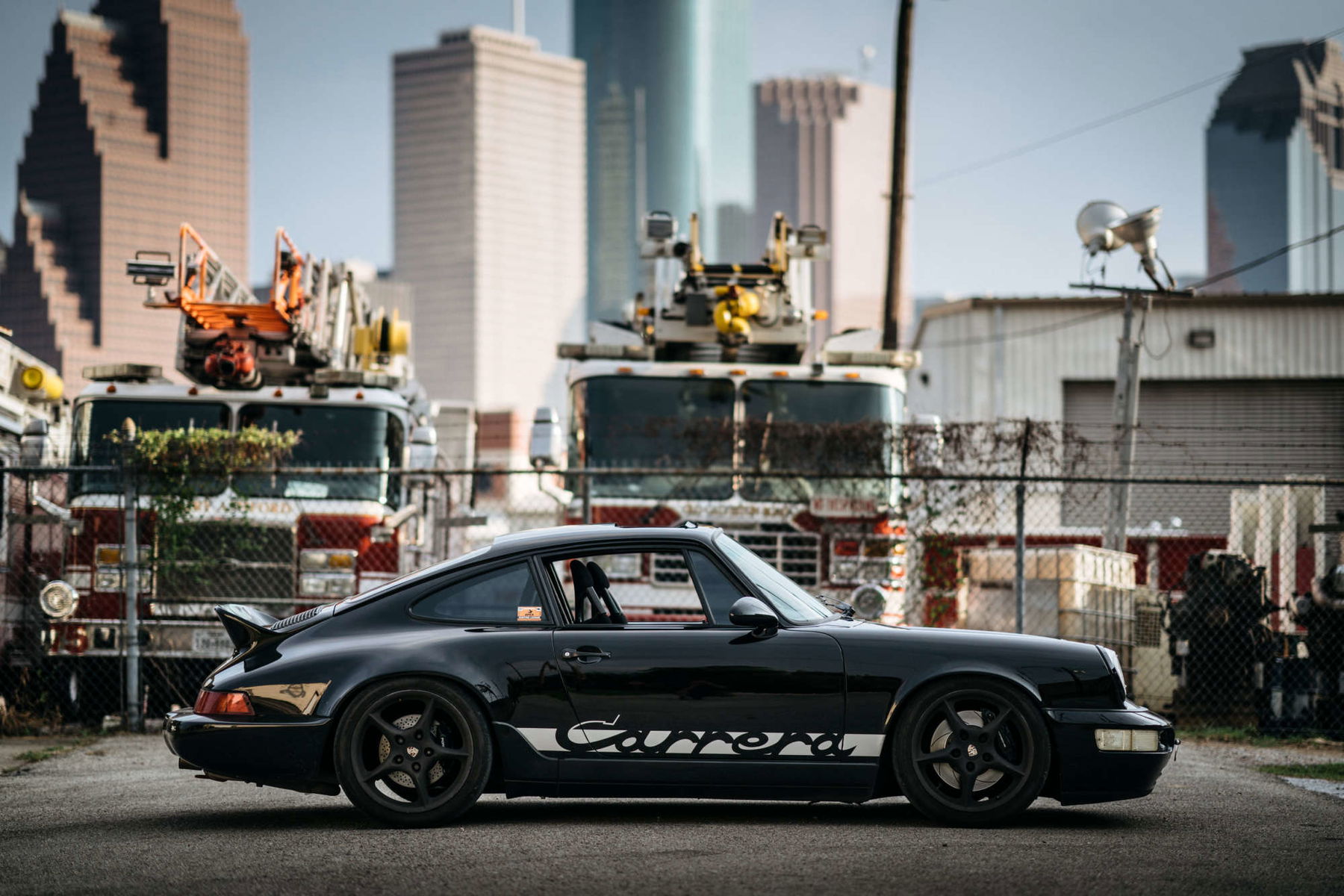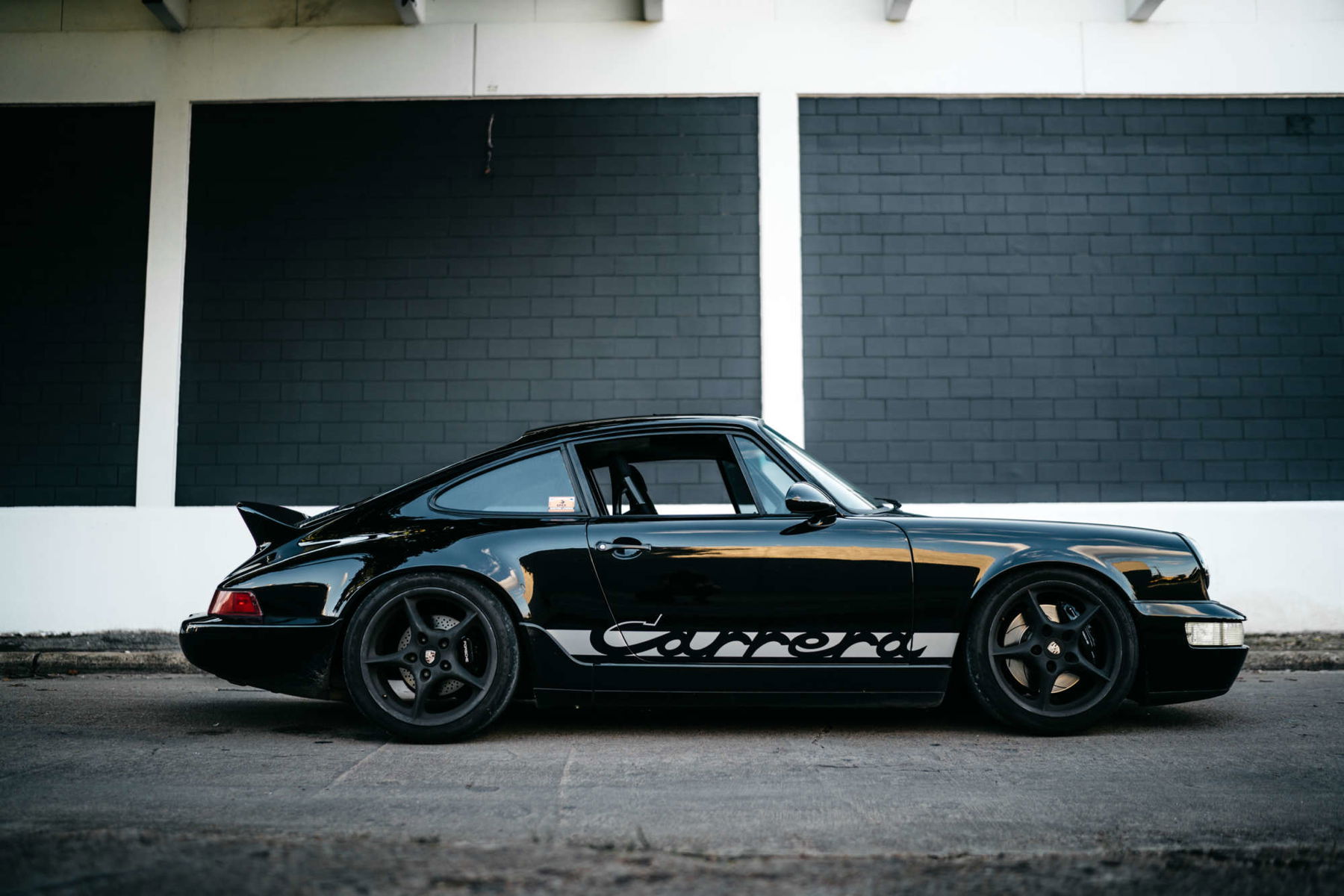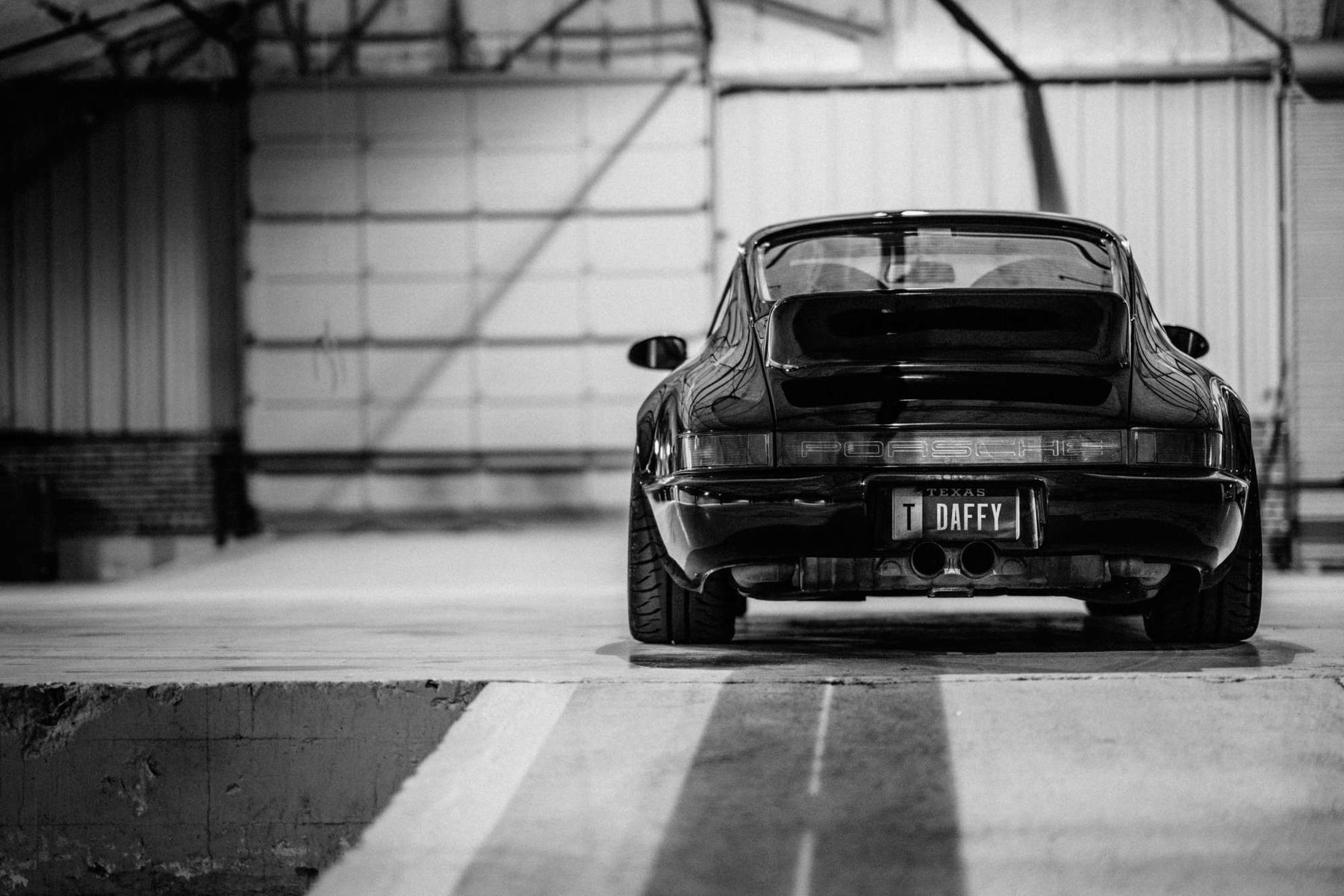 Pour consulter l'article original et complet, cliquez ici.