Un an après l'apparition de la version restylée et après les version 2.0 L Turbo 252 ch, puis V6 3.0 L 340 c'est au tour de la version Turbo de faire son retour avec une nouvelle motorisation V6 2.9 L Turbo.
Bien évidemment, cette nouveauté sera présentée au salon de Francfort dans une quinzaine de jours.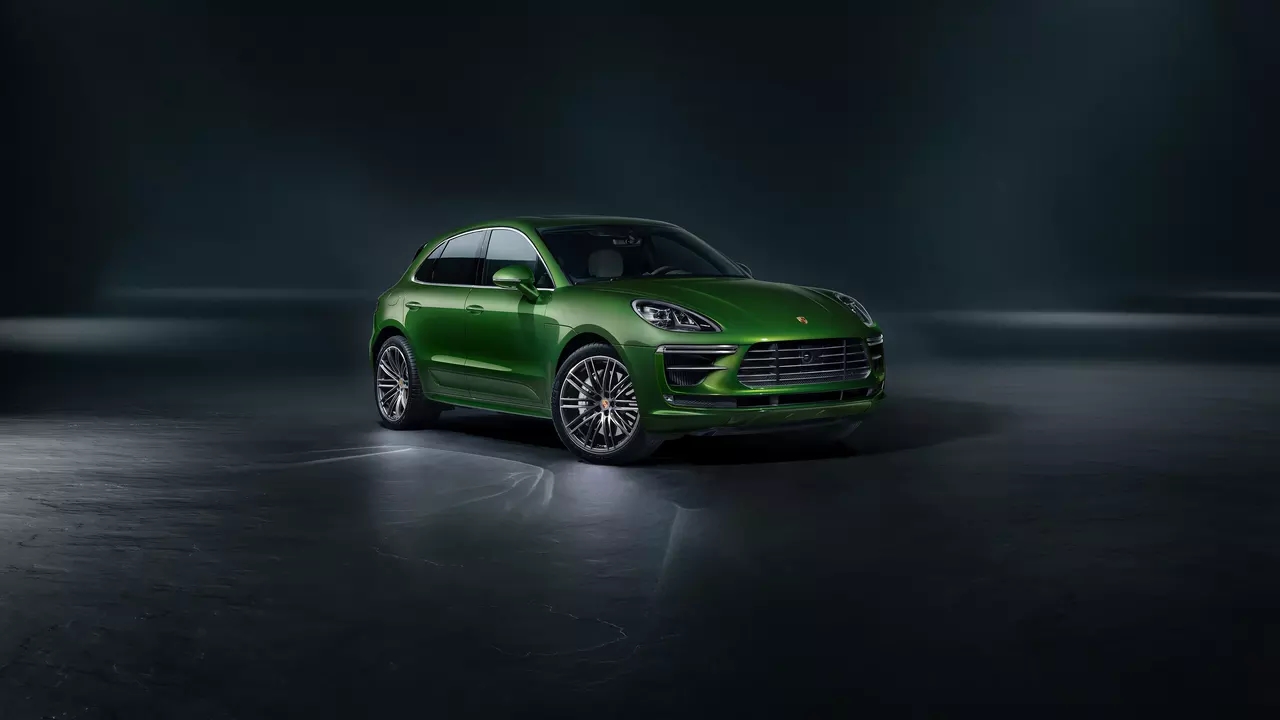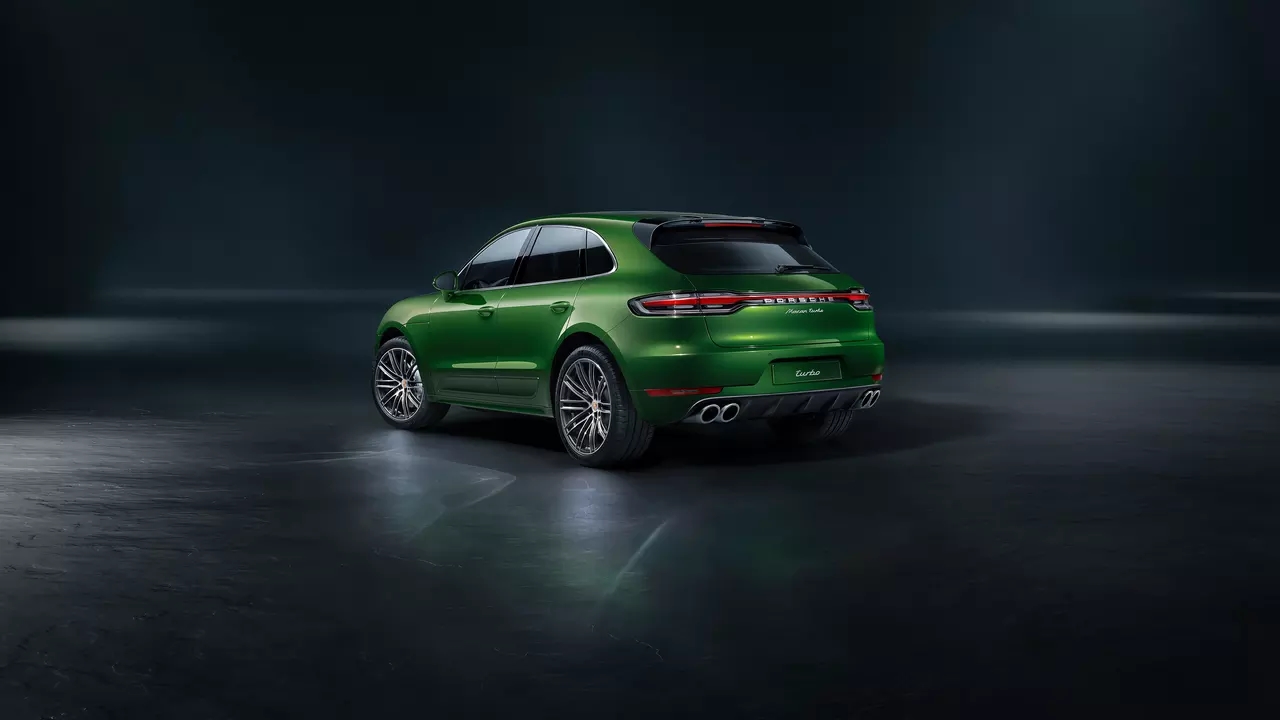 Le même mais en un peu mieux…
Le SUV Porsche Macan Turbo revient donc en scène et se présente avec la carrosserie restylée ainsi que quelques détails de finition spécifiques.
Ainsi à l'avant, on découvre des prises d'air dont le dessin a été revu pour plus de sportivité et de modernité mais le dessin du capot et celui des phares restent similaires à ceux des autres modèles de la gamme.µ
Les bas de caisse ont été redessinés tout comme les pieds des rétroviseurs et le becquet de hayon qui se fait plus imposant mais qui est là pour parfaire l'aérodynamique de ce SUV à vocation sportive.
A l'arrière, le Macan Turbo profite d'un diffuseur modifié, d'un hayon légèrement revu puisqu'il intègre désormais la signature lumineuse de Porsche, à savoir le bandeau rouge qui relie les feux et intègre le nom Porsche en relief.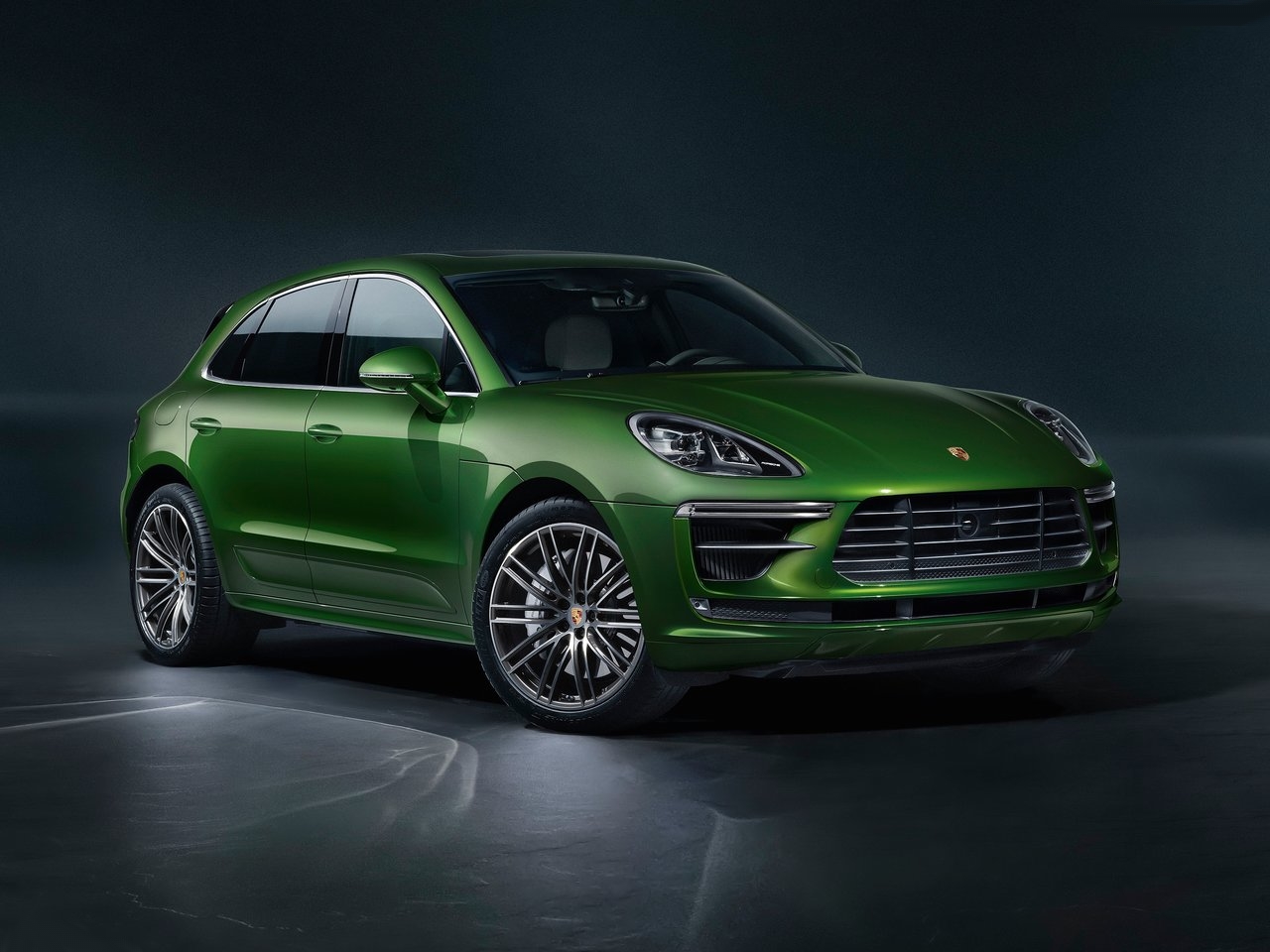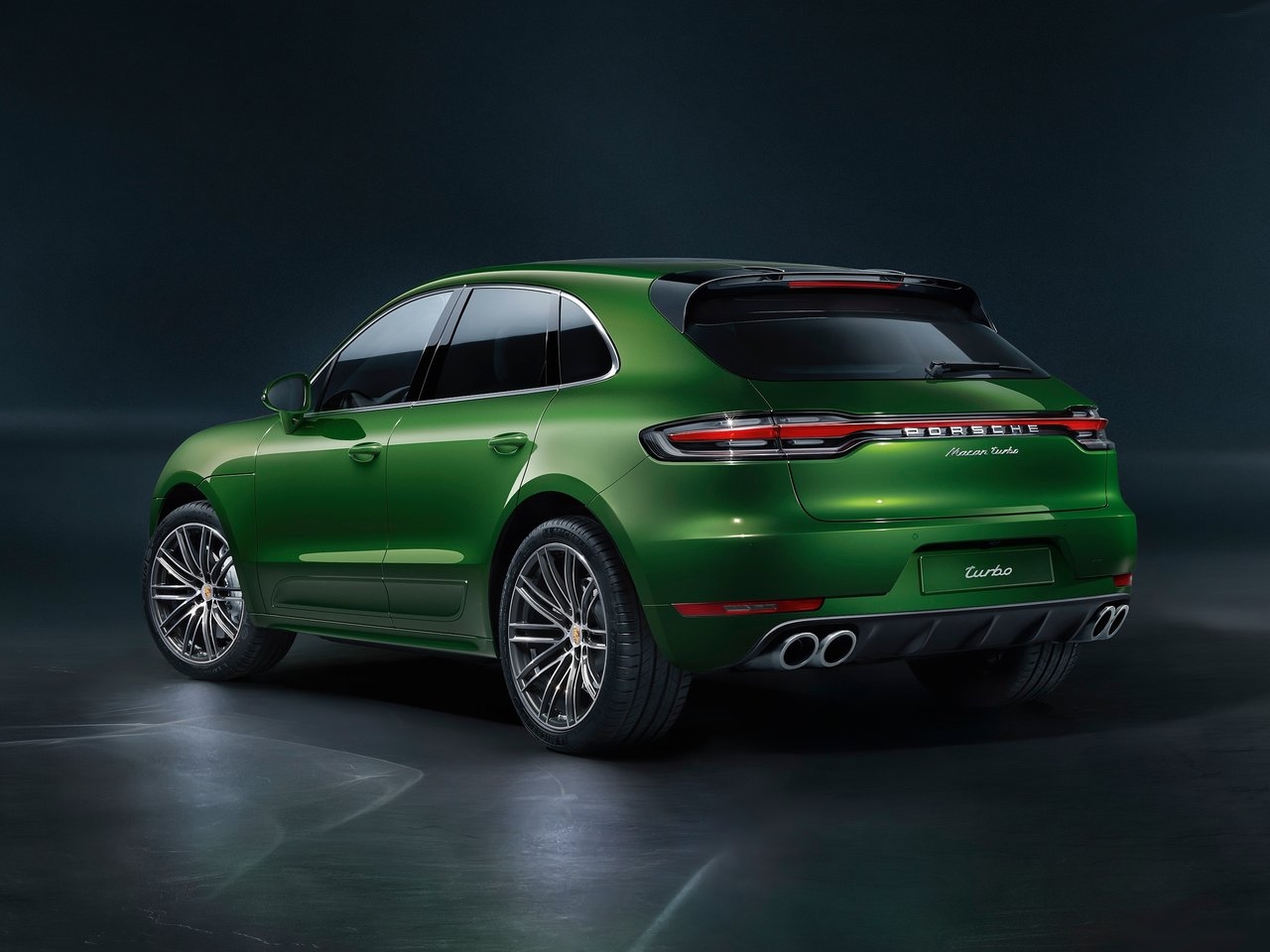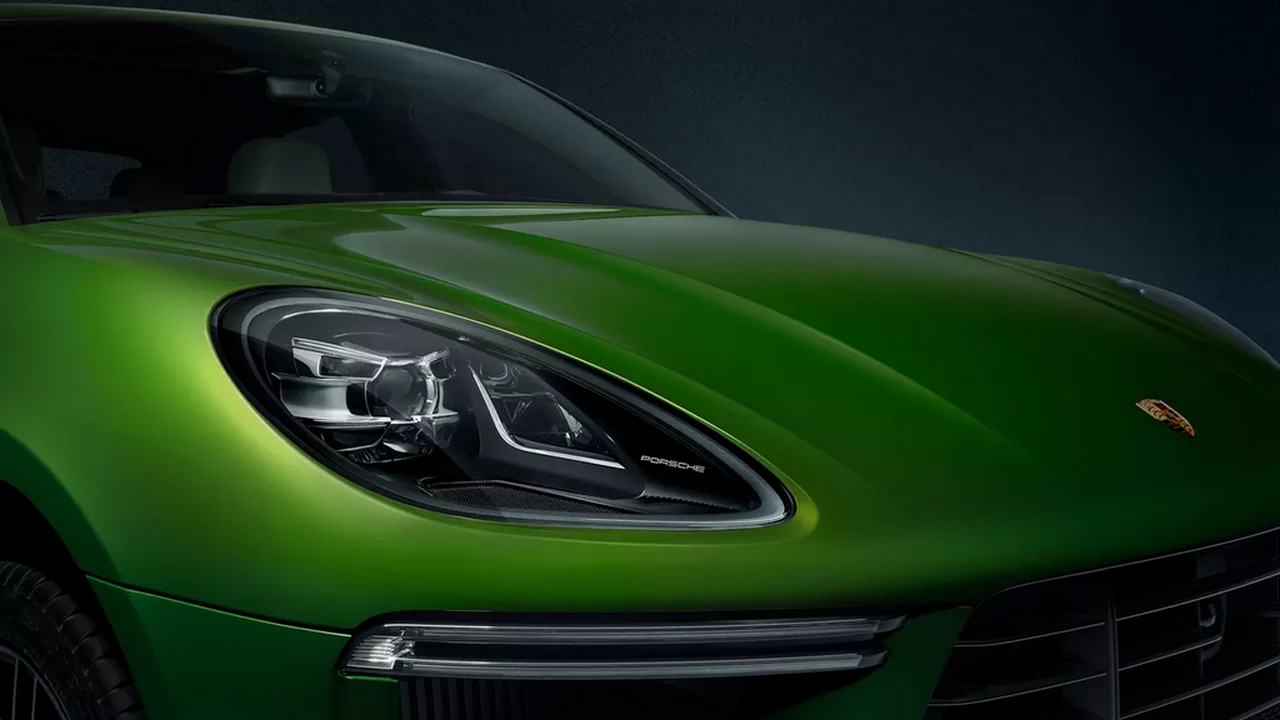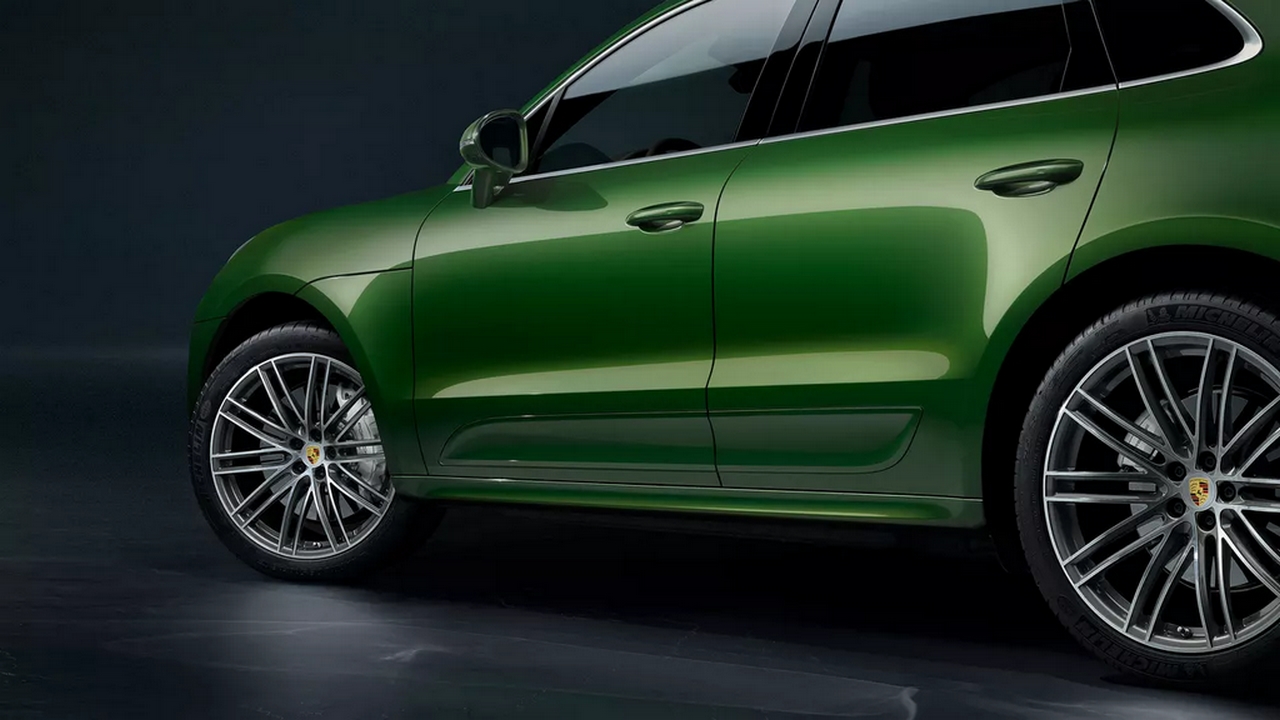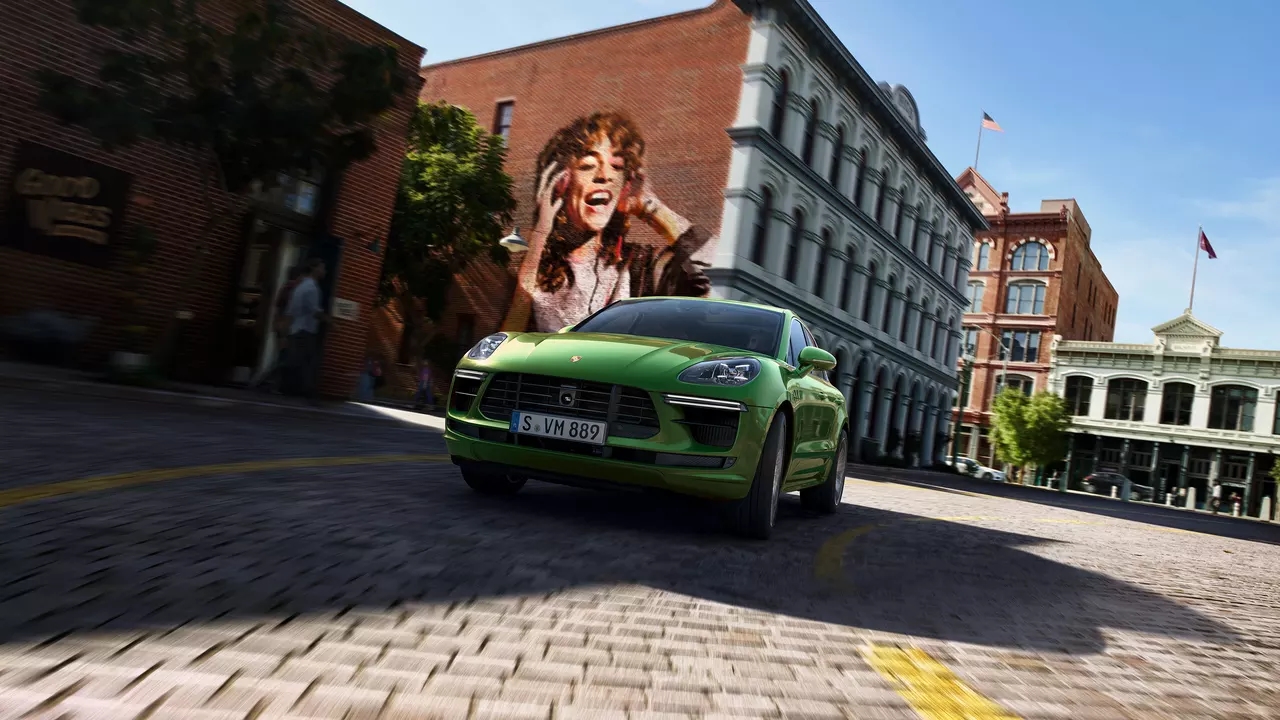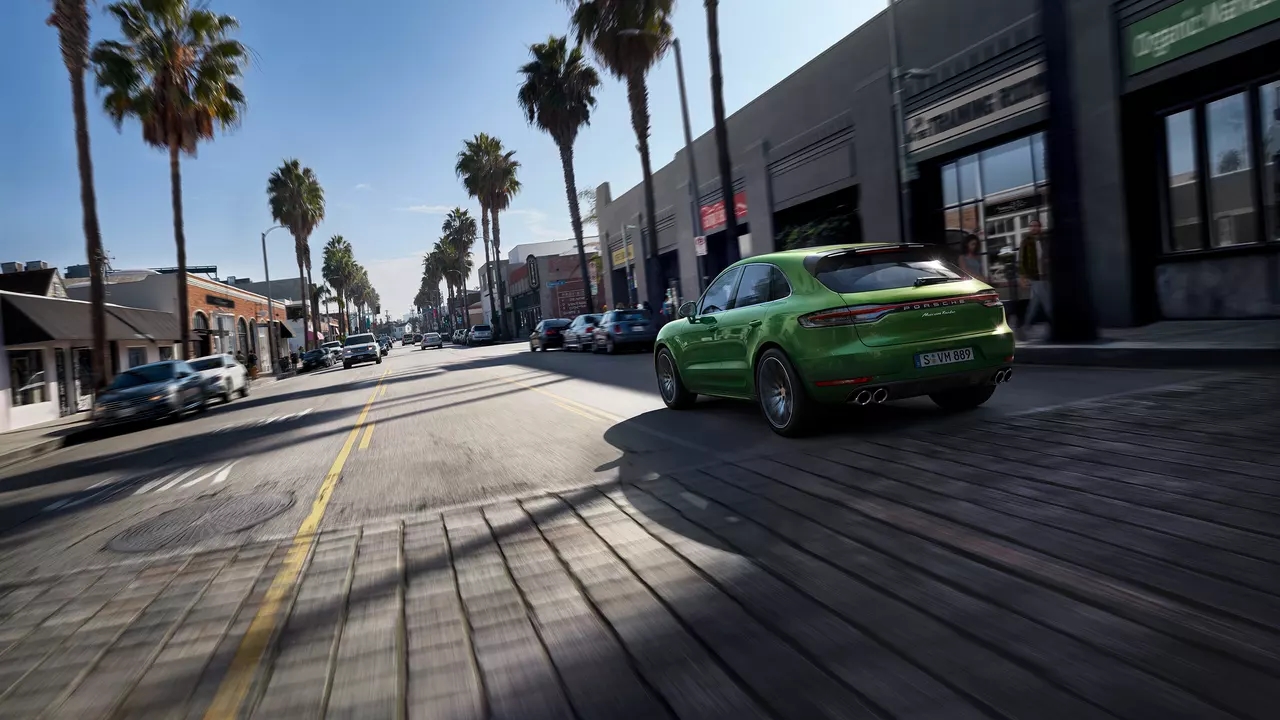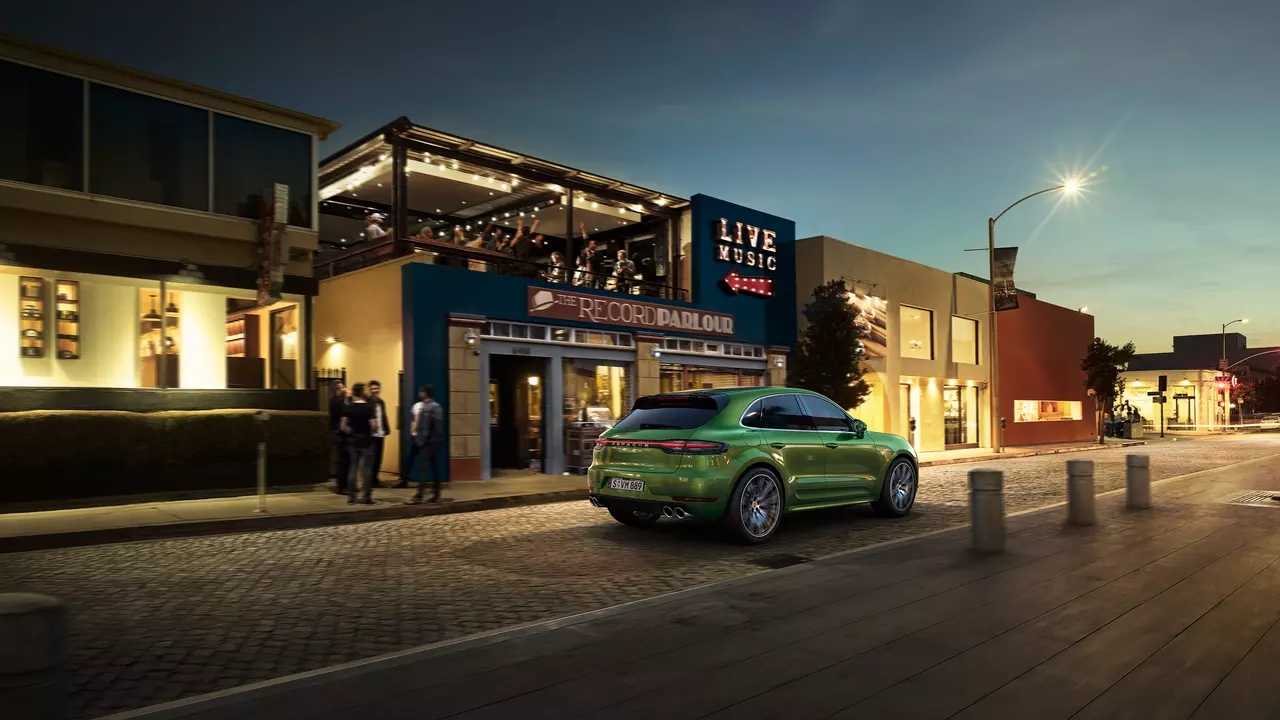 La carrosserie est intégralement peinte. Cette version est posée, en série, sur des jantes alu en 20 pouces de diamètre [ndla : celles des photos sont en 21 pouces et optionnelles]. D'origine, le Macan Turbo est chaussé en 265/45 R20 à l'avant et 295/40 R20 à l'arrière.
Enfin, le SUV Porsche dans sa version 2020 est équipé d'origine de l'échappement sport avec 4 sorties d'échappement rondes.
Ci dessous, le Macan Turbo avec des jantes en 19 (option gratuite), 20 et 21 pouces.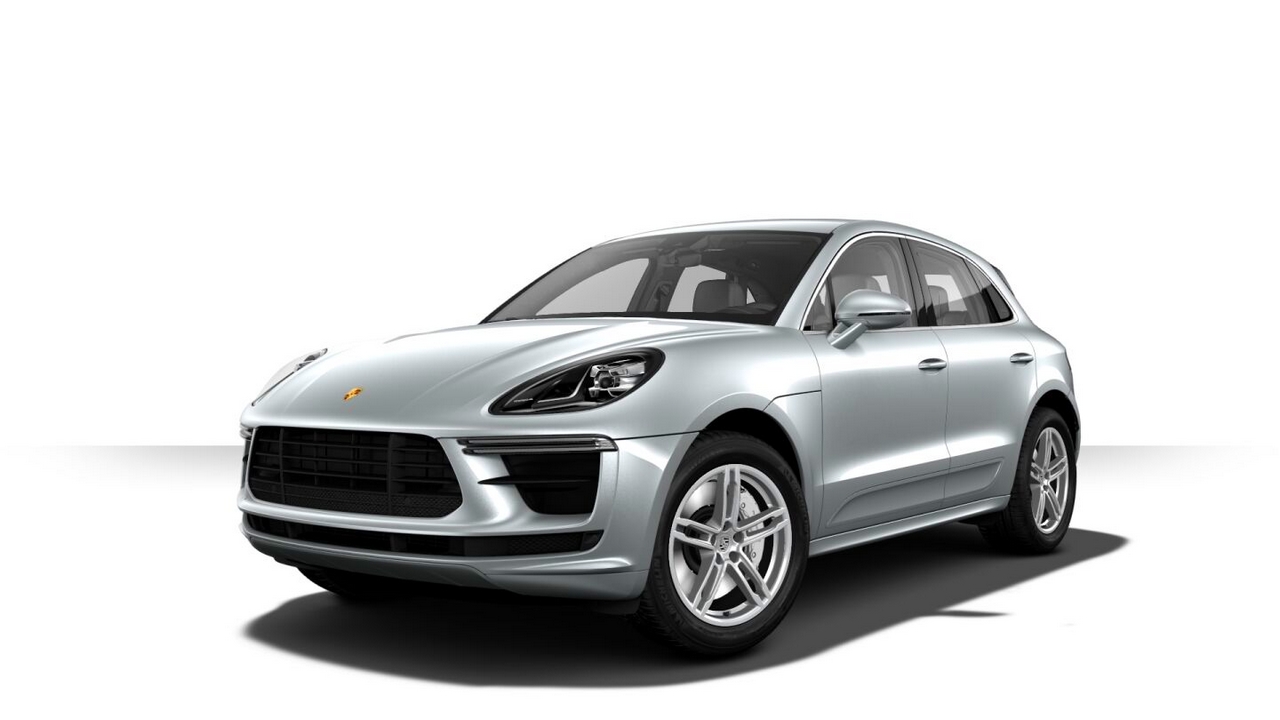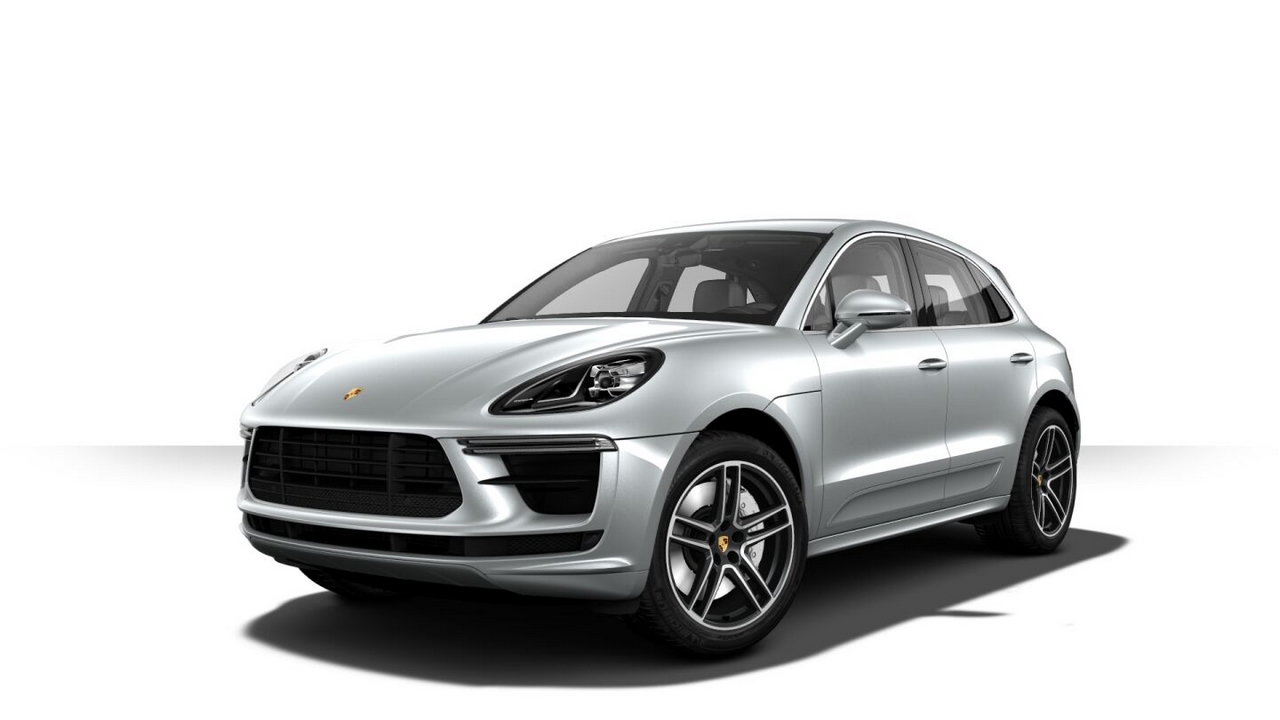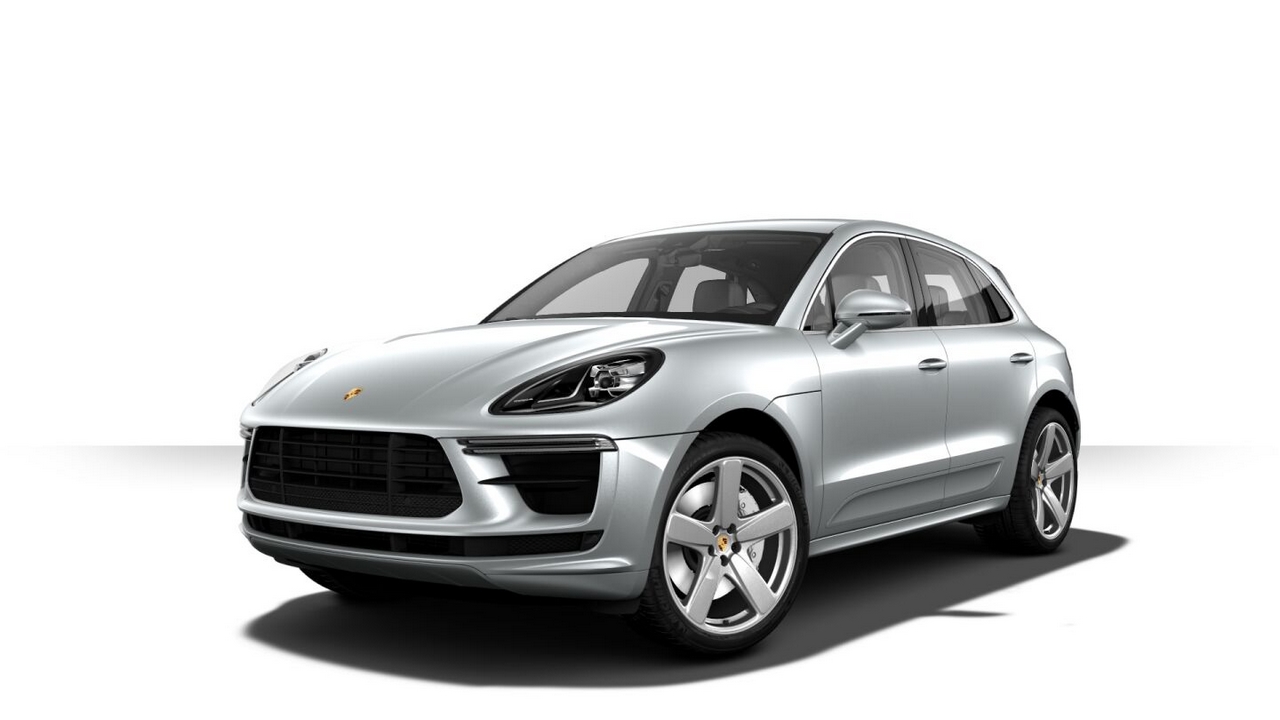 Petites évolutions à bord
A bord l'ambiance évolue peu mais le Porsche Macan Turbo a droit à quelques équipements de série supplémentaires.
Parmi eux, on découvre les sièges Sport électriques avec 18 sens de réglages aux places avant, un nouveau système de navigation mis à jour avec affichage sur un écran tactile HD en 10.9 pouces, un nouveau système hifi Bose avec amplificateur numérique ou de nouveaux surtapis. Etrangement sur une version « sport », le volant GT n'est pas de série et il faudra mettre la main au porte monnaie pour en bénéficier.
Exit le tissu au pavillon puisque celui-ci est désormais habillé d'un plus feutré et plus luxueux Alcantara.
Pour le reste, on retrouve le même type d'équipements que dans le passé, ils sont simplement mis à jour ou améliorés.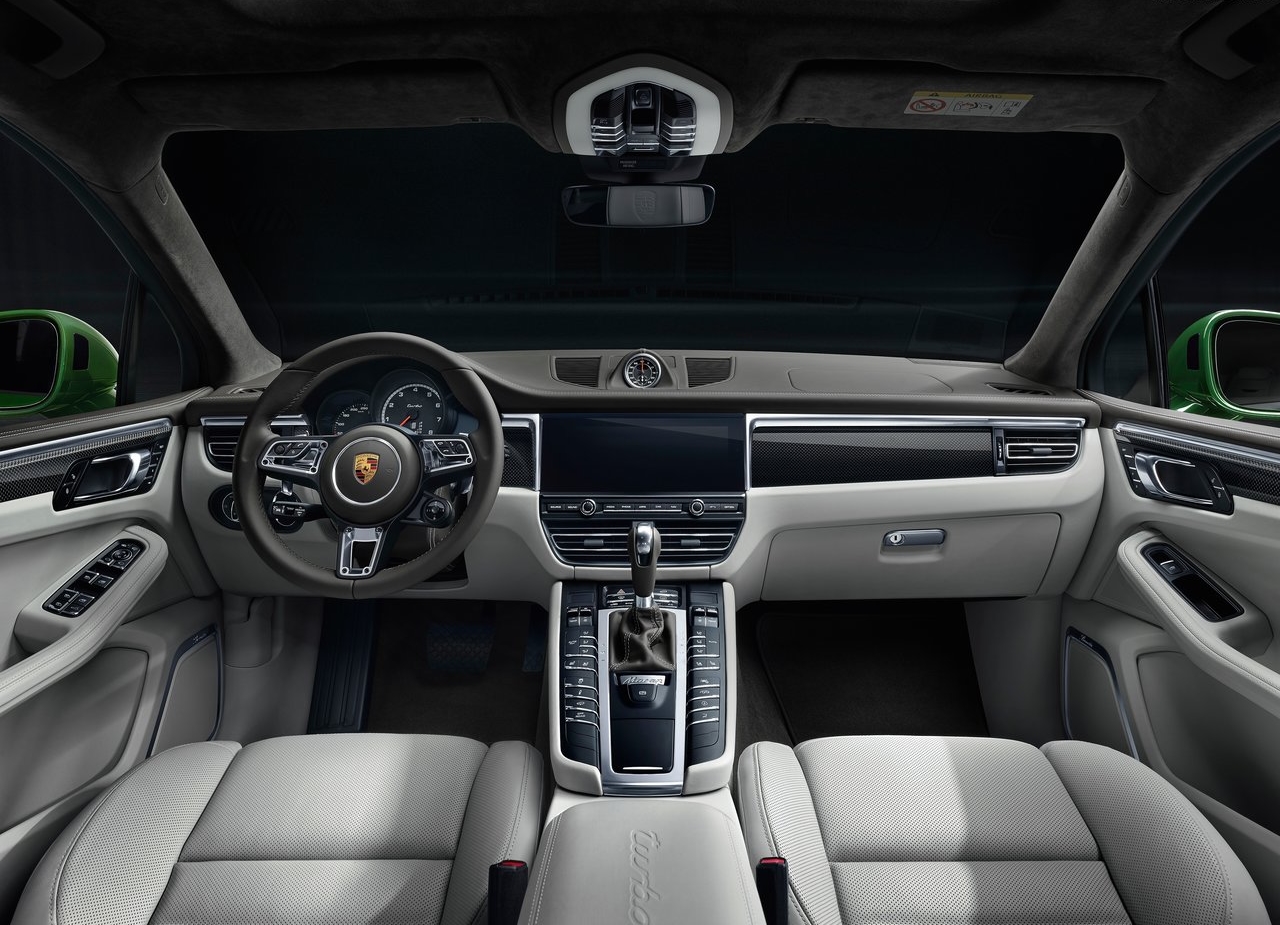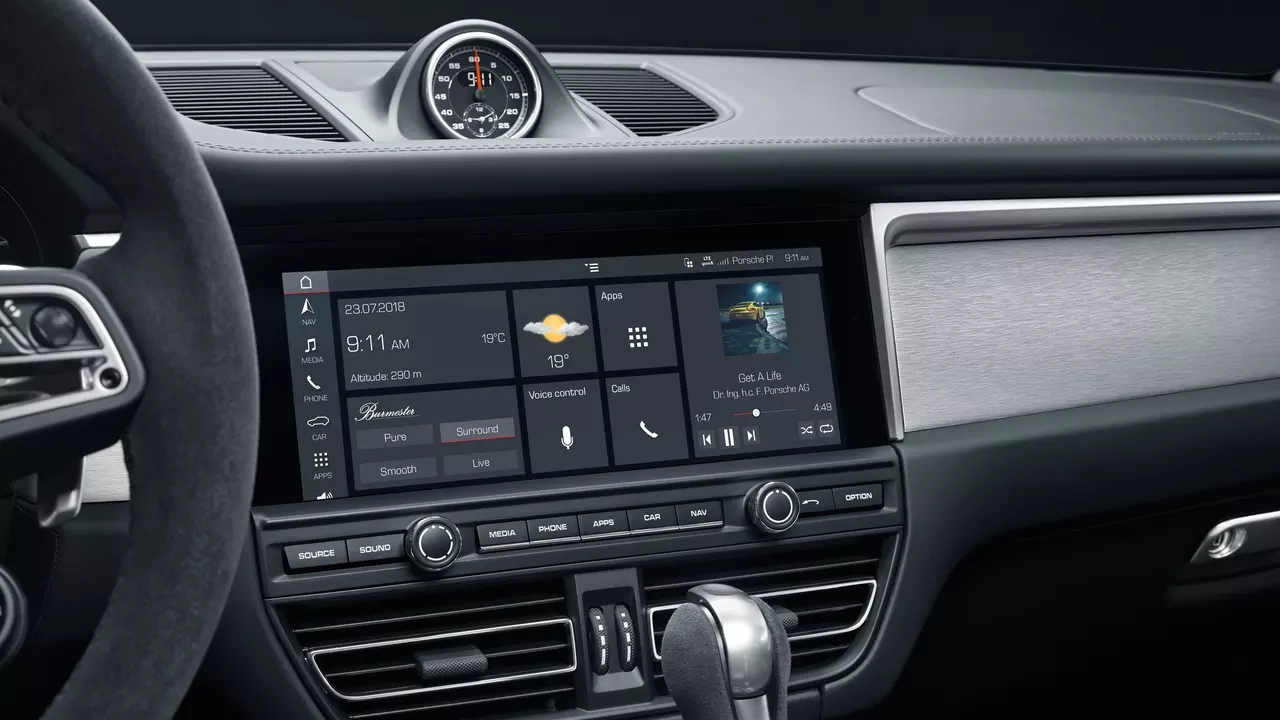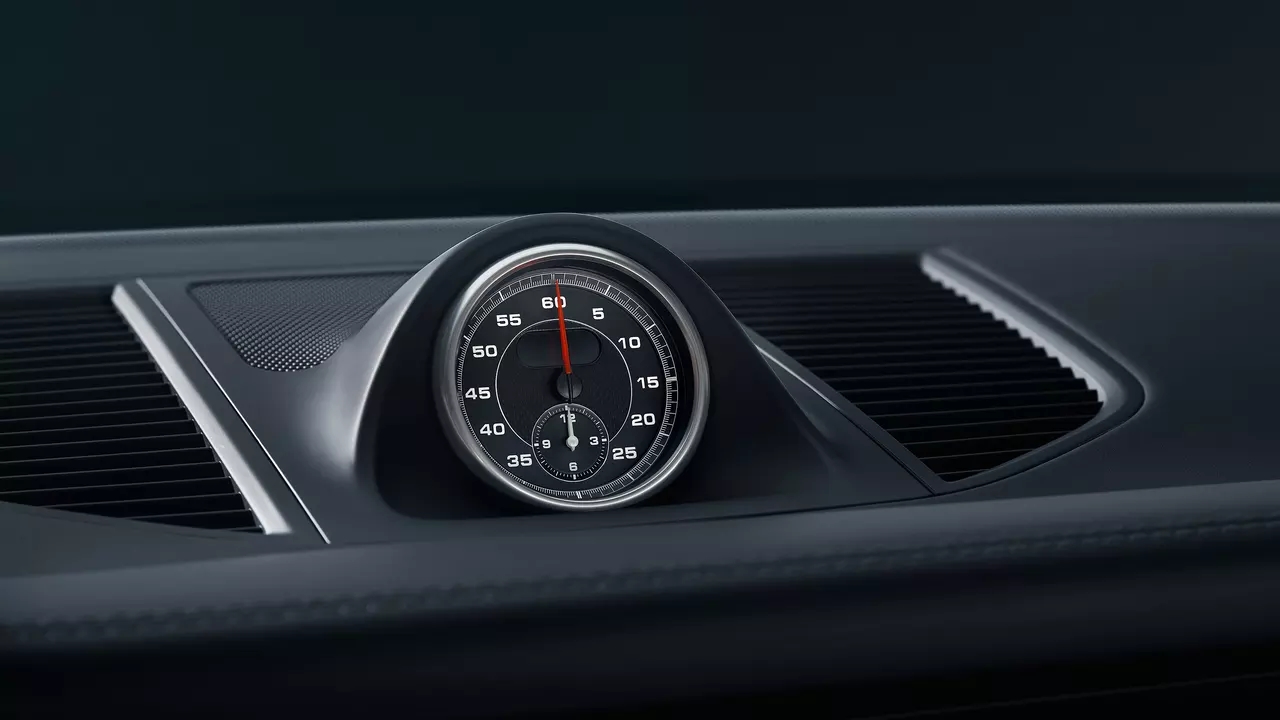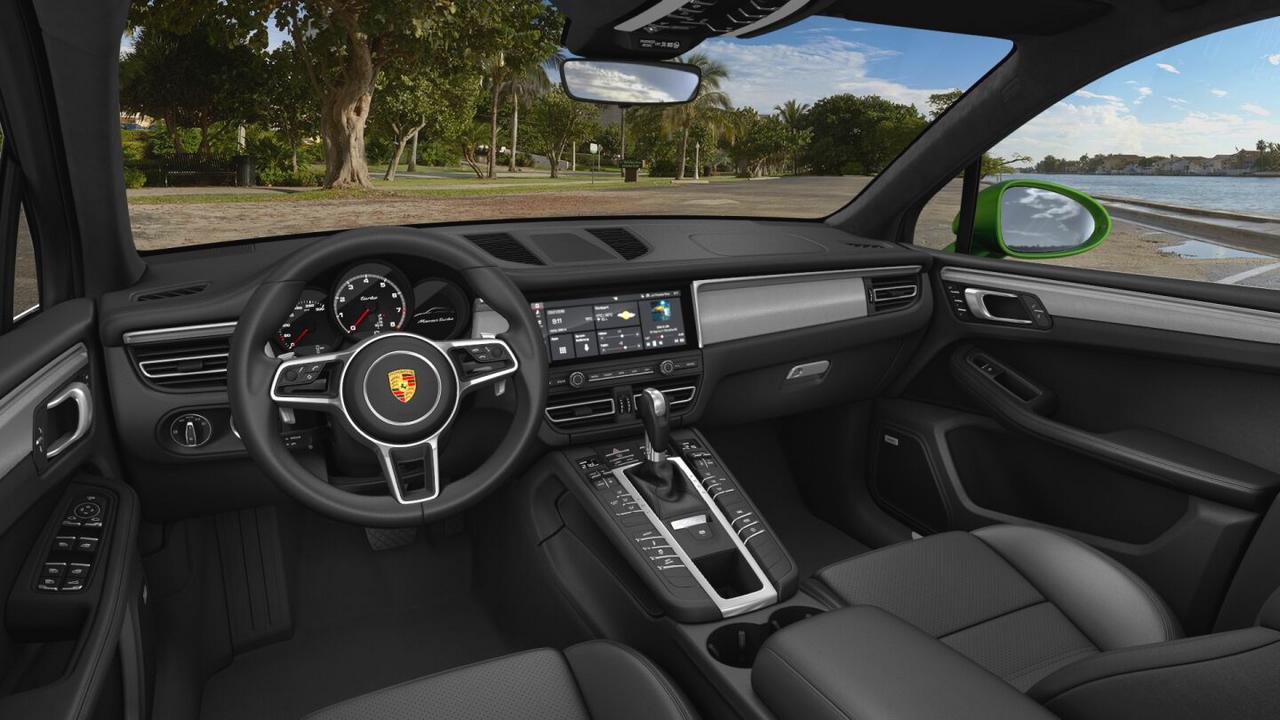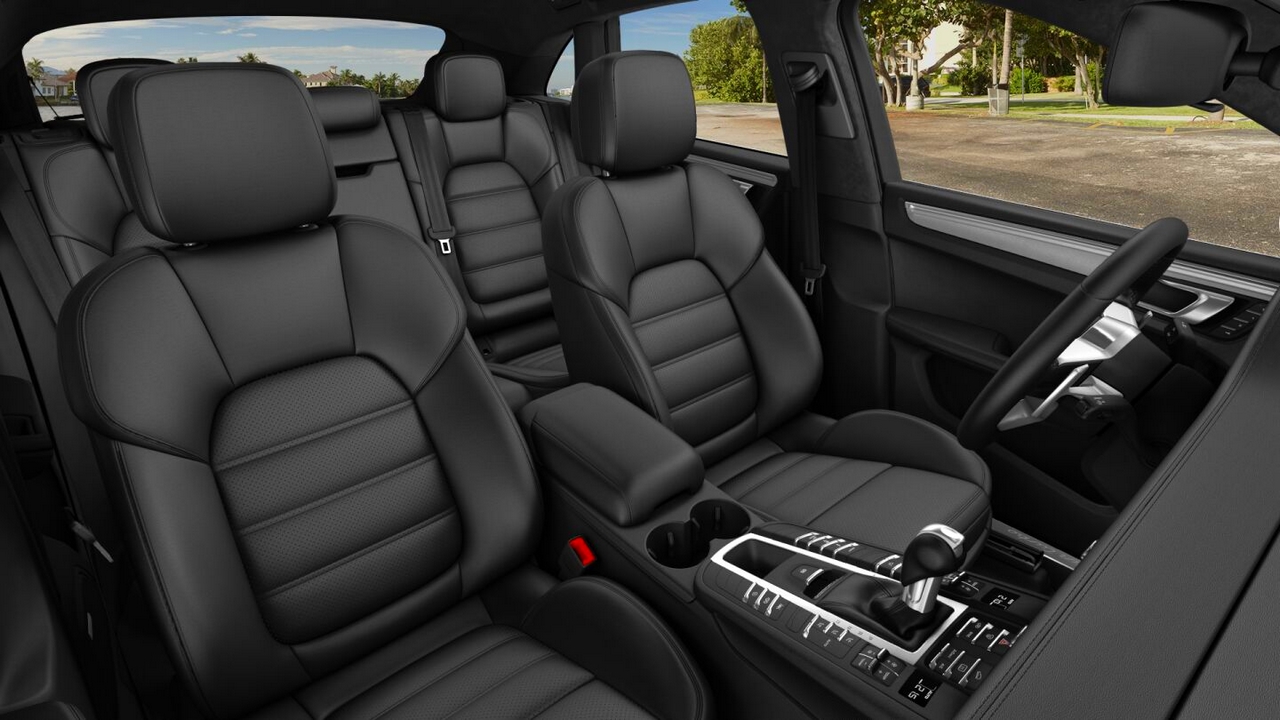 Avec un nouveau V6 et 10% de puissance supplémentaire
Avec cette nouvelle version du Macan Turbo, Porsche dit au revoir au V6 3.6 L de 400 ch de l'ancienne version. Le nouveau modèle restylé est désormais propulsé par un V6 suralimenté qui cube 2.894 cm3.
Ce bloc V6 de moins de 2.9 L est emprunté aux Audi RS4 et RS5 mais aussi au Porsche Cayenne S.
Ce moteur annonce une puissance de 440 ch entre 5.700 et 6.600 trs/min et un couple de 550 Nm entre 1.800 et 5.600 trs.Ce groupe propulseur est associé avec une boite de vitesse PDK à 7 rapports qui envoie la puissance vers les 4 roues motrices.
Moyennant supplément, il est possible de disposer d'un système de vectorisation du couple et/ou de la suspension pneumatique à hauteur variable et contrôle en continu de la firme de Zuffenhausen. Cette suspension offre plusieurs possibilités de réglages dont un mode Tout Terrain.
Les freins à disque ventilés (390 mm à l'avant, 365 mm à l'arrière) sont pincés par des étriers fixes à 6 et 2 pistons. Ils
bénéficient en série d'un revêtement en carbure de tungstène (Porsche Surface Coated Brake ou PSCB) qui offre une réponse plus rapide, une usure réduite mais aussi une diminution de 90 % des nocives poussières de freins qui sont un fléau, notamment en ville.
Un système de freinage avec disques en carbone-céramique est proposé en option.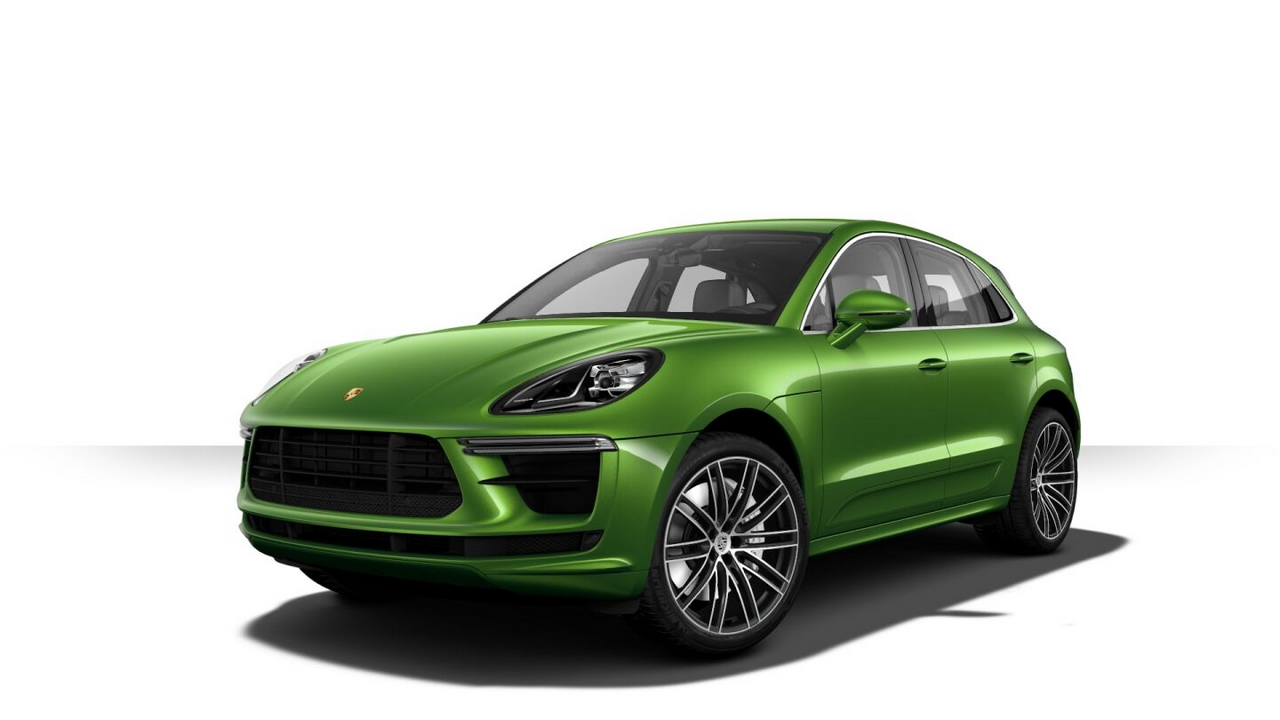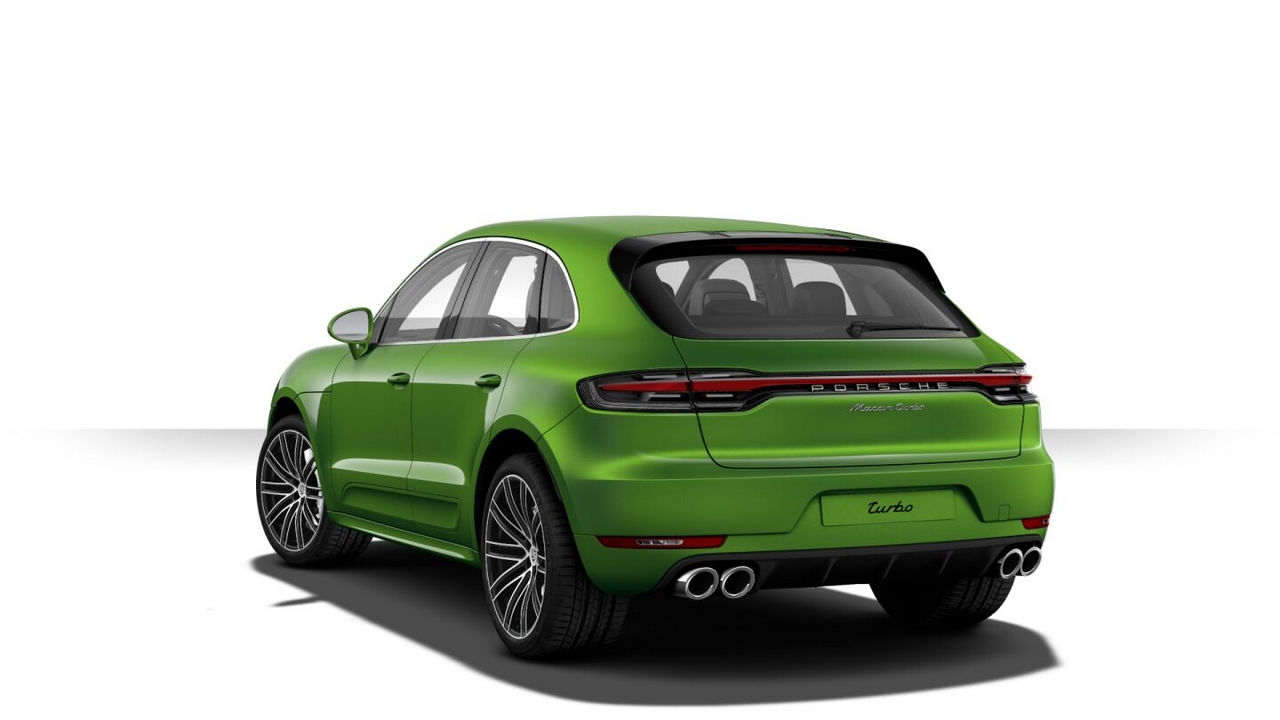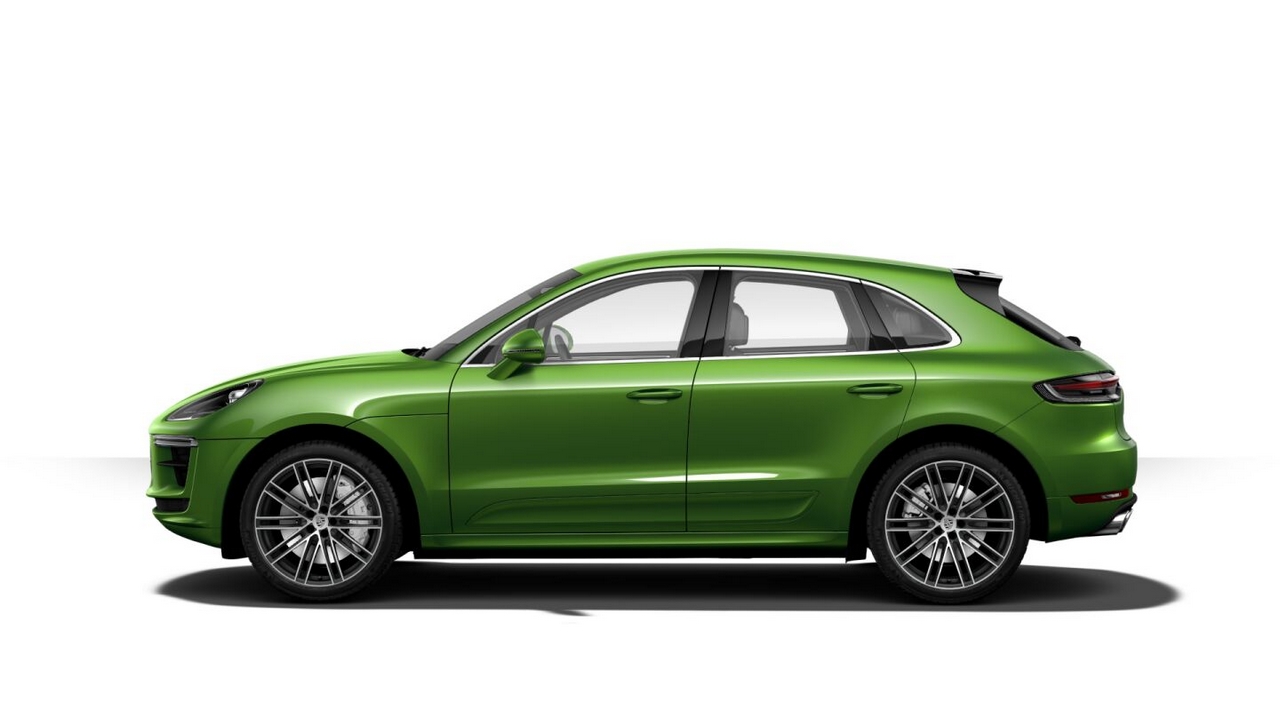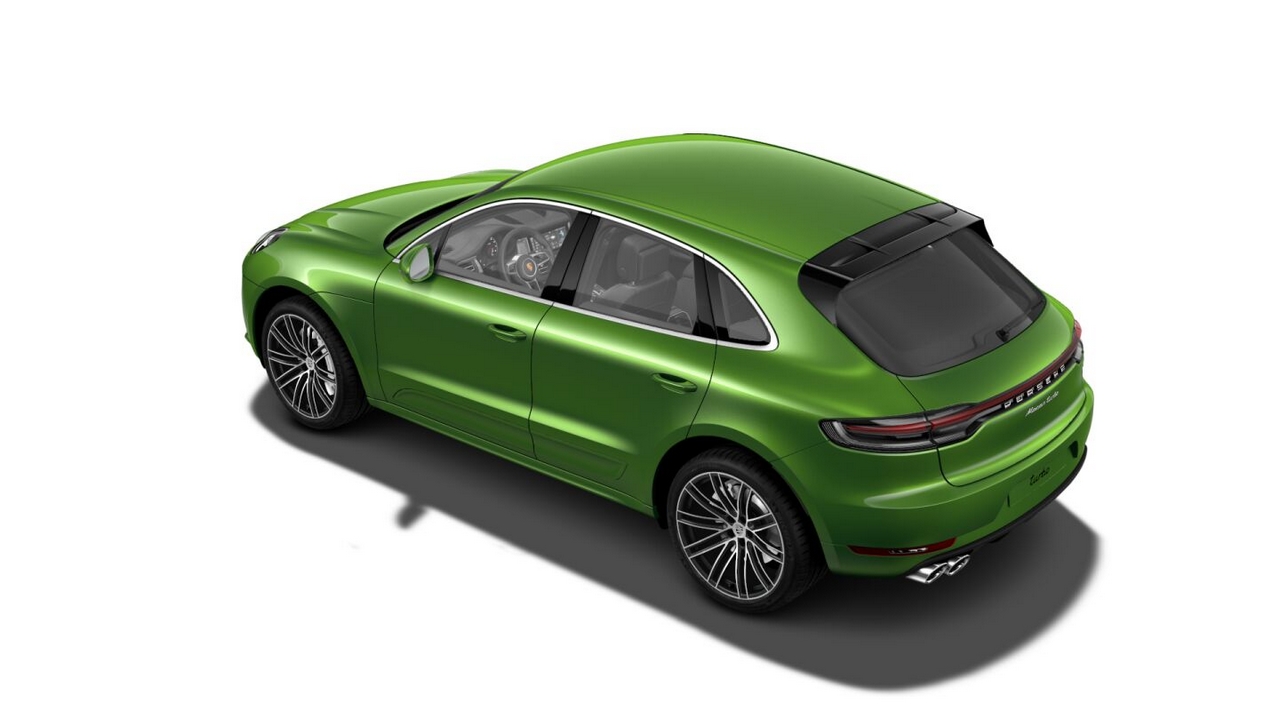 De belles performances mais hélas un gros malus en France
Avec 40 ch en plus, les performances du Macan Turbo 2020 progressent avec une Vmax qui s'établit désormais à 270 km/h et un exercice du 0 à 100 km/h réalisé en 4.5 secondes ou 4.3 secondes avec le pack Sport Chrono.
Le 0 à 160 km/h est plié en 10.6 secondes et il faut au SUV allemand seulement 2.9 secondes pour passer de 80 à 120 km/h.
Avec un poids de 1.945 kg, le Macan Turbo revendique un rapport poids/puissance de 4.42 kg/ch.
La consommation mixte WLTP est fixée à 9.8 L/100 km et les émissions de CO2 sont de 224 g/km ce qui vaudra le malus écolo maximal sur le marché automobile français à ce nouveau Macan Turbo.

Pour ceux qui auraient à charger ou à transformer en déménageur leur SUV de luxe, le volume du coffre reste fixé à 500 dm3 et à 1.5 m3 avec la banquette arrière rabattue.
Présent dans Forza Horizon 4
Porsche ne propose pas de vidéo pour l'instant mais nous annonce via un petit clip d'une trentaine de secondes que le nouveau Macan Turbo 2020 sera présent dans le jeu de simulation de conduite Forza Horizon 4.
Le SUV sera officiellement présenté au public à l'IAA. Il est d'ores et déjà tarifé et proposé à la commande aux amateurs du genre.
La tarification française (hors options, frais de mise à la route et malus écolo) est fixée à 93.859€ TTC.
Via Porsche, Youtube.
Pour consulter l'article original et complet, cliquez ici.
We've been compiling some amazing Porsche models on eBay for three years now, and we've seen some pretty astonishing examples pop up now and again. This week we're distinctly aware that winter is right around the corner, so we're going to focus on a string of all-wheel drive Porsches. Obviously it's important to install winter tires if you live somewhere with inclement weather, but that all-wheel traction sure doesn't hurt. Hopefully you've enjoyed our curated look at the Porsche market. Keep in mind, some of these Porsches could be great collection investments, while others might prove to do more financial harm than good.
INTERESTED IN HAVING YOUR PORSCHE FEATURED HERE?
Every other week, we feature 5 of our favorite Porsches on eBay. That post is sent out to our mailing list of more than 17,000 Porsche owners and fans and is seen by 10s of thousands of other readers who visit our site directly. If you're selling a Porsche on eBay and would like to see it featured here, just shoot us an email with the details and we'll be back in touch. Otherwise, feel free to check out all the other eBay listings we have on our Porsches for sale pages.
1. 2010 Porsche Panamera Turbo For Sale
It wasn't all that long ago that these were brand new six-figure cars. Depreciation in the luxury car segment means that you can now get one for just a smidge over half the original MSRP. Given that this car was likely to have been well cared for in its time on earth, so long as the service history is up to snuff, you can rest assured that it'll function pretty well in your ownership as well. This example only has 50,000 miles on the odometer, and that 500-horsepower turbo V8 is known to be pretty stout through that mileage. It's unlikely to ever appreciate, but boy it'll be a fun ride while someone else has already taken the depreciation hit for you.
For more pictures, pricing and information, check out the full listing on eBay.
2. 2008 Porsche Cayenne Manual For Sale
This Cayenne has crossed a lot of miles at this point, over 100,000 miles in fact, but that it is equipped with the base model's Volkswagen-sourced VR6 engine means the parts aren't too expensive, and DIY service isn't impossible. Normally it wouldn't be worth it to expend effort on a base Cayenne, but this one is equipped with the rare manual-transmission. This would be an ideal winter Porsche mobile, if you were so inclined. Ground clearance is important in some places with lots of snowfall.
For more pictures, pricing and information, check out the full listing on eBay.
3. 2001 Porsche 911 Turbo For Sale
The 996 Turbo remains my favorite forced-induction car of the watercooled era. It's simple and elegant and has aged quite well. It's AWD system is a bit rudimentary compared to newer models, but that clunkiness is something of its charm. It's far more advanced than earlier AWD 911s, and comfortable enough to be a daily driver. This model has been trending upward in recent years, and it's time to climb on board before they explode out of the price range of mere mortals.
For more pictures, pricing and information, check out the full listing on eBay.
4. 1997 Porsche 911 Carrera 4S
There is nothing that looks quite like a 993 Widebody, and enthusiasm for the C4S is the backbone of the early beginnings of this very website. The C4S has a lot of the goodies from the 993 Turbo, including the widened suspension, brakes, and wheels, but with a gem of a naturally aspirated powertrain. When you're driving around in the cold and snow, you want a linear powerband for predictable wheel slip in the messy stuff. Most would gasp at the prospect of driving a 993 C4S in the snow, but if you wash the undercarriage and use proper rust preventative sprays, you might be able to get away with it.
For more pictures, pricing and information, check out the full listing on eBay.
5. 1990 Porsche 911 Carrera 4 Cabriolet For Sale
As Porsche's 964-generation 911 explodes in value, the Carrera 4 and Cabriolet have seemingly withstood that giant explosion for now. Even better, get the Carrera 4 with a drop-top, and it's seen as undesirable to the level you'd think it had leprosy. Thinking about it this way, however, you can have an all-weather appropriate 911 in this car. There is almost nothing better than driving with the top down on a chilly day with the heat blowing hard. Imagine a mid-winter sunny day when the roads are cleared and the temperatures are higher than they've been for over a month. While everyone else is still trapped inside their tin-top cars, this Porsche can handle the occasional snow drift, and still give you that wind-in-the-hair experience.
For more pictures, pricing and information, check out the full listing on eBay.
Pour consulter l'article original et complet, cliquez ici.
In the world of aircooled Porsches, the 964 has traditionally been viewed as the unwanted child of the bunch. For years this was a Porsche that was seen as too similar to the earlier Carrera 3.2, and not quite as good as the 993 that followed it. It was a weird middle-ground kind of car that didn't have a following like the others had garnered. As the prices of 993s and impact-bumper Porsches have gone through the roof lately, the 964 was seen as the last remaining 'inexpensive' air-cooled, and prices started to go up. If you look at prices today, 964 Carrera 2 Coupes have followed a « hockey stick » type trajectory, while their Carrera 4 and Cabriolet cousins have risen only slight. So the question is, can a 964 Carrera 4 actually be any good to drive?
The Porsche featured in this video is stellar to look at, featuring motorsport-inspired visuals like the BBS wheels, Toyo R888 tires, bumper-mount brake ducts, a set of sport bucket seats, and a proper roll bar. It's a good indication of what can be done with the 964 Carrera 4 chassis to make it a better performance machine.
It is worth noting that Larry Kosilla of Ammo NYC has also built a Carrera 4 track car. Now, Larry's reasoning was to increase his 964's year-round usefulness in the North East where he lives, and is forced to drive in snow, every winter. Larry's Porsche is possibly the best of all worlds, creating a great track car that can be used all summer, then simply raise the suspension a bit and put the 964 on proper snow tires, and you've got a great 4-wheel-drive winter car that still sounds like a Porsche.
We don't suspect Carrera 4 values will stay deflated for long, soon following their C2 brothers up the money spectrum, so if you were looking at buying one, it'd be better to bite that bullet sooner rather than later. When correctly set up, 964s can be great track-focused sports cars, and still manage a bit of inclement weather when the going calls for it.
Pour consulter l'article original et complet, cliquez ici.
At the risk of sounding trite, Porsches might be some of the most usable, real world-friendly machines thanks in large part to their sophisticated all-wheel drive systems. With all four wheels intelligently propelling their cars up the road, astronomical amounts of power and torque can be harnessed by the least experienced drivers in the most treacherous conditions. As it turns out, this system was pioneered in one of Porsche's first racing cars, taken rallying, and then later honed through decades of high-performance road cars.
Technology Borne from Motorsport
The 1947 Type 360/Cisitalia racing car employed an all-wheel drive system to harness the power of its supercharged twelve-cylinder engine, and while that made it usable on tighter corners, it also laid the foundation for the future of Porsche's road cars. Fast forward thirty-four years, and a study of an all-wheel driven 911 Turbo hit the Geneva Auto Show; hinting at the promising future of all-wheel drive. This led to the Dakar-winning 953 and 959, which utilized a center-differential lock and rear differential locks like the current Porsche Traction Management (PTM) system does.
Introducing the First Carrera 4
Forty-one years after the Cisitalia began paving the way, Porsche's road cars got to enjoy all-wheel drive. The 1988 Carrera 4 was the first production-series car which used  "differential slip-controlled" drive. It adjusted for slippage with its ABS sensors and two electronically controlled multi-disc locks, which controlled the flow of forces to the front axle and between the wheels of the rear axle.
In the course of six years, a new model introduced a simpler, viscous-coupling system to reduce weight and improve traction in the form of the all-wheel driven 993s. Available now with the Turbo models, this system directly drove the rear axle and, in the event of speed differences between the front and rear axles, a passive viscous coupling transmitted some of the propulsion force to the front axle. Using the ABS system, these Porsches would also apply braking torque to individual spinning wheels with a system known as Automatic Brake Differential. This system would also provide a proportional amount of drive to the opposite wheel in such a situation, which improved wet-weather stability immensely.
Increased Complexity for Improved Control
With the introduction of the Cayenne, Porsche began using an electronically controlled multi-plate clutch operated by an electric motor as a variable center-differential lock. This made it possible to vary the distribution ratio according to the driving situation and to actively influence longitudinal and lateral dynamics. More complex than its predecessor, the Cayenne's new system did more than respond to slippage; its sensors also detected vehicle speed, lateral acceleration, steering angle and accelerator control to calculate the correct amount of lock.
Sharpening the System for the 997 Turbo 
To improve performance, the 997 Turbo's PTM system featured an electronically controlled and electro-magnetically actuated multi-plate clutch, which further improved distribution of propulsion between the front and rear axles. A maximum response time of 100 milliseconds means the Porsche responds faster than the driver or the engine, and this makes for incredible usability over sodden backroads, debris, and real-world surface imperfections.
Constant refinement of their stability management systems give the heavier machines in the Porsche stable—namely the Macan and the Panamera—the same sort of otherworldly, ultra-capable performance. For this reason, Porsche's plusher people carriers have a level of real-world usability and speed that belies their heft; a trait which continues to set the marque apart from its rivals.
Pour consulter l'article original et complet, cliquez ici.
En ce début de mois de juin 2017, Porsche Exclusive devient Porsche Exclusive Manufaktur. Ce changement d'appellation valait bien la présentation d'une Porsche à l'allure, à l'équipement à la motorisation spécifique. C'est chose faite avec cette nouvelle Porsche 911 Turbo S Exclusive Series qui se distingue d'une classique Turbo S par son apparence mais aussi […]
Cet article Porsche 911 Turbo S Exclusive Series : Pour célébrer le plaisir de conduire ! est apparu en premier sur The Automobilist.
Pour consulter l'article original et complet, cliquez ici.