Les Porsche 919 Hybrid ont été intouchables hier au Mexique. Dès les essais libres, elles ont dominé sans partage les débats. Le prototype LMP1-H allemand #2 l'emporte. C'est la 3ème victoire d'affilée pour Timo Bernhard, Earl Bamber et Brendon Hartley. A quelques 2 000 mètres d'altitude, les 919 Hybrid ont été en démonstration sur l'Autodromo Hermanos Rodriguez. Mis à part un drive through pour la #1 (vitesse trop rapide dans la voie des stands) et une petite frayeur sur la #2, qui a dû subir une réparation pendant un ravitaillement, RAS au sein du Porsche LMP Team. Dans le clan […]
L'article FIA WEC – 6 Heures de Mexico : doublé Porsche sans suspense… est apparu en premier sur Les Voitures.
Pour consulter l'article original et complet, cliquez ici.
At WEC Mexico 2016, the car which started first, finished first. With untouchable performances, the two Porsche LMP1 machines finished 1-2 thanks to a fruitful qualifying session, superior race pace, and greater speed lapping backmarkers at the constrained Autódromo Hermanos Rodríguez. Toyota simply couldn't keep in touch—though the Porsche drivers—LMP1 and GT alike—had to endure their share of setbacks before crossing the finish line.
LMP1
Overall Winners: The #2 Porsche 919
Outright Le Mans winners Earl Bamber, Timo Bernhard, and Brendan Hartley stormed away from the start in commanding form; setting the fastest race lap (1:25.730) on his third lap, and continued his charge until a fuel stop on lap 39. Hartley brought the car in for a driver change on lap 79, when Bamber took the helm. Bamber's second stint was comfortably quick thanks to the cushion built by Hartley, but a faulty fuel flow sensor needed to be replaced midway through. During his stint he managed to pass both Toyotas—the only threat at that point was mechanical attrition or careless backmarkers—which Porsche's GT team would later suffer from.
Taking advantage of the full-course yellows to refuel and replace the tires, Bernhard charged ahead with a half-minute gap all the way to the flag.
Timo Bernhard (36, Germany): "This is a beautiful day for our Porsche LMP1 Team. This weekend was really good. The 919 was consistently fast, the strategy was right and it was lots of fun. In the end I could even manage the gap because it was so huge. I'm over the moon and now we will party."
The second car fared no worse. The #1 machine of Nick Tandy, Andre Lotterer, and Neel Jani all surged forward at the start to remain in-touch with the #2 car, until Tandy's speeding in the pit lane cost them a 20-second penalty. After serving their time on lap 91, Lotterer lost touch with the lead car before handing it off to Jani, who lapped both Toyotas. Nobody could touch the Porsche LMP1 outfit this day.
This frightening display of speed, aided by consistently-clear skies, marks the 919's 16th 1-2 finish.
GT
Fracas with the Backmarkers: The #92 RSR


With a rocket start, the two RSR cars made a strong display, though they didn't proceed as smoothly as their prototype brethren. Porsche's #92 911 RSR was spun while being overtaken in a clumsy piece of driving by the LM-GTE Ferrari of amateur team Clearwater Racing. Fortunately, however, the #91 car of Mackowiecki and Lietz surged forward and eventually clinched third place. Trailing behind less confidently in fifth, the once-maimed #92 car of Christensen and Estre showed well, but perhaps below their lofty expectations.
Nevertheless, the #92 car still remains in the title hunt; currently in second place for the championship heading into the next race at Circuit of the Americas, where the long, fast corners will require a fantastic aero balance to perform.
Race results: GTE-Pro class
1. Rigon/Bird (I/GB), Ferrari 488 GTE, 209 laps
2. Thiim/Soerensen (DK/DK), Aston Martin, 209
3. Lietz/Makowiecki (A/F), Porsche 911 RSR, 208
4. Priaulx/Tincknell (GB/GB), Ford GT, 207
5. Christensen/Estre (DK/F), Porsche 911 RSR, 207
6. Calado/Pier Guidi (I/I), Ferrari 488 GTE, 206
7. Mücke/Pla (D/F), Ford GT, 205
8. Turner/Adam/Serra (GB/GB/BRA), Aston Martin, 83
GTE-Am class
 Race results
1. Ried/Cairoli/Dienst (D/I/D), Porsche 911 RSR, 204 laps
2. Dalla Lana/Lamy/Lauda (CAN/P/A), Aston Martin, 203
3. Wainwright/Barker/Foster (GB/GB/GB), Porsche 911 RSR, 203
4. Flohr/Castellacci/Molina (CH/I/E), Ferrari 488 GTE, 201
5. Mok/Sawa/Griffin (MYS/J/IRL), Ferrari 488 GTE, 199

The post Porsche's Pictures, Results and Video from the WEC Six Hours of Mexico appeared first on FLATSIXES.
Pour consulter l'article original et complet, cliquez ici.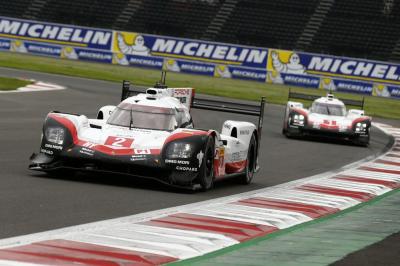 La course parfaite pour le Porsche Team en LMP1, avec la victoire de la numéro 2 (Earl Bamber, Timo Bernhard et Brendon Hartley) devant la numéro …
Pour consulter l'article original et complet, cliquez ici.
At the fifth round of the FIA World Endurance Championship (WEC) at the Autódromo Hermanos Rodríguez in Mexico City, the Porsche LMP Team took another big step in their mission of title defence by achieving a dominant one-two victory. The Porsche GT Team scored its fourth podium result this season with the new 911 RSR.
Pour consulter l'article original et complet, cliquez ici.
Porsche has won the 6 Hours of Mexico after dominating the race in a 1-2 fashion from start to finish. Timo Bernhard crossed the finish line first in the #2 Porsche ahead of Neel Jani in the #1 sister car. Kamui Kobayashi was third on the podium in the #7 Toyota TS050 Hybrid after finishing […]
FIA WEC: Porsche Scores 1-2 Victory at 6 Hours of Mexico
Pour consulter l'article original et complet, cliquez ici.