On the searing asphalt of the Circuit of the Americas, Porsche emerged victorious once again at the WEC Austin. Not only did the two LMP1 machines finish 1-2 after a difficult skirmish with the Toyotas, but the GT contenders pulled off an incredible finish after dragging themselves back from dead last. Because of the excessive heat, the rules required no driver run a consecutive stint of more than 80 minutes; throwing any plans for a double stint out the window, and allowing the Toyotas to make a serious stab at the win. Despite these setbacks, Porsche showed a fearsome demonstration of speed and consistency in serious conditions that must've made the rivals take a sobering look at themselves.
Porsche's LMP1 Race Report
Overall Winners: The #2 Porsche 919
Though the #1 of Neel Jani started on pole position, his car would eventually relinquish first place in the name of helping the points leaders. Jani left in a hurry; leading confidently with a 10-second lead until lap 30, when Jani handed the #1 car to André Lotterer, who would fall back to third place as the Toyotas flashed by on their first set of tires. However, the Belgian would engage in a quick dice with the #7 Toyota, which couldn't quite hang with the Porsches that day.
After a brush with the same Toyota later in the race, Lotterer endured some contact but thankfully continued onwards to hand the car over to Nick Tandy on lap 153. It was at that point that the #2 car of Timo Bernhard overtook Tandy, who later retook the lead briefly after refueling on lap 174, but generously gifted the lead back to the sister car which holds the overall point lead.
André Lotterer (35, Germany): « Shortly before the end of my second stint in the last two hours of the race, I was suddenly hit by Kamui Kobayashi. Luckily it happened very late in the corner when I was already accelerating, which in our case means I had four-wheel drive. I kept my foot on the throttle and the front wheels pulled me straight again. It was tough racing. »
It was the #2 car which started less auspiciously and led an uncertain race defined by tire stops. At the start, Timo Bernhard fell into fourth behind the two Toyotas and the leading Porsche, but after the first stop, Brendan Hartley squeezed past the #7 Toyota. Later on, Earl Bamber found himself in 2nd place briefly before getting passed by Kobayashi in the #7 Toyota— so he couldn't rest. Bamber's persistence paid off when he reclaimed 2nd place before handing the car back off to Bernhard, who fell back to 4th when both Toyotas refrained from taking a tire stop. The Porsches and the Toyotas traded positions in the tense latter half of the race before the #2 car streaked ahead into the lead, but handed the lead over to the #1 car just 4 laps from the end.
Porsche's GT Race Report
Overall Winners: The #51 AF Corse Ferrari 488 GTB
The two GT3 RSRs put on a stunning display despite serious setbacks last week. Both Kevin Estre and Michael Christensen put on an overtaking masterclass by taking the #92 car from dead last to take a decent stab at the victory. At first, Estre moved up 4 positions at the end of the 1st lap, and moved up into the lead in the race's 3rd hour. Towards the end, with Christensen eyeing the finishing line, the AF Corse Ferrari—just returning to the track after a puncture—pulled ahead to take the win by some 5 seconds. While finishing second undoubtedly disappointed Estre and Christensen, this finish marks their fifth podium this season—which is nothing to sniff at.
The #91 car did not fare as well. After being handed two drive-through penalties—one of which for a breach of the boundary line leaving the pits due to wheelspin—Richard Lietz and Frédéric Makowiecki eventually brought the car across the line in 6th. Though it wasn't ideal, it was enough to keep them running 2nd in the championship standings.
GTE-Pro class race results
1. Calado/Pier Guidi (I/I), Ferrari 488 GTE, 167 laps
2. Christensen/Estre (DK/F), Porsche 911 RSR, 167
3. Rigon/Bird (I/GB), Ferrari 488 GTE, 167
4. Thiim/Soerensen (DK/DK), Aston Martin, 167
5. Turner/Adam/Serra (GB/GB/BRA), Aston Martin, 167
6. Lietz/Makowiecki (A/F), Porsche 911 RSR, 166
7. Priaulx/Tincknell (GB/GB), Ford GT, 166
8. Mücke/Pla (D/F), Ford GT, 166
GTE-Am class race results
1. Dalla Lana/Lamy/Lauda (CAN/P/A), Aston Martin, 162 laps
2. Mok/Sawa/Griffin (MYS/J/IRL), Ferrari 488 GTE, 162
3. Flohr/Castellacci/Molina (CH/I/E), Ferrari 488 GTE, 159
4. Ried/Cairoli/Dienst (D/I/D), Porsche 911 RSR, 148
5. Wainwright/Barker/Foster (GB/GB/GB), Porsche 911 RSR, 92
The post PORSCHE'S PICTURES, RESULTS AND VIDEO FROM THE WEC AUSTIN 2017 appeared first on FLATSIXES.
Pour consulter l'article original et complet, cliquez ici.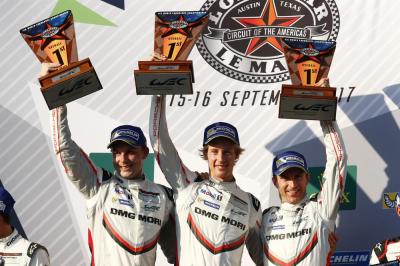 Pour la 6e manche du championnat du monde d'endurance (WEC – World Endurance Championship), Porsche place la 919 Hybrid numéro 2 (pil …
Pour consulter l'article original et complet, cliquez ici.
Porsche a de nouveau dominé les débats sur le Circuit des Amériques. La 919 Hybrid #2 de Brendon Hartley, Earl Bamber et Timo Bernhard l'emporte devant la #1 du trio Neel Jani, Nick Tandy et André Lotterer. En LMP2, Nicolas Lapierre, Gustavo Menezes et Andre Negrao s'impose pour la première fois de la saison ! Le bleu de l'Alpine A470 #36 a brillé à Austin. La suprématie de Porsche en LMP1 est tellement forte que personne ne critiquera les consignes données à 4 tours de l'arrivée pour que le prototype allemand #2 prenne les commandes de la course afin de marquer un […]
L'article FIA WEC – 6 Heures de COTA : doublé Porsche, victoire Alpine en LMP2 ! est apparu en premier sur Les Voitures.
Pour consulter l'article original et complet, cliquez ici.
By taking a one-two victory in Austin, Texas, USA, the Porsche LMP Team further extended its world championship lead. The 911 RSR scored second place at the sweltering Texas race…
Pour consulter l'article original et complet, cliquez ici.
Porsche has won the FIA WEC 6 Hours of COTA 2017, and repeated a 1-2 finish just like Mexico a week ago. The #2 Porsche 919 Hybrid won the race with Earl Bamber in the lead followed by the #1 sister car with Nick Tandy behind the wheel. Toyota took third and fourth in LMP1. […]
FIA WEC: 1-2 for Porsche at 6 Hours of COTA as Ferrari Dominates GT
Pour consulter l'article original et complet, cliquez ici.