No creaks, no rattles, no sagging headliner, and no cracked leather. Even the interior lighting shines bright—don't expect that from BMWs of the era. There aren't many indications that this gaudy orange 996 Turbo has been rolling around this planet for the better part of two decades. It's a resilient car to say the least, though somehow it's still not widely appreciated by the Porsche purists. Tyler « Hoovie » Hoover explains how the 996 Turbo still brings a lot to the table.
Cheaper than the 997 and more analog than the 991, the 996 Turbo is a straightforward, cost-effective, everyday supercar that plays the part well. The fact that it doesn't look much different than a standard 911 won't turn too many heads in reasonably affluent areas. In New York, Los Angeles, or San Francisco, the 996 Turbo is a relatively subdued car that doesn't attract a lot of attention. It's pleasant enough for long hauls, and the factory exhaust—muted slightly by the turbochargers—keeps the volume down to a respectable level.
Strong, sensible, and sanely priced, there's plenty this unappreciated gem offers—but it does have its faults. Hoovie had one embarrassing outing at Heartland Motorsports Park when one of the flimsy cooling pipes decided to let go in dramatic fashion. Though he spilled coolant across the circuit, the damage was minimal. This common issue still set him back a few thousand, but with BBi Autosport stepping in with a more robust replacement, he resolved one of the car's few weak points.
The other problems with the car are more subjective. If you can get past the broken-egg headlights and the blasphemous water cooling, the 996 Turbo is a sophisticated supercar with great value for the money. That assortment of strengths with few setbacks—for just ~$40,000—has me thinking it's time to add another « practical » car to the stable.
Pour consulter l'article original et complet, cliquez ici.
The one chink in the Mezger's armor is its flimsy coolant pipes. For such a bulletproof motor, it seems strange that Porsche just glued the coolant pipes on. Though press-fitted, these coolant lines are known to pop off under high RPM load. Hoovie's lousy luck meant his first trip to Heartland Motorsports Park was interrupted by his own lines popping off. Fortunately, this did not prompt a spin down the front straight, nor did it cook the motor. It was embarrassing though, and as it turned out, quite pricey to mend.
The Mezger motors that see the track will sustain higher temperatures and loads which are prone to make these lines disengage from the coolant console, and ensuring they stay in place during hard cornering and high revs requires a costly fix. While the cheaper band-aid fix would only set him back a few hundred dollars, the sensible approach costs ten times that. After dropping the engine, the hoses need to be pinned or welded in place, and the especially prudent drivers will replace the problematic OEM plastic elbows with stainless steel units.
The process of removing the engine is more labor intensive than dropping an M96. Turbos, intercoolers, head shields, and all the other forced induction ancillaries take a bit more time and effort. The starter and turbo inlets need to come out too, since they won't clear the CV axles. With a few minor wiring hurdles cleared, the Mezger can be freed from its cramped confines. However, the process takes Hoovie and Wizard nearly two whole days to complete—which is why he was quoted nearly three large.
If there's one piece of uplifting news here, it's that BBi Autosport decided to help by offering to fix the busted water pipe situation. BBi, as well as a host of other Porsche-centric shops, can weld the coolant pipes in place for what should be a permanent fix. If you have any Mezger-powered Porsche, be it a Turbo or a GT3, you can preemptively have this work done, so it doesn't come apart and leave you stranded without coolant. If you can remove your motor to get the « coolant console » out, as Mr. Hoover has, it'll help save you a ton of labor.
Now you know. Let his misfortune save you a ton of time and money!
Pour consulter l'article original et complet, cliquez ici.
The fact that Tyler Hoover picked up another 996 after a painful foray into the range speaks to the value of the car. He first grabbed a first-generation 996 with a 3.4-liter M96, which promptly grenaded. He then swapped in a Chevrolet V8—an LS2, to be specific—for $17,000. What was once the cheapest 996 with a manual transmission was turning into a costly and time-consuming project.
To make matters worse, the American motor let go shortly thereafter—at the very same track the previous engine gave up the ghost. Rather than fuss around with another swap, he decided to buy a 996 Turbo. Logical, right?
The car was mint and had only been driven 76,000 miles. Also, with Bilstein lowering springs, a GT2-style clutch, and BBS SR wheels, $36,000 was a steal—especially after considering the prices of 993 and 997 Turbos.
Of course, the Turbo's Mezger motor is also robust, and the typical 996 IMS-related concerns don't apply. Combine that added reliability with 4WD and 415 horsepower, and there's plenty to like about the Turbo. What other supercars can be bought for that sort of money, and driven without fuss, unwanted attention, or kid gloves?
« It's the best mistake I ever made, » Hoover concludes. Though the looks are divisive, there is plenty to like about the unloved 911—though going for the slightly spiffier Turbo model makes much more sense. It was a logical purchase, after all.
Pour consulter l'article original et complet, cliquez ici.
From our point of view, the Porsche 996 Turbo is currently one of the most exciting sports cars in the "Porsche Youngtimer" category. Grandiose driving characteristics, an incredible amount of power combined with absolute everyday usability makes it impessive. And, most exciting, it is still relatively cheap to buy. We talked to Dirk, a 996 Turbo owner and lover, and got to know a real petrolhead.
Hello Dirk! I'm glad that you could make time to talk to Elferspot magazine. We met on Facebook and I would call you an absolute car freak. Am I making a wrong assumption?
No, you are quite right. I would call myself a total petrolhead or car nerd. Since I was 18 years old, I was always tinkering with old and new timers in my free time. Started with Ford Taunus and Granada, progressed via various Mercedes, Audi and BMW models to Porsche. My passion for the 911 started in 2003 with my first 911, a 1981 model SC, which I gradually converted into an F Model ST clone. Then followed, e.g. a 1990 964 C2 and a 1980 SC with a 3,6ℓ engine from a 964, which were likewise moderately optimized.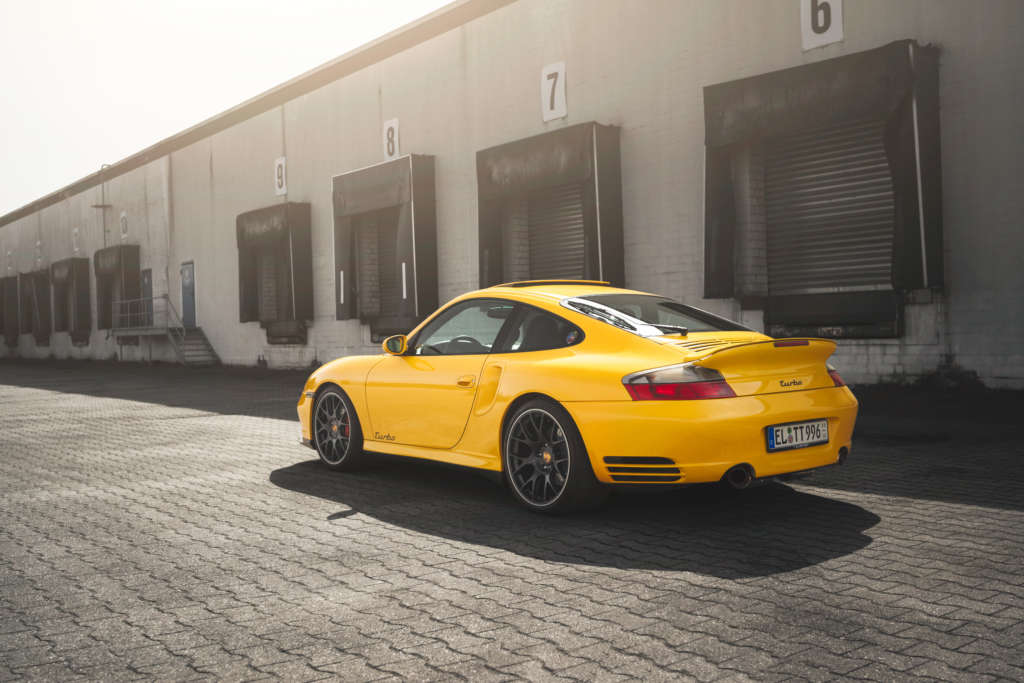 Could you tell us about yourself? Who are you when you're at home?
I am 45 years old, married and have 2 daughters. I have lived in the Emsland district town of Meppen for 20 years. I work in the automotive sector as a professional, So it is possible for me sometimes to combine my hobby and my work. Furthermore, I get involved in our Local Youngtimer Club, on www.kult-blech-szene.de
You own this wonderful 996 Turbo. How did you get to buy it and why specifically a 996tt?
At the end of 2016, I owned a 2002 996 Carrera 4S and a 1976 911 2,7 targa in the "Outlaw Style" with a 3-liter engine installed. Then I discovered the speed-yellow 996 turbo in an online market. At the time I was constantly searching for a still good specimen of the 996 Turbo at an affordable price, because the time to get one was starting to run out. The key data was good: Something over 100k km traveled, traceable history, Porsche exclusive equipment and an acceptable price. I now offered my two 911s for sale on the Internet, to finance the buying of the turbo and to make provision for repair or conversion. The two cars were quickly sold "out of hand" in the circle of Porsche colleagues. After a detailed inspection in January 2017, the turbo was then purchased and driven under its own power from the Rhineland to its new home two weeks later. In the circle of family and friends the turbo was known by the nickname "Bibo". Not only because of the color similarity to the bird from Sesame Street, but also because of the letter combination "BI-turbo BO-xermotor.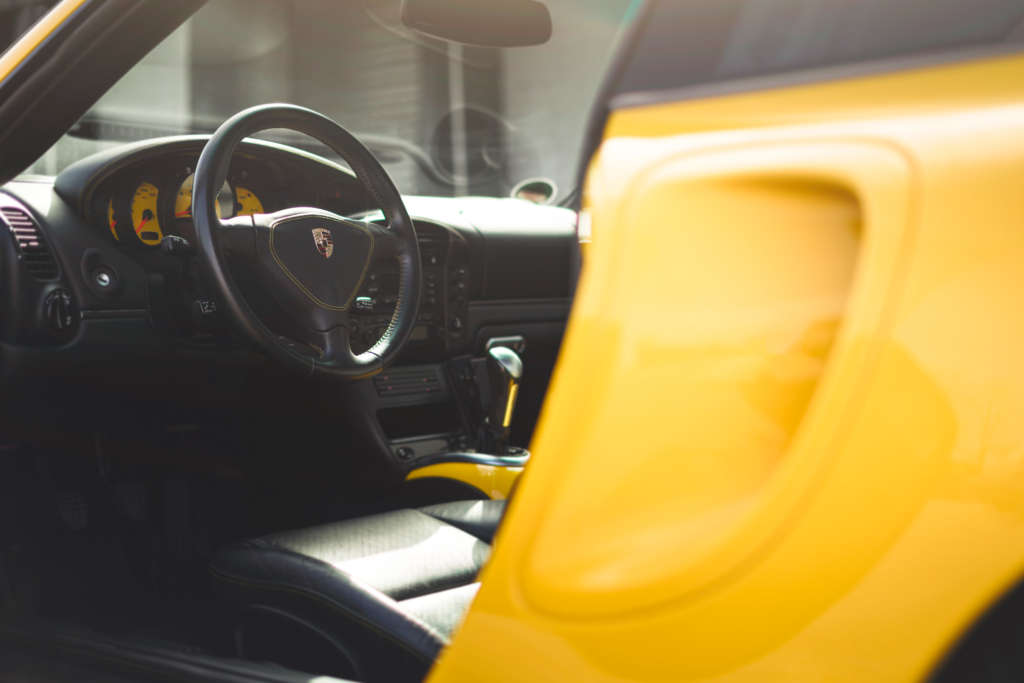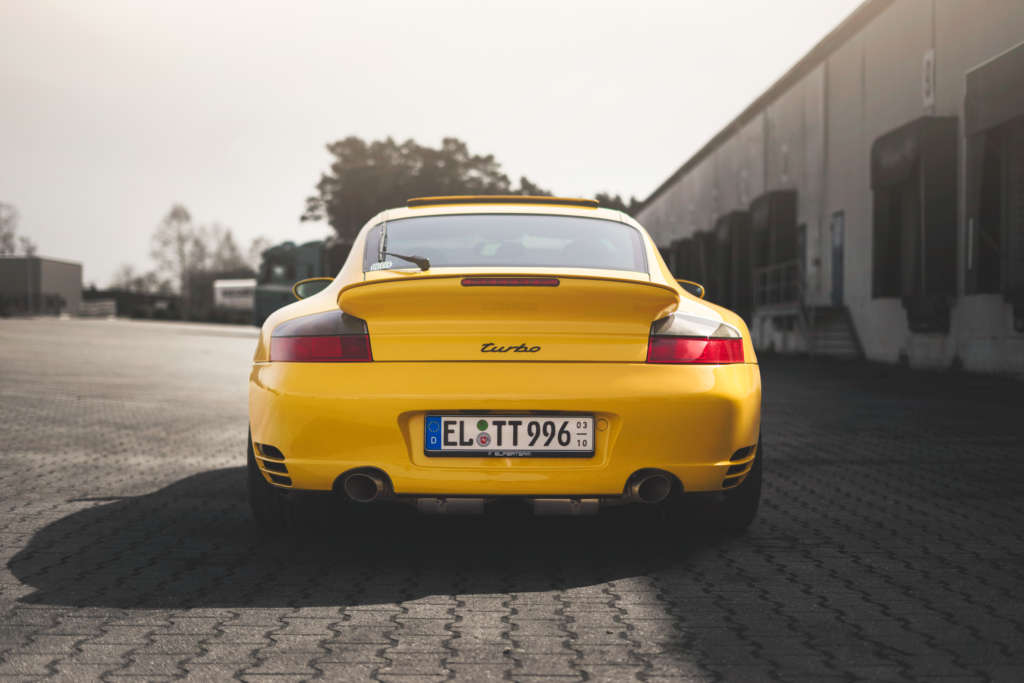 The speed yellow color fascinated me right away, because as you mentioned, 90% of the cars offered were black or silver.
Most 996 turbos out there are either black or silver? You chose color? Why?
The speed yellow color fascinated me right away, because as you mentioned, 90% of the cars offered were black or silver. . For example, in January 2017, out of some 270 996 turbos offered on the internet, only 6 were in speed yellow. In addition, I personally find the candy-colored 911s visually very appealing.
How often do you drive your Porsche?
For me, the turbo is a pure fun transportation medium, that takes me to meetings, on excursions, or on a lap after work. In this way, it accumulates about 3 000 km per year.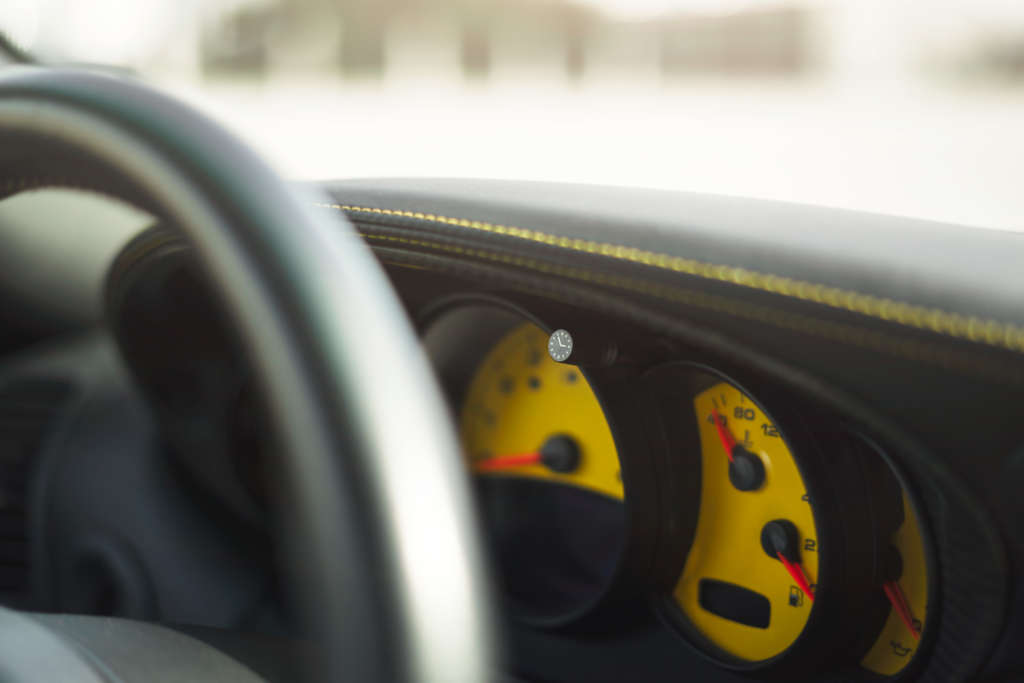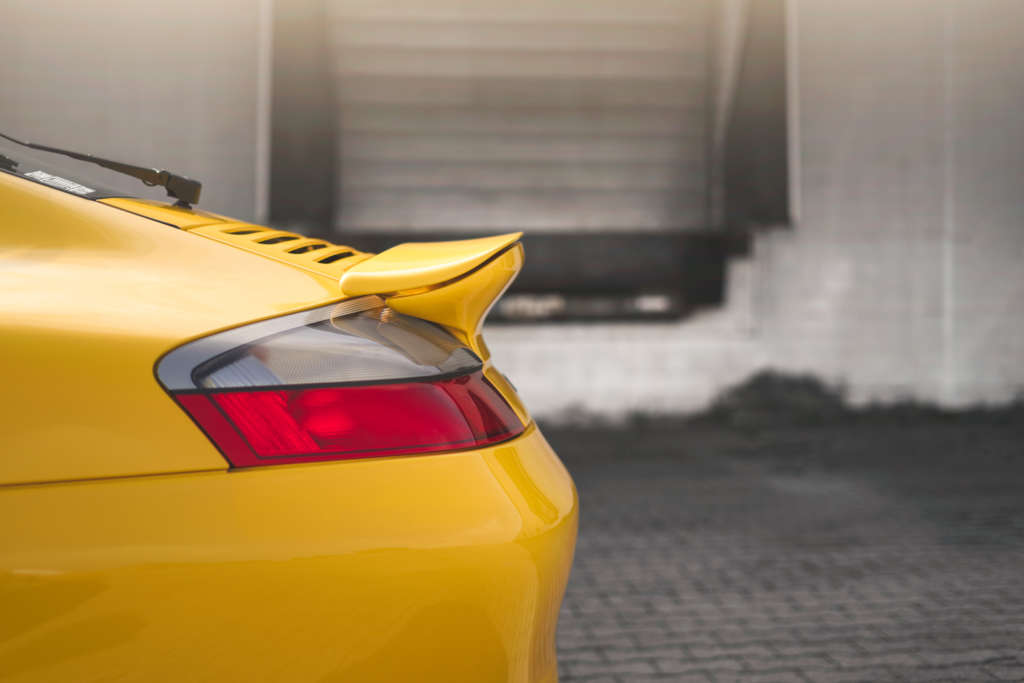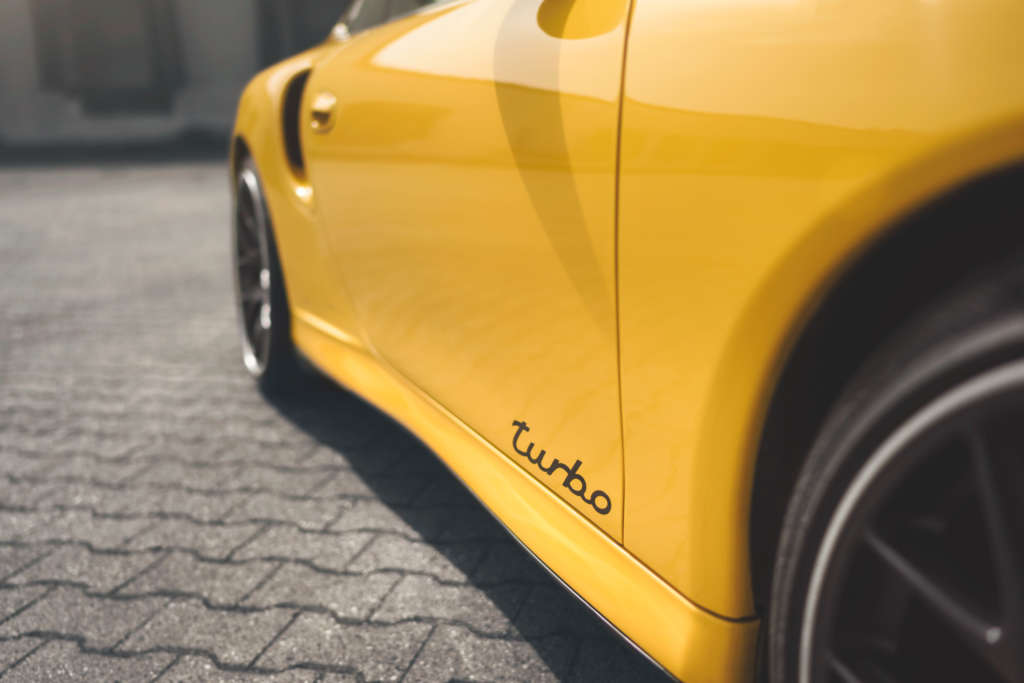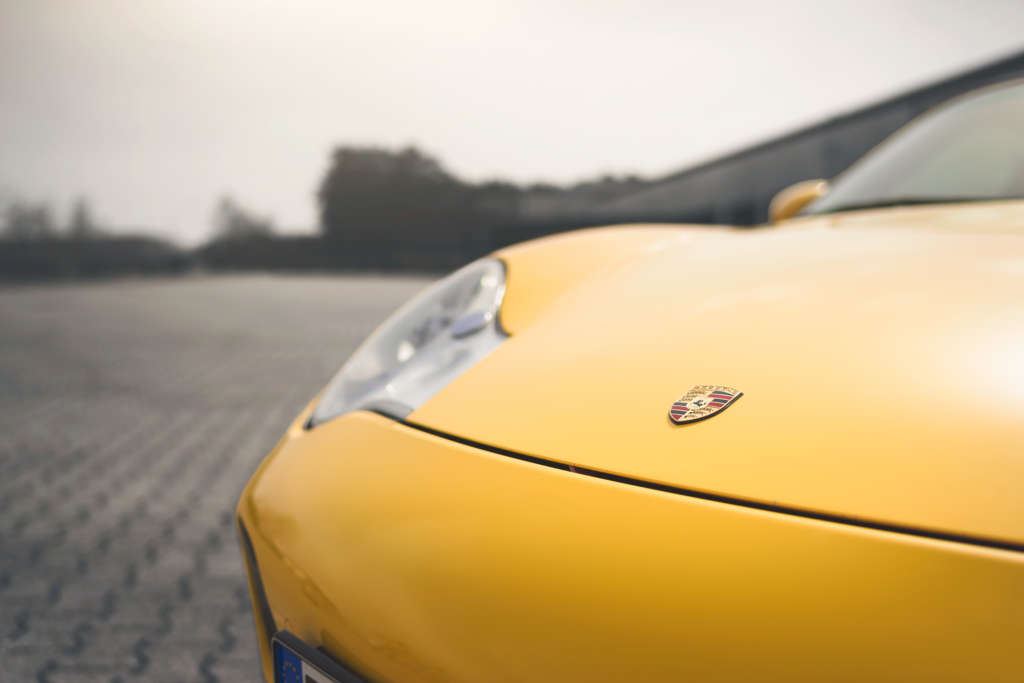 Have you customized the car or is it original?
After the purchase, a maintenance backlog was first removed. In other words, the 996tt got new brakes all round, all fluids were changed, the paint was processed, and new radiators were installed. I also bought new tires on BBS-CH-R rims for the car. The original, freshly redone hollow spoke rims lie in the basement.
IIn the winter of 2017/2018, the 911 got a 3 inch exhaust system with 100 Zeller Kat`s from the company HDT Motorsport. The engine software was optimized by Dennis Dragunski, head of the company Elferwelt in Herten, and the whole system was tuned on the chassis dynamometer. The result is experienced sensationally while driving. The Turbo turns more freely, lighter and has a torque increase of over 150Nm in the range of 3000-4000rpm. The next optimization is the installation of H & R stabilizers and a Bilstein chassis, in conjunction with a dry ice cleaning of the subfloor, on the "to-do list". It is important to me, however, that the modifications must be be restorable with a manageable effort.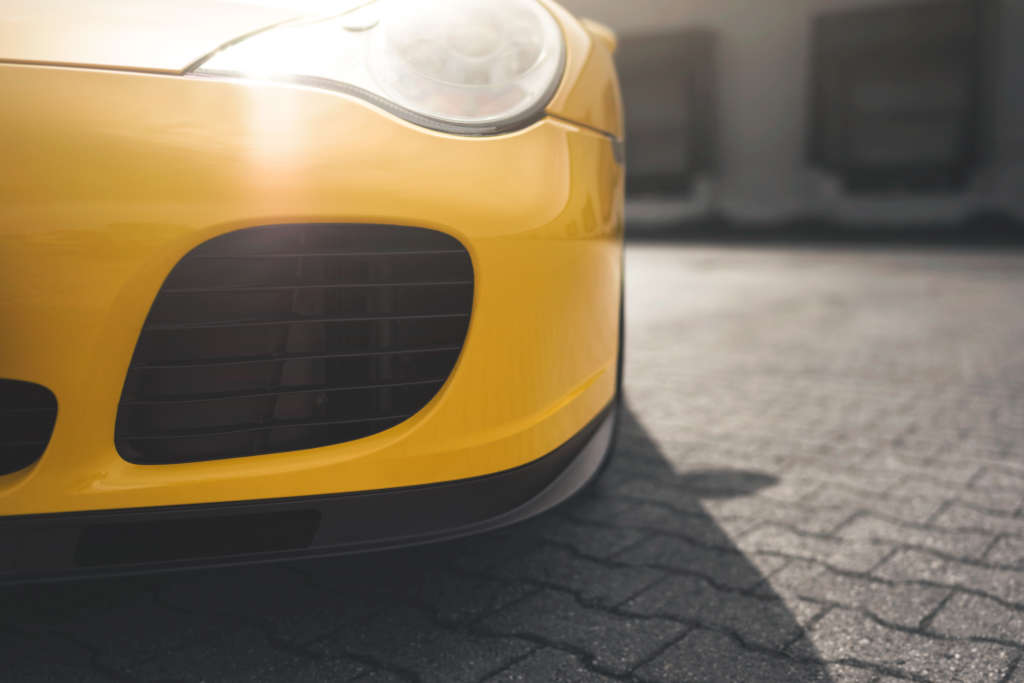 If you could choose another 911, which one would be at the top of your wish list?
II catch myself again and again looking for a 997 GT3 on the Internet. Preferably in speed yellow, orange or green. Let's see what the future holds.
For 50-60 thousand euros you can get a 15-year-old super sports car, which was the benchmark in its day and today can still offer extremely good performance.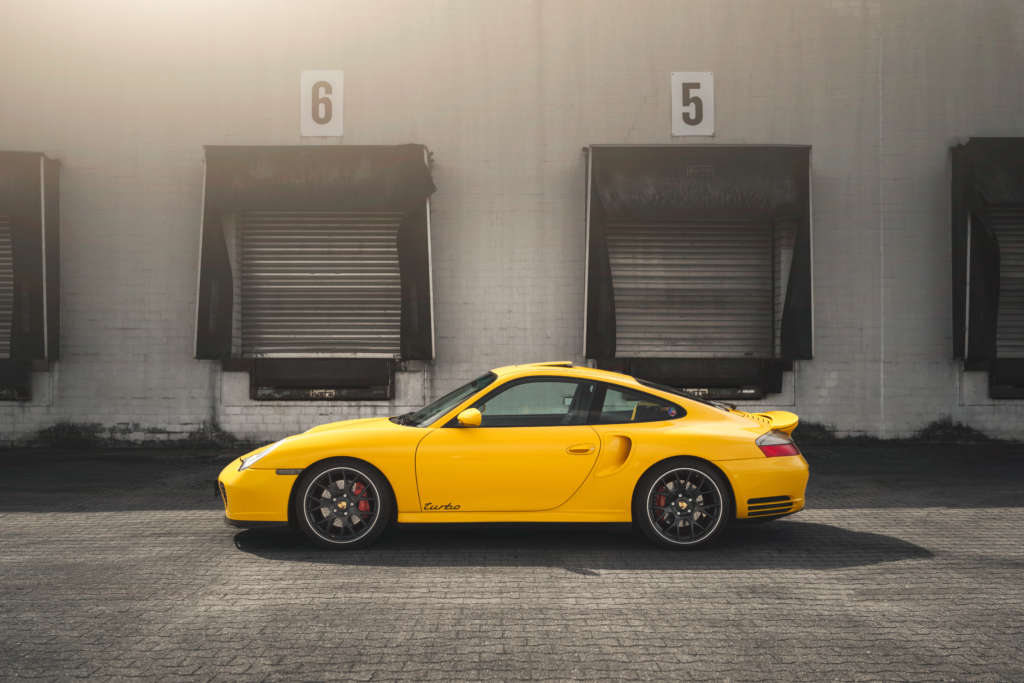 Can you basically recommend the 996 Turbo and for which type of Porsche driver is it best suited?
A resounding YES! For 50-60 thousand euros you can get a 15-year-old super sports car, which was the benchmark in its day and today can still offer extremely good performance. A turbo is an all-round machine. You can use it to pick up some bread and milk and then drive to the track day after breakfast without problems.
The 996 still polarizes the 911 community, but you will notice a slight trend towards lover status. They still exist, the good, well-cared-for first or second hand cars with a history …. Some can also be found here on elferspot.com! With this in mind, enjoy your driving and have fun!
Dirk, thank you for the interview. .
Picture Credits: Jan Linnenkohl
Pour consulter l'article original et complet, cliquez ici.
Have you ever been tempted to buy a Porsche 996 Turbo? No IMS issue with that incredible Mezger engine and, if you find one with the X-50 Power Pack option, you get the same power as the current 911 GTS! These Porsches are the deal of the decade, but exactly what does it cost to purchase and maintain one of these powerful 996 Turbos?
Back in the spring of 2014, we found a beautiful 2004 996TT Cabriolet for sale with the desired X-50 option and ceramic brakes. We learned from the DMV that our 996 wwas originally registered with a sticker price over $170K! We purchased this beauty in Seal Gray with less than 49K miles for the equivalent of one dollar a mile.
We get a fair number of questions on our YouTube channel asking just what it cost to own a Porsche like this. Surely the maintenance must be insane! It is 450HP, four-wheel drive, carbon ceramic brakes, amazing traction control, huge wheels and zero to 60mph in about 4 seconds. With all that performance and complication, our 996 Turbo must eat us out of house and home with shop bills, right? We put together a video detailing all our costs and issues with our 996 Turbo so you can make your own determination. We run you through every repair and maintenance cost as well as a few of the extras we purchased.
Added Bonus
Have you ever been curious just how accurate a dealer Pre-Purchase Inspection is? We walk you through what they got right and what they missed. In the end, we give our final numbers as of the filming of the video.
Full disclosure
Since making this, an additional repair item has popped up. The front lower control arm ball joint failed due to a ripped boot (a common problem with the 996 suspension). We were able to order the part and, hopefully, it will just be a $100 fix. Check back to the channel to see how it goes as I'll be producing a video for that repair as well.
Lastly
Take a few minutes to peruse the comments section of the video. I think you'll find some of the responses interesting. Some feel that a Porsche that cost as much as this one did originally should have a completely clean service record. Or, when you lay down that kind of cash, are you paying for raw performance and some mechanical glitches are to be expected? Let us know in the comments what you think.
Pour consulter l'article original et complet, cliquez ici.