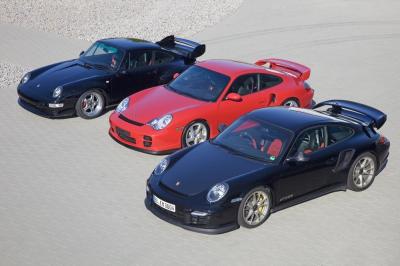 Au salon de Genève, Marc Joly a pu glaner une information intéressante pour ceux qui souhaitent voir la GT2 revenir dans la gamme 911 …
Pour consulter l'article original et complet, cliquez ici.
Alors que la Porsche 911 GT2 n'a toujours pas été présentée dans sa version 991, le constructeur allemand devrait la dévoiler dans les prochains mois… la 911 GT3 restylée à Genève !
Selon nos sources, Porsche préparerait d'importantes évolutions pour sa 911 GT3 restylée quant à sa transmission. En effet, la version 991.1 GT3 avait déçu avec sa boîte PDK proposée de série. Pour cette future GT3, la firme de Stuttgart proposera normalement une boîte manuelle pour faire plaisir aux puristes !
Côté motorisation, la 911 GT3 se verrait embarquer le bloc flat 6 4.0 L de la GT3 RS, la puissance pourrait tourner autour de 500 ch soit 25 ch de plus que la version actuelle. Ce moteur aurait été retravaillé pour remédier aux problèmes de fiabilité survenus sur la dernière version de la GT3 RS.
La nouvelle 911 GT3 devrait être dévoilée au salon de l'automobile de Genève le mois prochain.
La 911 GT2, modèle ultime de la gamme 911, devrait se doter du flat 6 3.8 L de la 911 Turbo S dont la puissance pourrait être augmentée à 650 ch ! Mal aimée par les puristes du fait de son moteur turbocompressé qui feutre le ronronnement du flat 6, la future GT2 pourrait, bel et bien, avoir en ligne de mire la 918 Spyder sur le célèbre circuit du Nürburgring puisque le constructeur allemand estimerait qu'elle devrait boucler la partie nord de ce circuit en seulement 7'05 » soit 8 petites secondes de plus que le record détenu par l'hypercar 918 Spyder.
On imagine que la GT2 a déjà roulé sur la Nordschleife pour avancer cela, lisez notre article concernant le mulet de la GT2 RS à l'attaque du Nürburgring en cliquant ICI !
La future Porsche 911 GT2 devrait être présentée en 2018… une bonne manière de clore la gamme 911 avant l'arrivée de la 911 type 992… !
Pour consulter l'article original et complet, cliquez ici.
Porsche insiders have finally confirmed to Total911.com the arrival of the next-generation Widowmaker. The GT2, the first model to wear that iconic badge in the 991 series, will deliver 650hp from a development of the existing Turbo S's 3.8-litre twin-turbo flat-six. Our sources admit that as much as 700hp is possible, but 650hp is able to be achieved within Porsche's expectations for reliability. The new Porsche 911 GT2 will retain its rear-wheel drive chassis, though the previously three-pedal six-speed manual transmission will make way for a seven-speed PDK automatic.
Nürbrurgring lap times have always been important to Porsche, and officials are also beginning to whisper these for the new 911 GT2. Our sources admit an actual representative time has yet to be achieved thanks to the onset of winter, but internal calculations suggest a time of 7 minutes 5 seconds. The previous GT2 RS had a quoted figure of 7 minutes 18 seconds, don't forget.
Given Porsche's usually conservative official figures, expect that to be a bit quicker when given to Nürburgring experts like a certain Mr Walter Rohrl. Engineers involved in the GTS model series say that with road-legal Pirelli PZero Corsa tyres, a perfectly equipped GTS coupe can achieve a Nurburgring laptime of 7 minutes 22 seconds, underlining the narrowing gap between the 'conventional' Carrera line-up and the GT department's more extreme models, and the need for ever quicker, more intense models.
What is certain is that the new Porsche 911 GT2 GT2 will have a top speed in excess of 200mph and a 0-62mph time around that of the Turbo S's 2.9 seconds, that achieved thanks in part to some weight reduction by binning the Turbo's four-wheel drive, though that itself limits the potential traction. As befitting its extreme nature, the GT2 will lose its rear seats, offer a Clubsport package with a half cage and lightweight seats, with Porsche certain to strip out as much mass from its most hardcore 911 yet to help deliver its legend and anticipated extreme performance.
Pour consulter l'article original et complet, cliquez ici.
Après la GT3 au salon de Genève, Porsche devrait poursuivre son déploiement d'armes GT de destruction massive avec l'Uber …
Pour consulter l'article original et complet, cliquez ici.
Porsche préparerait d'importantes évolutions pour la prochaine 911 GT3. La GT2 serait presque prête.
Pour consulter l'article original et complet, cliquez ici.