Porsche's magazine-of-record Christophorus has been slowly trickling out their featured articles for a few years now, and this is perhaps the greatest one we've seen in all that time. This odd-looking mid-70s 911 Turbo is a unique piece of RennSport heritage that we'd not heard of prior. It was commissioned for long-time Porsche driver, company supporter, and friend of past Porsche CEO Ernst Fuhrmann, maestro Herbert von Karajan. Karajan was not a large man, but his list of accomplishments was imposing. He was only satisfied with perfection, and that helps explain this phenomenal car. One of the first Special Wishes built Porsches, this early production 930 sounds like a heck of a ride, and was built to Karajan's exacting standards.
As many know, the early 3.0-liter Carrera Turbo Type 930 was built to bring Porsche's 911 into a new level of performance. With 260 horsepower from a turbocharged flat-six, and a 1140 kilo weigh-in, there's a reason the 911 Turbo is an icon of performance. In its day, it was counted among the quickest and fastest cars in the world. The maestro requested that his special order 911 Turbo weigh less than 1000 kilos and produce more horsepower than standard. It wasn't an easy task, and the resulting car shares more with Porsche's motorsport models than a standard 911 Turbo.
How it Was Done
Starting with a fresh Carrera RS body shell, Porsche attached control arms, uprights, and sway bars from the motorsport department, and fitted a chassis-stiffening roll cage. Much of the Porsche's weight loss was conducted inside, as this Turbo RS was built with much of the interior left on the shelf; sans radio, door handles, carpeting, or regard for comfort. In the engine compartment, the 3-liter received a larger turbocharger and camshafts to produce around 100 horsepower more than a stock 930. As a special addendum, Porsche requested the blessing of Count Rossi to use his famed Martini livery from their 1974 Le Mans effort on this special customer car. It's certainly a unique finished product, but certainly not one we're opposed to.
Karajan only racked up a few thousand kilometers on the Turbo RS odometer during his tenure at the wheel from 1975 through 1980. We cannot imagine driving such an amazing Porsche so little, especially when his house was nestled in the mountainous terrain of southern Bavaria. He was said to get up before dawn and drive up into the mountains to greet the day. Perhaps because this 911 shared garage space with several other Porsches it was not driven as much, because the maestro had to share his time with each of them. Regardless of why, this 911 retains a very low odometer tally. It's practically criminal that such a unique Porsche has not been driven as frequently as it should be, but with an alleged value of nearly three million euros, we'd have a hard time risking that for a drive as well.
To read much more about this car and its unique first owner, check out the full article in Christophorus Issue 382, or click this link.
The post The Maestro's One-Off 1975 Porsche 911 Turbo RS appeared first on FLATSIXES.
Should the SC become the last 911 to be built?
We wrote this in 1977, and in the meanwhile the 911 had started to compete in-house with the 924 and the 928 Sportwagen. For this reason one needed to narrow down the range of models, and there now remained only the 911 SC and the upgraded 911 Turbo. Porsche played with the idea of gradually phasing out the Porsche 911. His obituary was already written, and the succession was settled. The Gran Turismo 928 with its V8 engine and transaxle design was to become its official successor. Yet, despite the title "Car of the Year 1978", the 928 simply could not compete with the sales figures of the 911 SC.
The 911 was still the driving force in the Porsche model range. Porsche derived the model designation "SC", i.e. Super Carrera, from the designation "Super" of the predecessor 911 S and the 3.0 Carrera. Many car lovers remember that the last Porsche 356 also bore the model designation "SC" and people had all kinds of suspicions. But this changed, and the 911 marched on, driven by great sales figures, on its way to become an icon. Compared to other car models, the 911 design actually long exceeded its life cycle.
The 911 SC engine, like its predecessor, the 911 Carrera, still had a displacement of three liters, moderately reduced by 10 percent, but this was compensated for by slightly increasing the torque. The SC delivered 180 hp at 5500 rpm and the top speed was 225 km/h. The SC therefore accelerated from 0 to 100 in 7 seconds. Like its predecessor, the 911 S, the engine was equipped with the tried-and-tested mechanical K-Jetronic injection system from Bosch. The seventies were characterized by the oil crisis, and this led to widely differing exhaust emission laws in the countries to which the car was exported. For this reason, Porsche had to build six different SC engines. However, they all achieved 180 hp. The SC said farewell to the four-speed gearbox and returned to the then contemporary five gears. One could also pay a little more and get the three-gear Sportomatic gearbox.
The body shape was taken over by the Carrera 3.0, but with the wider fender format. For an extra charge there was room for 205/55 or d 225/50 tires on Fuchs rims. The early SC models from the year 1978 were still available with chrome-plated window frames and door handles. After that year, these parts were anodized black and the outer headlight rings painted the same color as the car. A first light performance upgrade to 188 hp took place in 1980 and then again in 1981 to 204 hp.
Engine boss Hans Mezger and his team generated the additional power by a changed compression and by nine ignition time points. Porsche continued to develop and new insights led to adjustments to the engines. It should be noted that in the case of the 911 SC models, the performance remained unchanged over the entire model cycle and the engines were equipped with a 2-way catalytic converter as early as 1978, due to the strict emission regulations.
Why should Porsche leave it to others to saw off roofs and install a convertible top? Christophorus Chronicler Reinhard Seiffert
The Convertible makes a Comeback
The 911 SC sold splendidly and the "pariah" suddenly awoke from the marketing coma. In 1982 Porsche surprised everybody with a great comeback. After almost 20 years of abstinence, Porsche again produced a genuine convertible. The specialist press was enthusiastic and Porsche recognized what great potential there still was in the 911s. "Why should Porsche leave it to others to saw off roofs and install a convertible top?", asked chronicler Reinhard Seiffert at the in-house Porsche magazine Christophorus. Developed under the project name "Roadster", the new 911 SC Cabrio now complemented the Coupé and Targa model range. Porsche not only achieved great sales success with the open-top Nineeleven, but also sent a signal: the convertible was the promise to the enthusiast that the 911 would not die.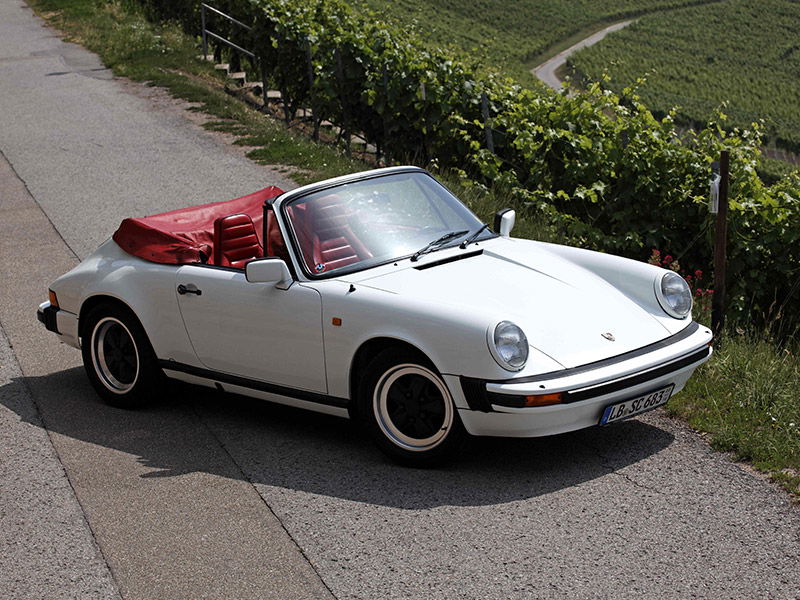 As from the 82/83 model year, there was a special option for the prestige-conscious 911 driver. The turbo spoiler. According to the motto "Pimp my Ride" there was this prestigious thing in a slightly modified version and at extra cost. Like many other 911s the "Super Carrera" can tell a special story too. Originally designed as a model that would be discontinued, the 911 SC turned out to be the trend-setter for the future of a still-young icon. To this day, "Myth 911" has been preserved and the SC has made an important contribution.
Porsche 911 SC from Eduard Walhout / InMyOpinion on Vimeo.
From today's point of view, the SC is an interesting classic and leaves a very balanced impression compared to other G-models. The powerful 3-liter engine and the durability combined with the improved driving behavior due to the wider tires guarantee an 911-feeling in its purest form.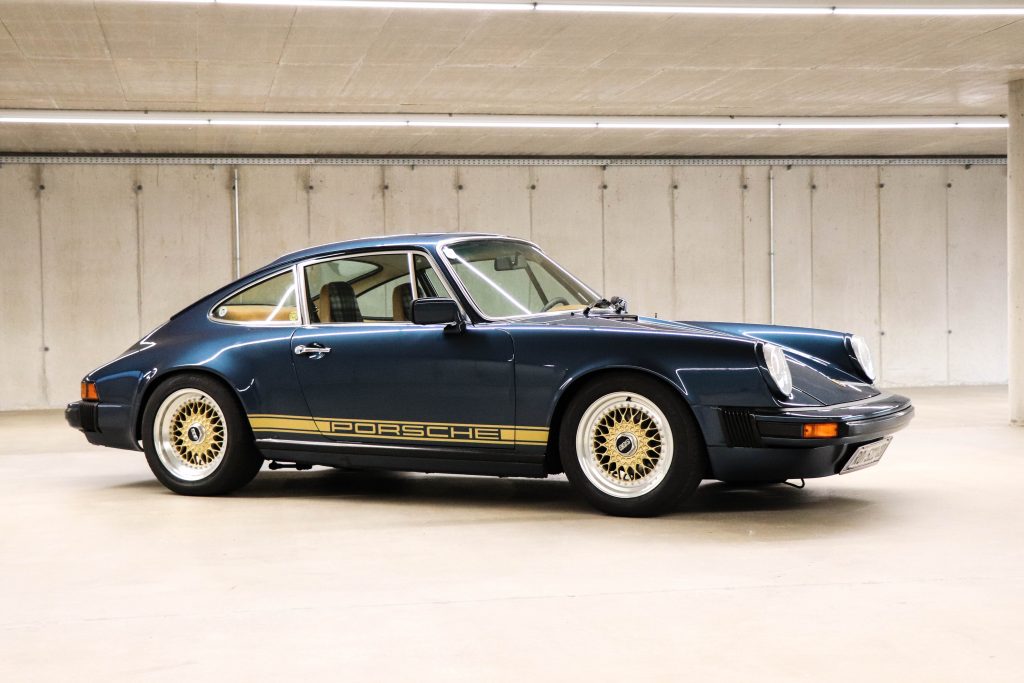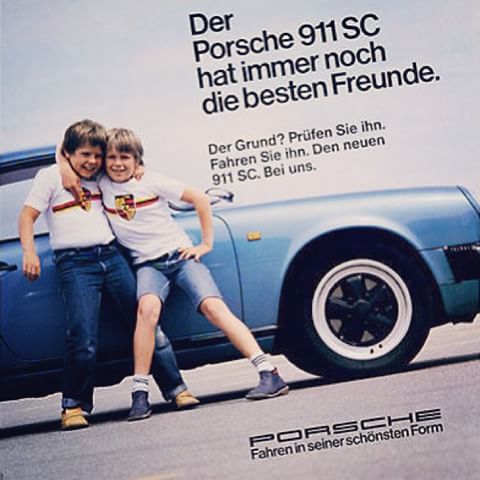 Copyright images:
www.roman-raetzke.de
www.9elfer-classic.de
www.elferspot.com
Porsche 
Rien de plus. Des routes sinueuses à souhait, à flanc de montagne. Une bonne caisse, avec un châssis efficace, mais pas trop, ou du moins une puissance suffisante, un poil au delà pour donner un peu du fil à retordre au pilote. Limite une ancienne, que le plaisir se distille dès les 1ers mètres sans […]
Cet article Road trip en Porsche 930 Turbo… est apparu en premier sur De l'essence dans mes veines.
For many Porsche enthusiasts, the 1973 2.7 RS is the early 911 at its peak. It was the first road-going Porsche to wear the Rennsport badge, and indeed the first 911 called 'Carrera'. Its legacy is enviable, its influence incalculable. Andreas Preuninger – godfather of every RS since the 996 GT3 – even had one on his bedroom wall.
The 2.7 RS story begins with the demise of the 917. After an illustrious career, including two Le Mans wins, Porsche's sports car racer was outlawed in 1972. In search of a sequel and keen to stimulate sales, engineering director Ernst Fuhrmann set his sights on the 911. 500 such examples were required to homologate a race-ready version for FIA Group 4: a legend was born.
Porsche used the 2.4-litre 911S, the quickest 911 at the time, as the basis for the RS. Its air-cooled flat six was bored out to 2,681cc, with low-friction Nikasil cylinder linings helping boost power from 193bhp to 213hp at 6,300rpm. Torque jumped up too, from 211Nm to 255Nm at 5,100rpm.
More significantly, the car was subjected to a crash diet, with thinner body panels, lighter bumpers and a complete absence of creature comforts. This cut weight to just 975kg in original RS Sport spec models (factory code M471) – usually called Lightweight or RSL. Many customers craved a little luxury, though, and after the initial 200 Lightweights were built (plus an additional 17 RSH homologation cars), Porsche acquiesced with a further 1,308 RS Tourings (factory code M472, or RST): better equipped and 100kg heavier. It's the spec differences between these two versions we'll focus on here.
Seeing one 2.7 RS quickens the pulse, but the sight of two in convoy, blatting boisterously up a B road, is enough to give any Porsche fan palpitations. ABW 356L is a fully-restored 1973 Lightweight owned by Nick Hart. ABW 131L, separated by just a few chassis numbers and with a near-identical number plate, is a 1973 Touring, kindly supplied by Autofarm.
What makes this classic coming together even more special is that both cars are Light Ivory with blue decals: arguably the most iconic colour combination for Porsche's most iconic car. Interestingly, the two features that define the 'RS look' today – the ducktail spoiler and Carrera side script – were both delete options, although it's rare to find a 2.7 RS without them.
The two 911s pull over, the clamour of 12 horizontally opposed cylinders suddenly silenced. At first glance they look all but identical. However, an impromptu game of 'spot the difference', led by Autofarm director Mikey Wastie, quickly reveals they're anything but.
To read the full in-depth feature of our 2.7 Carrera RS Touring v Lightweight test, pick up a copy of Total 911 issue 158 here or download from Newsstand. 
There are cars and then there are cars you love so much you name a platinum selling heavy metal album after them. At least that's what Glenn Tipton did with his 930 Turbo as a member of Judas Priest.
In 1985, Tipton – the lead guitarist and songwriter of heavy metal band Judas Priest, ordered a new 911 Turbo for himself. Learning of the new SE derivative from his local dealer he ordered his Porsche in the one-off color of Chiffon White and arranged to take delivery of the 911 from the factory while the band was on tour in Europe.
Like any of us would be, he was enormously excited by his new toy and the Turbo continued to impress as the months went by, so much, in fact, that he was inspired to write a platinum-selling album. Originally intended to be released as a double album titled 'Twin Turbo', the band changed their minds and split up the material. The resulting single album was 'Turbo' – which just happened to contain the successful single, also inspired by the Porsche, 'Turbo Lover'.
The Porsche became Tipton's pride and joy and he has owned and maintained it with great care ever since, keeping the mileage down to just 14,100 today.
Tipton's Porsche 930 Turbo is now offered for sale by Silverstone Auctions with a pre-auction estimate of £180,000 – 220,000.
The post Porsche 930 Turbo That Inspired a Platinum Selling Album is up For Sale appeared first on FLATSIXES.
Evo contributor and world-class driver, Richard Meaden, shows us just how to extract every iota of oomph from a tangerine orange 2.7 RS in this display of driving brilliance. Not only is this car the beginning of the RS lineup, but it's a narrow-tired, lightweight, and powerful track-oriented car with all the idiosyncrasies these cars are known for.
At a mere 2,425 pounds, the 2.7 RS is a svelte machine and that, among other things, contributes to the very acute sensation of the engine sitting between the rear haunches and quietly running the show. Meaden notes, « it's not something that makes your palms sweat straight away, just makes you scratch your head a little bit, and try and interpret what the car's responses mean; which ones you have to listen to, which ones you can ignore, which ones you need to try and drive around. »
That, essentially, is why these cars are so involving: they make the driver and their technique the determinants of the overall performance. It's a hackneyed term, but the 2.7 RS really is a driver's car. It's limited by the front axle, and it needs a real prod on corner entry to work well.
How comfortable you are with oversteer, how willing and capable you are to use that weight to your advantage, and how gutsy you are on entry determines both yours and the Porsche's success through a given corner. Meaden throws the 911 in with a jab of the steering, off throttle, and coaxes the rear around to negate any infuriating understeer and slide neatly through the corner.
It seems that the only real challenge Meaden had was carrying enough speed into the corner—getting the Porsche to pivot perfectly through the middle of the corner requires enough momentum, perfect timing, and a generous helping of guts.
The post How to Drive a 2.7 RS at the Limit appeared first on FLATSIXES.
---
A unique Porsche 911 Carrera 3.2

---
This Porsche 911 Carrera 3.2 was built in 1987 and customized very complex and with love for detail. It is also a special 911 because only 2856 vehicles of that
kind were built by Porsche. This one has the serial number 114 and is also equipped with the more advanced G50 gearbox. All matching numbers (engine, gearbox ans chassis) are also visible. The
engine was restaured and overhauled by an authorized Porsche specialist, a few years ago.
As part of the engine overhaul special 'Nikasil' pistons and forged cylinder liners have been installed from a famous engine parts specialist called 'Mahle'. The
cylinder heads have been blasted with glass beads, the valve guides were replaced. Intakes as well as the exhaust channels were polished, the connecting rod has been polished and blanced. The
intake manifold has been honed and bored to 66.5 mm. New studs (Dilavar), oil lines and the entire exhaust system. All cylinder exhaust pipes are the exac same length. The silecer id from an
original Porsche GT3 997. The fender flares are made from carbonfiber and kevlar. The IROC bumpers are made of fiberglass and all supporting joints and axle boots have fully been renewed.
Special 'Bilstein' shock absorbers have also been installed. The interior was left original completely. The Porsche has a variety of supplementary equipment, such
as: Electrically adjustable seats, power windows, electric sunroof, central locking. In addition, a 'MOMO' steering wheel 'Prototipo' was installed. The starter battery has been replaced by a
'AGM' battery. New headlights and taillights were installed. On the vehicle are Michelin Pilot Super Sport tires mounted. Engine was fully redone before 4000km. The restoration works were done
very carefully and with a lot of expertise and patience, it's a Porsche collector's item with the flair of the eighties. Only lovers will appreciate this special unique piece!
---
Recommended retail price: 75.000€
---
The vehicle is currently in private property and can be visited in Sweden.
The seller wishes to remain anonymous.
If you are seriously interested in buying the car, use our contact
form or write an eMail to [email protected] keyword « Interest 911 G ». We will forward the contact details of the seller to you, as soon as
possible!