While Porsches are regularly used as camera cars, this is the first time a car has simultaneously filmed itself and used 3D Mapping to project images on its bodywork. The ad is designed to demonstrate that Porsche's racecar hybrid technology is directly related to the road cars. While showing the connection between the successful 919 Hybrid racecar and Porsche's third most powerful production car ever is novel, the implementation is strange to watch.
Admittedly, the thing I wanted to see the most in this ad is the camera boom rig. The Panamera Turbo S E-Hybrid is an incredible machine. In the world of Porsche production cars, only the 918 Spyder and 991 GT2 produce more power. But in this video, the swiveling roof-mounted projection and filming boom is the star of the show. I'm left wondering more about how the active 3D mapping worked than asking questions about the car.
So if you are left with questions about the Panamera Turbo S E-Hybrid, we have answers. If you want to know more about the 3D projection rig, I suppose we'll need to wait. The rig looks fascinating, and hopefully Porsche gives us a how-its-made on this rig in the near future.
Pour consulter l'article original et complet, cliquez ici.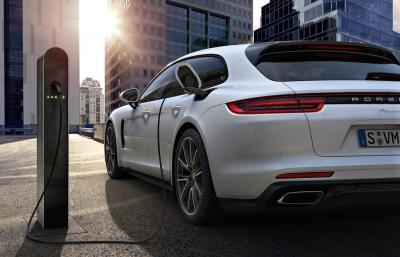 Après 6 mois de commercialisation pour les modèles hybrides de la Panamera Génération 2, ceux-ci sont très clairement …
Pour consulter l'article original et complet, cliquez ici.
Around 60 per cent of all new Panamera models that have been delivered in Europe were equipped with a hybrid drive. The new Panamera plug-in hybrid models were launched on the European market in June 2017. In some countries, the proportion of hybrid vehicles is even higher.
Pour consulter l'article original et complet, cliquez ici.
Porsche's hyper-hybrid Sedan (and Sport Turismo Wagon) is perhaps the most complex car that Porsche has ever built. The Turbo S E-Hybrid has four wheel drive, four wheel steering, active aero, three-chamber air ride suspension, and power-boosting electric motors. This Porsche is even more advanced than the 918 Spyder hypercar was from a drivetrain perspective (Turbos and four-wheel steer at a minimum), but then has to add in the complexity of long-haul comfort, futuristic infotainment, and massive interior space. If there were ever to be a company that could merge comfort with serious hybrid performance, it'd be Porsche. Thanks to this intricate pair of videos from MotoManTV on YouTube, we finally understand the full depth of Porsche's genius when it comes to this beastly hybrid.
In the first of his two videos, George (MotoMan) gives us a walk around a pair of Panamera show pieces to illustrate some of that technological advancement. The first of the two sections of Panamera shows off the drivetrain configuration and battery-electric assist. The second « car » is a complete body that helps to demonstrate how the high-strength steel and aluminum and composite panels are « sewed » and bonded together. There is clearly a lot of engineering that went into making this chassis stiff enough and strong enough to handle a total system output of 680 horsepower, while still being quiet and comfortable enough to haul your whole family across the country in speed and comfort.
Part 1 – 
In the second video, we're treated to a walk around the car to show off the details of the design, plus a discussion of the interior accouterments. George also has the opportunity to show off just what this S E-Hybrid is capable of on track. It isn't likely that many Panamera owners will take their super luxury sedans on track at any point, but it proves that like all other Porsches, it's still comfortable in that environment. If you've ever been a Panamera Skeptic, spend a few minutes watching these two videos, and you'll find yourself with a new appreciation of this mega car.
Part 2 – 
The post Do You Want To Know A Lot More About The Panamera Turbo S E-Hybrid? appeared first on FLATSIXES.
Pour consulter l'article original et complet, cliquez ici.
Even before the Panamera Turbo S E-Hybrid Sport Turismo was officially unveiled, it embarked on the journey to Iceland. The president of the Porsche Club Iceland got behind the wheel and spoke about the relationship between vehicle and island. In the current episode of 9:11 Magazine.
Pour consulter l'article original et complet, cliquez ici.