Les Porsche 718 Boxster et Cayman ont rapidement évolué de petits roadster/coupé de plaisance en de véritables voitures sport en très peu de temps. Bien que la petite sportive « abordable » du constructeur allemand soit désormais munie d'un quatre cylindres turbo, elle enregistre des temps d'accélération plus rapides que …
Pour consulter l'article original et complet, cliquez ici.
L'appellation GTS faisait cruellement défaut à la gamme 718. Porsche comble ce manque en élargissant sa gamme de sportives à moteur central avec l'arrivée du 718 Boxster GTS et du 718 Cayman GTS. Doté d'un nouveau système d'admission couplé à son turbo optimisé, le moteur flat4 de 2,5L délivre une puissance de 365 ch (269 […]
Cet article Porsche 718 GTS : Boxster et Cayman sous anabolisant est apparu en premier sur AUTOMOTIV PRESS.
Pour consulter l'article original et complet, cliquez ici.
For those looking for a leaner, more focused, and more athletic version of the 718, the newest GTS is on the horizon. Prospective buyers will have to wait until March 2018 to pick up their 718 GTS and fork over a hefty $79,800 for a Cayman or a princely $81,900 for a Boxster. However, the GTS' features and claimed performance figures make that seem like a very reasonable price.
GREATER GRUNT
When the 718 was released, the burbling, muted, Subaru-esque note of the 2.5-liter four left some of the purists yearning for more—at least in the aural department—and perhaps the latest GTS variant might provide that. Not only will the revised engine offer a better soundtrack with a new air intake and a raucous exhaust, but a recalibrated ECU will bring on some significant power gains that should, hopefully, soothe those missing the six-cylinder howl of the previous generation.
More importantly, the power figures will climb: 365 horsepower and an incredible 317 lb-ft of torque (309 lb-ft in manual transmission models) will allow both PDK-equipped GTS models, when utilizing the Sport Chrono function, to sprint to sixty in a mere 3.9 seconds and continue onto a top speed of 180 mph. The upgraded engine management also provides a wide, accessible powerband offering maximum torque from 1,900 rpm to 5,000 rpm (5,500 rpm in the manual transmission models), and that means more everyday usability, as well as plenty of stoplight-to-stoplight performance.
AESTHETIC UPDATES
Now, a GTS wouldn't look right if it wasn't a little tauter, a little more purposeful, and a little more menacing than its siblings. These cars represent the gym-addicted athlete in the family, and they need to look the part. A new bumper, an extended chin spoiler, tinted headlights and tailights, a black rear apron, black exhaust tips, and 20″, satin black wheels all add a hint of menace.
Inside, the two receive the typical track-car treatment; lots of alcantara and GTS logos stitched into the headrests. Adding to the sense of occasion, the Sport Chronometer sits atop the dashboard and the Porsche Track Precision App (PTPA) offers the avid trackday driver the ability to analyze their lines, braking points, cornering forces, and general performance on track.
STANDARD AND OPTIONAL TECH
PTPA isn't the only acronym which will attract the technically-minded. The 718 GTS models are fitted with PASM, which will drop the ride height by ten millimeters and help fill the wheel wells for a much sportier stance. To make good use of all that mid-range grunt, Porsche Torque Vectoring (PTV) and an upgraded locking differential will come as standard.
Additionally, a six-speed manual will come as standard, but for those who want greater shift speeds and acceleration that would embarrass most supercars, PDK is an option.
Considering the nimbleness and athletic appearance we've associated with the previous GTS lineup, rapid shifts offered by the seven-speed PDK, the immense traction brought on by the differential and PTV, and the broad wave of torque, it's safe to assume many will forget about the divisive exhaust note and simply revel in the 911-beating levels of performance.
The post Revealed: The 718 Boxster and Cayman GTS appeared first on FLATSIXES.
Pour consulter l'article original et complet, cliquez ici.
Pas de surprise pour les nouvelles Porsche 718 Boxster et Cayman GTS : la firme de Stuttgart conserve le flat 4 2.5 l turbocompressé. En revanche, ce dernier voit sa puissance être rehaussée puisque ces deux nouveaux venus dans la gamme développent chacun 365 ch. La barre des 370 ch de la Porsche 911 Carrera n'est pas très loin… l'icône allemande peut se faire du souci… !
Ces deux modèles étaient attendus de la part de nombreux Porschistes. Petite déception pour certains d'entre eux qui pensaient que Porsche allait réintégrer un flat 6 atmosphérique à bord de ces versions GTS…
Néanmoins, Porsche n'a pas fait les choses à moitié pour ses nouveaux modèles 718 Boxster et Cayman GTS. Bouclier avant plus imposant, diffuseur arrière plus sportif, feux assombris, double échappement sport ou encore jantes noires 20″… ces versions reflètent typiquement le tempérament GTS !
A l'intérieur, à l'instar des modèles 911 GTS, on remarque l'abondance d'alcantara sur les sièges et sur le volant mais également des surpiqûres rouges ornant l'ensemble de l'habitacle… ça respire le sport !
Côté motorisation, les nouveaux 718 Boxster et Cayman GTS embarquent donc le fameux bloc moteur 4 cylindres 2.5 l turbocompressé. La puissance de ce flat 4 s'élève désormais à 365 ch soit 15 de plus que les modèles « S ». Les fiches techniques des ces deux autos voient leurs performances augmenter très légèrement puisque le 0 à 100 km/h abattu en 4,2 s par le Cayman S est bouclé en 4,1 s par le Cayman GTS, la différence n'est vraiment pas flagrante… Néanmoins, cela reste mieux qu'une 911 Carrera (0 à 100 km/h en 4,2 s) développant 370 ch et valant 20 000 € de plus que le Cayman GTS.
De plus, contrairement aux versions « S », ces nouveaux modèles GTS se dotent, se série, du pack Sport Chrono ainsi que de l'option Porsche Torque Vectoring (PTV), un système répartissant le couple de manière variable sur les roues arrières, en plus du différentiel à glissement limité.
Ces nouveaux modèles 718 Boxster et Cayman GTS sont d'ores et déjà disponibles à la commande aux tarifs suivants :
– 718 Boxster GTS : 80 870,00 €
– 718 Cayman GTS : 78 830,00 €
Pour consulter l'article original et complet, cliquez ici.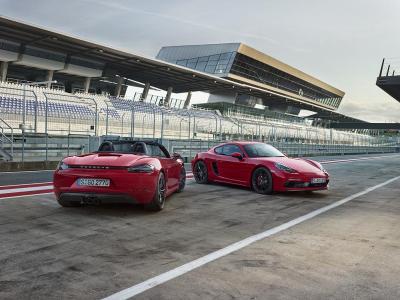 Sans surprise, les déclinaisons GTS des 718 reprennent le 4 cylindres 2,5 litres utilisé sur les 718 S. Un nouveau système d'admission …
Pour consulter l'article original et complet, cliquez ici.