Le salon de Francfort est l'occasion pour les constructeurs locaux de sortir « l'artillerie lourde ». Dévoilée fin août, la 3ème génération du Porsche Cayenne prend une nouvelle dimension avec la présentation de la version Turbo. Au programme bien sûr des attributs esthétiques plus sportifs et 550 chevaux ! Visuellement, les quelques évolutions suffisent pour offrir un SUV qui n'en a presque que le nom. A l'avant la grille de calandre adopte deux barrettes sur la partie centrale alors que ses extrémités s'ouvrent beaucoup plus largement. Le nouveau Cayenne Turbo est campé sur des jantes de 21″. A l'arrière, la sensation de […]
L'article Porsche Cayenne Turbo : 550 chevaux pour la sportive familiale ! est apparu en premier sur Les Voitures.
Pour consulter l'article original et complet, cliquez ici.
Quelques jours après avoir dévoilé la troisième génération de son modèle Cayenne, le constructeur de Stuttgart a présenté dans le cadre du 67ème…
Pour consulter l'article original et complet, cliquez ici.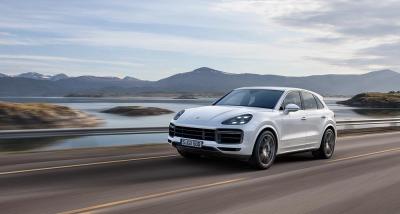 Porsche a présenté aujourd'hui au salon de Francfort le 3ème membre de la nouvelle génération de Cayenne : le T …
Pour consulter l'article original et complet, cliquez ici.
FRANCFORT (Allemagne) – Porsche a présenté en marge d'un événement privé il y a quelques semaines la troisième génération de son plus imposant VUS, le Cayenne . Afin de ne pas être en reste au Salon de Francfort , le constructeur de Stuttgart en a profité pour dévoiler la…
Pour consulter l'article original et complet, cliquez ici.
Porsche launched the new generation Cayenne SUV late last month, and it was clear then that the new Turbo wouldn't be far behind. The new Turbo carries over the updated, aluminum-intensive bodyshell from the new base Cayenne. The increased level of standard equipment improves over even the V6-powered Cayennes. Of course, being the Turbo, this Cayenne isn't all about standard equipment. Like the outgoing Cayenne Turbo, the new Turbo features a twin-turbo V8, though as with the rest of the 177MPH SUV, it is virtually all-new.
As might be expected, many of the updated features launched on the V6-powered Cayennes are carried over on the top flight Turbos. The new, more aggressive bodywork is made even more aggressive by the addition of widened wheelarches, model specific 21″ wheels, and dual exhausts. The Porsche Surface Coated brakes are also carried over, and Porsche quotes 79″ shorter stops from a full 155MPH for the Cayenne Turbo.
A New Heart For the Cayenne Turbo
The old 4.8L, twin-turbo V8 is out, and is replaced by an all-new 4.0L twin turbo V8. The new powerplant offers an additional 30 hp and 14 lb-ft versus the previous Cayenne Turbo, for a total of 550 hp and 567 lb-ft of peak torque. The new V8 is a hot-side in design, with the turbochargers on the inside of the V and the intakes on the outside. Like the turbocharged Audi TFSI V8s, this powerplant allows for faster, more efficient spooling of the turbochargers, and makes for a more compact overall package.
Coupled with the new 8-Speed Tiptronic S transmission, the new twin-turbo V8 propels the Cayenne Turbo to 60MPH in 3.9 seconds, or 3.7 seconds if the optional Sport Chrono Package is selected, 0.1 seconds quicker than the outgoing Turbo S. The top track speed is also increased to 177MPH, also improved over the preceding model.
With Great Power Comes Great Control
Porsche made numerous changes to the Cayenne chassis for improved dynamics over the outgoing model. The new three-chamber air suspension is coupled with Porsche Active Suspension Management(PASM) active shock-absorbers, which extend the suspension's functional range. The three chamber system allows the chassis to map and utilize a wider range of effective spring rates, netting improvements in both comfort and performance.
The new suspension also includes six driver-selectable ride heights to suit driving conditions ranging from off-road to on-track. Five driving programs and four driving modes integrate chassis settings to help idealize setup based on present conditions. The off-road specific modes include settings for mud, gravel, sand or rocks, and the differential locks can be selected or deselected independently.
Rear-axle steering is available, as it is on both the V6 Cayennes and the Panamera. Porsche Dynamic Chassis Control(PDCC) is coupled to the 48-volt vehicle electrical system, and along with Porsche Torque Vectoring Plus(PTV+) round out the vehicle's dynamic enhancing systems. The front and rear wheels are staggered, and measure 285/40r21 front and 315r35r21 at the rear for improved power application and more nimble handling.
2019 Porsche Cayenne Pricing
The new, 2019 Cayenne Turbo and Turbo S will be made available to order in December, 2017, with delivery at dealers expected in Fall, 2018. Pricing will start at $124,600, excluding the $1,050 delivery and handling fee.
The new 2019 Cayenne Turbo will be available in Canada next summer with pricing starting from $139,700
The post Introducing the 3rd Generation Porsche Cayenne Turbo appeared first on FLATSIXES.
Pour consulter l'article original et complet, cliquez ici.