I will spare you the shouting, as James Pumphrey has almost 14 minutes of excitement coming your way. This video solely about quirks and features, nor is it about turning the 959 to 11. James, like many of us, has never seen a 959 in real life before, and he is taking this one in as Porsche intended. As the turning point between classic Porsches and everything made since, the 959's importance is hard to overstate. Yet somehow, taken with a jaded 2019 eye, the first high-tech supercar seems almost normal.
As a person born in to a post-959 world, everything that made the 959 exceptional has been normalized by later cars. With the exception of the ultra-low Gelande gear and the height-adjustable suspension with an astonishing 8″ adjustment range, virtually everything else on the 959 has appeared on later 911s. The 993 Turbo of 1995 mirrored the 959's twin-turbo layout, and the Turbo S of 1997 exceeded its output. Center-lock wheels have been available on GT models for more than a decade, and exotic materials have become the norm.
Unfortunately Porsche hasn't also embraced four-tone metallic leather upholstery in any other models. If you're listening, Porsche, I know you have it in you to resurrect the metallic leather.
But, trying to use later 911s to contextualize the 959 just feels hollow. To appreciate best appreciate the 959, you must don your raddest shades, and approach in a 1980s frame of mind. Presented with one, there is no denying that most of us would fawn with the same sort of wide-eyed excitement as James, and that is as it should be.
Pour consulter l'article original et complet, cliquez ici.
Les passionnés de Porsche et de 959 peuvent se réjouir : le fabricant français de miniature GT Spirit propose depuis décembre 2018 une miniature au 1:12 de la première supercar de Porsche : la 959 en finition Confort de 1986. La Porsche 959 a marqué la fin des années 1980, propulsant la marque de Zuffenhausen …
Pour consulter l'article original et complet, cliquez ici.
Doug DeMuro's obsession with automotive minutiae might not work with every one of his reviews, or for all of his 2.3 million subscribers. However, if there's one car that deserves to be inspected with the thickest possible magnifying glass around, it's the Porsche 959. This techno-titan established itself as one the greatest sports cars to emerge out of the 1980s, and with more gadgetry than some exotics sport in this day and age, it's only fitting that DeMuro take us through this car in as much detail as some can stand.
If anything, his appreciation for door clicks, button actions, slides, and lighting works well with a car that was designed to do it all. In addition to setting a new standard for sports cars with sequential turbos and a 197 top speed (210 for the 959 S), it had every gizmo one can imagine.
He notes some of the quirks of this supercar which would cause some people to scratch their heads. The lift system, and « crawler » gear for offroading, the four different traction settings, the theft-proof center-locking wheels, the real-time torque split display, and the silver leather seats will catch the eye of any observer. It was, truly, '80s excess manifested in an all-encompassing, over-the-top supercar.
Pour consulter l'article original et complet, cliquez ici.
A l'occasion de la vente aux enchères des 70 ans de voitures de sport Porsche au Porsche Experience Center Altanta, Porsche Classic a révélé un projet spécial d'un client heureux : sa première restauration complète d'une Porsche Carrera GT, de couleur vert Chêne métallisé (Oak green). La Porsche Carrera GT est l'un des modèles emblématiques …
Pour consulter l'article original et complet, cliquez ici.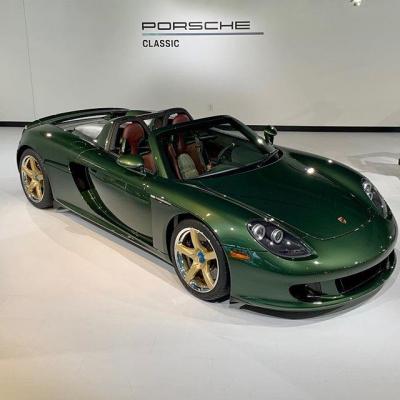 La Carrera GT fait partie du programme Porsche Classic depuis peu. A ce titre, elle peut faire l'objet de restaurations partielles ou complètes à l'usine, et un client américain passionné par ce modèle a décidé de confier la sienne au constructeur dans le cadre d'un projet atypique. N'ayant pas pu s'offrir une Carrera GT neuve en 2003, le client en question a proposé …
Pour consulter l'article original et complet, cliquez ici.