I remember as a teenager picking up a special edition book from Road & Track called Used Car Classics: A Guide to Affordable Exciting Cars. It provided detailed buying advice on 70 different models of used cars the average person could afford. Of course I bought it and went through it cover to cover. Several times.
A fire of sorts started to burn…
Around the same time, I had a car fanatic buddy of mine who managed to drive all sorts of sports cars from Porsches to Corvettes to Alfa Romeos…even a Lancia…I adopted the belief that most car brands were within reach. Even the seemingly untouchable ones like Porsche, Ferrari or Lamborghini. Maybe not the Ferrari Daytona or Lamborghini Countach, but other models of Ferraris, for instance, were indeed within reach if you were patient and willing to embrace a less desirable model.
A few years ago I had the opportunity to buy a Ferrari 348ts for about the price of a run of the mill mini van. It was a great experience that I would happily repeat again. Maintenance costs were low and fun value was off the charts!
Not too many people have undertaken writing anything substantial about how to own a dream car for little to no more than the daily runabout you're already driving. Thus I was pleasantly surprised when a copy of Porsche 911: The Practically Free Supercar showed up on my mailbox. The book details a number of different model Porsches, with a focus on the Porsche 911, that can be had for a reasonable price.
The book begins the reader's journey with the author's personal experience with Porsche and what propelled him to Porsche ownership. After a brief overview of Porsche, the author jumps into some practical exploration of what Porsche 911 model types might be suitable for undertaking driving a Porsche 911 for practically free. He even touches on a few other cars in the Porsche family that are great candidates for stepping into Porsche ownership.
A couple of sections I found particularly useful are "Can you afford your dream Porsche?" and "The best value Porsche 911." In "Can you afford your dream Porsche?", the author breaks down the logic behind the thrust of the book. I found it thought provoking and in line with some of my own feelings on car ownership, as well as how to consider driving your dream car.
"The best value Porsche 911" chapter builds on the previous by throwing out some hypothetical examples of 911s that could be safe bets for new owners. Practical advice on finding cars "out of favor" with the average Porsche enthusiast will help possibly expand your thinking on what cars might fit the profile of a good deal, leading to inexpensive ownership.
Aside from the practical information and approach to purchasing a Porsche 911 wisely (or potentially another Porsche model if that's your pleasure), one of the most intriguing for me is the Running Costs section. Owners of three different model Porsches detail their experiences with Porsche ownership including costs, pitfalls, etc. I love reading stories of other people's experiences to get an idea of how ownership of a particular model might go.
Lastly, the idea of an investment Porsche discussed in the Investment Potential chapter is one that always piques my interest. I find it fascinating (and sometimes mind boggling) that people can buy cars, tuck them away, and never enjoy them the way they were meant to be enjoyed. I have a fundamental belief that cars should be driven and enjoyed. That said, I know that's not always practical/realistic with rare or historic cars. Still, the thought of a Porsche as an investment is an interesting one for me personally, and the book has a unique take on the subject that's worth the read.
Overall, Porsche 911: The Practically Free Supercar is worth picking up, not only for the first time Porsche buyer, but also the seasoned owner. The principles in the book also apply to other supercar makes, so even if Porsche is not your cup of tea, you'll find some interesting and useful information in the approach.
Pour consulter l'article original et complet, cliquez ici.
I ran across this little bit older video on Vimeo today. I've long been a Magnus Walker fan (come on…who doesn't love that guy?!) and his take on the Porsche 911. I love the mix of Outlaw 911s along with true restoration projects protecting the originality of a car. He feels like a sort of everyday, normal Porsche guy.
This particular video is about a 1978 Porsche 911 SCHR Magnus picked up to prove a Porsche 911 SC is a great first-time buyer 911. It's his answer to an often asked question about where to start one's Porsche habit.
This particular car had been a track car for 10 years, and already included a number of upgrades he would have performed. Magnus mentions that he feels track cars are worth considering since owners tend to take care of a car they're going to drive at high speeds on a track. Something I hadn't thought of.
Crank up the sound and let this video delight your eyes and ears…and dream of your own affordable 911 story.
Pour consulter l'article original et complet, cliquez ici.
Two words sum up today's video: Magnus Walker.
This is a video from last year, but I came across it earlier this week and can't find that I posted it on the site, so today is the day! I absolutely love this video. It causes my imagination to run wild and I can see myself driving the streets in a beloved car like this 911T. There are a number of things I like about Magnus Walker's cars, not the least of which is his creative, personal touch approach to his cars. One thing I was reminded of again is he likes to work on cars he will drive. Notice the seat bolster shredded from entry/exit, the duct tape on the door, missing radio, etc. This is obviously a car he loves and loves to drive.
The video has no words, just pure Porsche sound goodness. Crank the speakers up and enjoy the sounds.
Pour consulter l'article original et complet, cliquez ici.
Sometimes going back in time is as eye-catching as a modern, gloriously brilliant image. For me, there's something about having to engage your imagination in a different sort of way that is as mesmerizing as an HD image that makes it feel like you could reach out and touch a car. Recently, I was going back through some old emails and bookmarks I'd saved and came across one linking to a post with vintage Porsche ads. That led me to search for more of them and a half hour of spectacular time wasting! I love it!
For those in need of a little mid-week diversion, check out some of these sites with vintage Porsche ads. You'll find yourself lost in Porsche days gone by.
Vintage Porsche Ads (Alex's Autohaus)
Production Cars Vintage Car Ads
These Are The Best Porsche Print Ads Ever (AutoEvolution)
Here are a couple more of my favorites: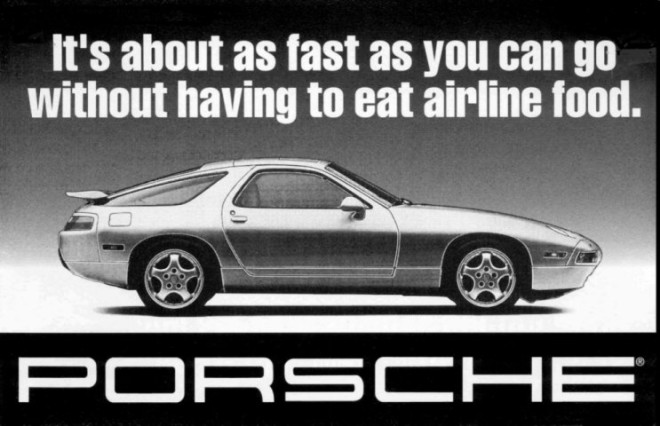 Pour consulter l'article original et complet, cliquez ici.
I came across this series on YouTube this last weekend and have watched all 3 of the videos below. It's a great series that hopefully Porsche will continue on with for a while. Patrick Long has been the host so far, with the Porsche 911 R being the highlight car in the lessons. They're short, to the point, and well worth watching.
Driving Lesson #1: Warm-Up
I particularly liked this video for the basic explanation of driving position and access to steering controls.
Driving Lesson #2: G-Forces
As I was watching this video, I couldn't help but think I need access to a circular track like this. Pretty basic concepts of understeer and oversteer, but entertaining nonetheless.
Driving Lesson #3: Heel-And-Toe
The final video for this post covers downshifting using the heel-and-toe method for entry into a corner. A helpful technique in a manual transmission car.
I'll add future videos as they're posted. So far I'm loving this series!
Pour consulter l'article original et complet, cliquez ici.