I ran across this little bit older video on Vimeo today. I've long been a Magnus Walker fan (come on…who doesn't love that guy?!) and his take on the Porsche 911. I love the mix of Outlaw 911s along with true restoration projects protecting the originality of a car. He feels like a sort of everyday, normal Porsche guy.
This particular video is about a 1978 Porsche 911 SCHR Magnus picked up to prove a Porsche 911 SC is a great first-time buyer 911. It's his answer to an often asked question about where to start one's Porsche habit.
This particular car had been a track car for 10 years, and already included a number of upgrades he would have performed. Magnus mentions that he feels track cars are worth considering since owners tend to take care of a car they're going to drive at high speeds on a track. Something I hadn't thought of.
Crank up the sound and let this video delight your eyes and ears…and dream of your own affordable 911 story.
Pour consulter l'article original et complet, cliquez ici.
Two words sum up today's video: Magnus Walker.
This is a video from last year, but I came across it earlier this week and can't find that I posted it on the site, so today is the day! I absolutely love this video. It causes my imagination to run wild and I can see myself driving the streets in a beloved car like this 911T. There are a number of things I like about Magnus Walker's cars, not the least of which is his creative, personal touch approach to his cars. One thing I was reminded of again is he likes to work on cars he will drive. Notice the seat bolster shredded from entry/exit, the duct tape on the door, missing radio, etc. This is obviously a car he loves and loves to drive.
The video has no words, just pure Porsche sound goodness. Crank the speakers up and enjoy the sounds.
Pour consulter l'article original et complet, cliquez ici.
Sometimes going back in time is as eye-catching as a modern, gloriously brilliant image. For me, there's something about having to engage your imagination in a different sort of way that is as mesmerizing as an HD image that makes it feel like you could reach out and touch a car. Recently, I was going back through some old emails and bookmarks I'd saved and came across one linking to a post with vintage Porsche ads. That led me to search for more of them and a half hour of spectacular time wasting! I love it!
For those in need of a little mid-week diversion, check out some of these sites with vintage Porsche ads. You'll find yourself lost in Porsche days gone by.
Vintage Porsche Ads (Alex's Autohaus)
Production Cars Vintage Car Ads
These Are The Best Porsche Print Ads Ever (AutoEvolution)
Here are a couple more of my favorites: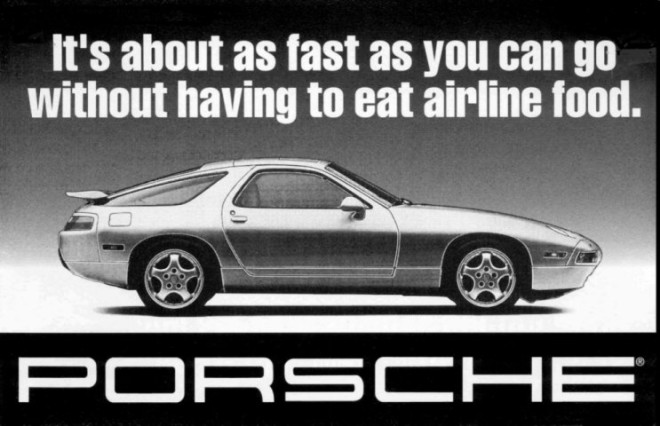 Pour consulter l'article original et complet, cliquez ici.
I came across this series on YouTube this last weekend and have watched all 3 of the videos below. It's a great series that hopefully Porsche will continue on with for a while. Patrick Long has been the host so far, with the Porsche 911 R being the highlight car in the lessons. They're short, to the point, and well worth watching.
Driving Lesson #1: Warm-Up
I particularly liked this video for the basic explanation of driving position and access to steering controls.
Driving Lesson #2: G-Forces
As I was watching this video, I couldn't help but think I need access to a circular track like this. Pretty basic concepts of understeer and oversteer, but entertaining nonetheless.
Driving Lesson #3: Heel-And-Toe
The final video for this post covers downshifting using the heel-and-toe method for entry into a corner. A helpful technique in a manual transmission car.
I'll add future videos as they're posted. So far I'm loving this series!
Pour consulter l'article original et complet, cliquez ici.
The 1980's Porsche 911 Turbo is one of my all-time favorite cars. I still love them to this day and have renewed my pursuit of putting one in the garage some day. When I came across this episode of Harry's Garage, I went full screen and got lost in 23 minutes of 80's supercar goodness!
Crank up the sound and enjoy!
Pour consulter l'article original et complet, cliquez ici.